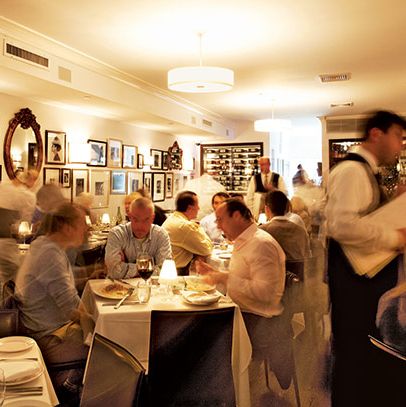 Il Mulino went uptown, and now it's coming back down, along with some rib-eyes.
Photo: Victo Prado/New York Magazine
The Il Mulino team, which opened an outpost uptown in 2012 and expanded into Flatiron last year with Trattoria Il Mulino, has long been toying with the idea of doing a Mulino-ish steakhouse, once described by partner Jerry Katzoff as the kind of place that serves five of six cuts of prime beef next to hearty sides like plates of broccoli rabe. It looks like the restaurateurs have finally found the right spot: Partner Steve Raia says the team plans on taking over the space at 331 West Broadway that currently houses the downtown branch of T-Bar and was Angolo Soho before that. "We will have big chops, great steaks, and sides in addition to classics like veal parmesan," Raia says.
"We love the fact that the space has big windows, which open onto the street." Raia tells Grub Street, adding that the lease is still being negotiated. Tony Fortuna, who manages T-Bar, says he is aware of the upcoming change. "I realize it's not working out here for us because it's not our market, and the guys from Il Mulino are going to do a phenomenal job."
If all goes as planned, Il Mulino Prime will open in June with 77 seats and an 8-seat bar.