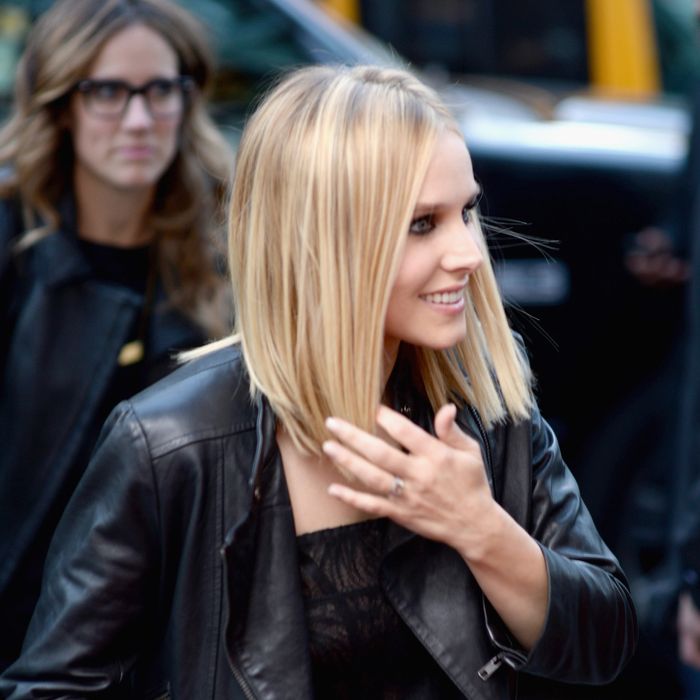 Veronica Mars in the house.
Photo: Dimitrios Kambouris/WireImage
Many couples headed out on date nights this week: Catherine Zeta-Jones and Michael Douglas feasted on steak and seafood, Jill Zarin somehow scored a table at Rao's to celebrate her husband's birthday, and Jennifer Aniston spent quality time with her fiancé. Read all about it, straight ahead.
Fred at Barneys: Jennifer Aniston grabbed lunch with her fiancé, Justin Theroux. [Just Jared]
Blue Water Grill: Alec Baldwin ate dinner with his wife. [Page Six/NYP]
Caravaggio: Woody Allen and Soon-Yi Previn dined on the Upper East Side with Barbara Walters. [Page Six/NYP]
The Elm: Hugh Jackman ate in Williamsburg. [Page Six/NYP]
The Four Seasons Restaurant: Mary Louise Parker and Kelly Bensimon attended a benefit at the swanky restaurant. [Page Six/NYP]
Fresco by Sotto: Sylvester Stallone and ten of his friends dined after his appearance on the Late Show. [Page Six/NYP]
Gallagher's Steak House: Liza Minnelli made a 5 p.m. reservation. [Grub Street]
Gato: Wolfgang Puck checked out Bobby Flay's new restaurant. [Grub Street]
Lure Fishbar: Kathy Bates hung out with Jessica Lange. [Page Six/NYP]
NYY Steak: Catherine Zeta-Jones and Michael Douglas rekindled their romance over steaks and seafood. [Page Six/NYP]
Osteria Morini: Helen Mirren dined with friends and ordered gelato for dessert. [Page Six/NYP]
PHD: Jamie Chung and Bryan Greenberg attended a launch party at the Dream Downtown. [Just Jared]
Rao's: Jill Zarin took her husband out for a birthday dinner. [Page Six/NYP]
Stone Rose Lounge: Kristen Bell attended the after-party for the new Veronica Mars movie. [Just Jared]
Uncle Boon's: Padma Lakshmi grabbed Thai food with Questlove. [Grub Street]