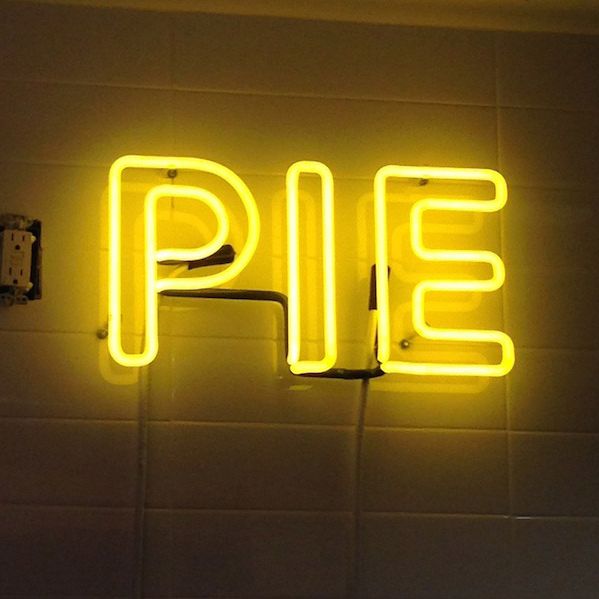 You're in the right spot when you see this sign.
Photo: Sacha Thompson
After two trial weeks in temporary quarters, pie-savant sisters Melissa and Emily Elsen are ready to expand Four & Twenty Blackbirds today in the open atrium of the Brooklyn Public Library. The full café menu will be served starting today in the newly-renovated space.
The Elsens's breakfast menu includes made-from-scratch pastries like brioche, lemon-poppy muffins, and green onion and Cheddar scones. There is also an egg-in-a-nest biscuit made with Tillamook Cheddar, and the first run of pies includes a take on Southern-style lemon chess pie, a chocolate-and-sweet-custard black-bottom oat, and the shop's signature salted caramel apple pie.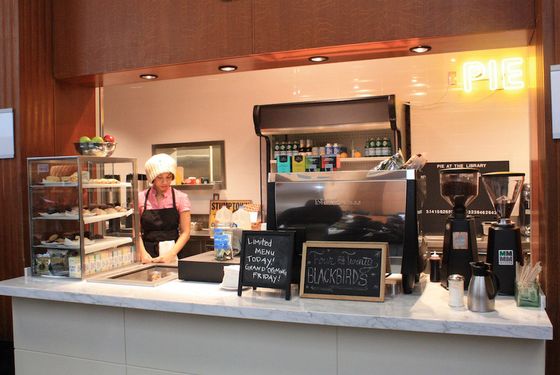 The café serves $1.50 cups of Stumptown coffee with its pies.Photo: Sacha Thompson

John and Mike Poiarkoff, the chefs of the Pines and Vinegar Hill House, are handling savory-side menu items. Beginning today, library patrons can order butternut squash soup and BLTs made with house-cured bacon and sun-dried tomato spread on Sullivan Street sourdough. There are several drinks available, and at $1.50 for a small cup, the café is definitely in the running for serving the cheapest cup of Stumptown coffee in New York city.
"We're mimicking what Four and Twenty does already," said Emily Elsen. "We're a community gathering place in Gowanus, and we're excited to bring what we do to the library."
The café is currently open from 9 a.m. until 6 p.m., Mondays through Saturdays. Sunday hours are forthcoming.
Earlier: Four & Twenty Blackbirds's Elsen Sisters Opening Brooklyn Public Library Café With Poiarkoff Brothers