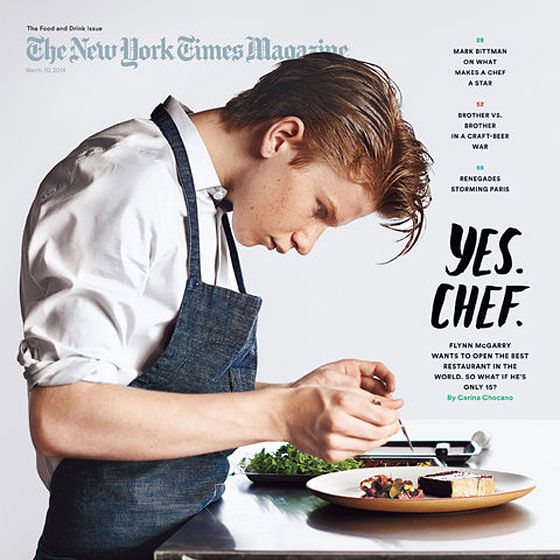 Is this America's greatest culinary talent, growing up right in front of our eyes?
Photo: The New York Times Magazine
The New York Times Magazine made a pretty-much-as-expected splash over the weekend with its story on wunder-chef Flynn McGarry, which took up the cover of its annual food issue. The mag posted a a Q&A; with Carina Chocano, the profile's writer, as well as a Q&A; with the feature's photographers; both of these extra features, along with a video of the young chef, have helped the initial story elicit more plaudits and sniping on Twitter. Some of the strongest feelings were posted online, including reactions from chef Andrew Carmellini and Gillian Jacobs from Community, straight ahead.
Reactions run from pretty rah-rah …
@diningwithflynn you are our hero— Contra (@ContraNYC) March 28, 2014

'The Chef at 15' in the NYT today. Truly amazing and explains the wave of teen bakers in our cupcake classes! ttp://nyti.ms/1dnRjcH— Butter Lane Cupcakes (@butterlane) March 30, 2014

Daughter is raptly devouring the NYT article about the 15 yr. old chef w/ aspirations of culinary glory. #personofinterest— Randall Grahm (@RandallGrahm) March 30, 2014

@diningwithflynn What a terrific article. Congratulations on all you've already accomplished. Can't wait to eat at your restaurant some day.— Gillian Jacobs (@GillianJacobs) March 30, 2014

"Cooking as self-expression and eating as experience" I'd love to meet you, @diningwithflynn http://t.co/WDaMryeYb0 (ht @rahafharfoush)— Kim Bryden (@kimchiquita) March 29, 2014

@diningwithflynn Keep doing you.— Brandon Baltzley (@BrandonBaltzley) March 31, 2014

@NYTmag–there are so many things that are good about that Flynn McGarry article that I don't know where to start.— Pattie Baker (@PattieBaker) March 30, 2014


… to the pretty much color-me-not-impressed:
Really?! A 15-year old "chef" on cover of this Sunday's @NYTmag? That's who they pick out of all the talented chefs featured in this issue?— GigiBlue (@GigiBlueNYC) March 29, 2014

. @cherrybombemag @WNYC i like to think that Barbara Lynch & @KristenLKish (in same mag) story would've made a much more compelling cover.— ryan sutton (@qualityrye) March 29, 2014

Really? A "What's in Chefs' Fridges?" piece for NYT mag food issue? And another "Teen Chef" piece? That's the best we can do?— Frodnesor (@frodnesor) March 28, 2014

young chef article today in NYT magazine is about money & privilege and also shift in the last 20 years about the acceptance of chefdom— Andrew Carmellini (@andrecarmellini) March 29, 2014

"I don't know if we're doing newspaper-worthy food," Gabrielle Hamilton tells @wnyc as @nytimes puts a 15 year old boy chef on the cover.— Cherry Bombe (@cherrybombemag) March 29, 2014

And finally, Ari Taymor, the chef-owner at Alma, which is the L.A. restaurant McGarry apprentices in, says "people more than twice [McGarry's] age" should quit throwing shade:
Any backlash against @diningwithflynn needs to stop right the fuck now. Kids a hard worker and compared to me at 15 so far ahead of the game— ari taymor (@AriTaymor) March 29, 2014

@AriTaymor @diningwithflynn he is the best. Some sad people out there for sure.— Fabian von Hauske (@fabianvonhauske) March 29, 2014

If you need to fill your time talking shit about him, I suggest you get some therapy, deal with those bullying impulses— ari taymor (@AriTaymor) March 29, 2014

Related: The New York Times Magazine's Annual Food Issue Is Here