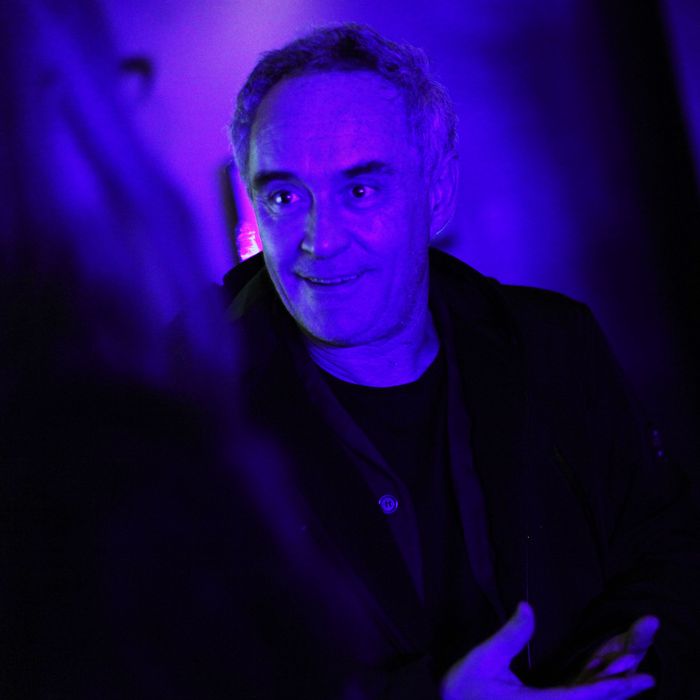 Ferran Adrià, taking in the sights.
Photo: Melissa Hom
Ferran Adrià is not shy about his achievements: "I have a lot of orgasms," he says, flatly. The confession is not as out of place as it might sound. We're strolling through the Musuem of Sex in Manhattan, staring at exhibitions full of pulsing, pixelated, thrusts, pumps, and squirts. But the sex on the walls isn't what's interesting to Adrià, and the orgasms he's talking about aren't as carnal as the scenery.
"For example," he continues in Spanish, "the white truffles. That's a food orgasm. You have the truffles once, twice, three times … it's just not the same after that, you know what I mean?" For Adrià, once you have easy access to something, you no longer want it. (For a man considered one of the most pioneering chefs of all time, it's not that tough to track down truffles.) It comes down to a fundamental rule of attraction: People want what they can't have. "Like the jamón," he says. "I haven't been home in Barcelona for fourteen days, so when I get back, the jamón will be like an orgasm for me."
Adrià is of course known for his sensory approach to food: He prefers to eat his with his hands and espouses a method of eating jamón by first taking the fat and smearing it over his upper lip. I saw the gusto firsthand when Adrià's handler, who helped arrange the meeting, adjusted our rendezvous so the chef could grab some lunch — at a nearby Chipotle. There the grand culinary wizard was, standing toward the front of the line, waiting for a basket of tacos. When the food arrived, he folded the tortillas into precious squares, orgami-style, then doused it all in hot sauce and lapped everything up mid-speech.
The Musuem of Sex visit came about because Adrià is looking for ideas for an exhibition center he wants to build to commemerate elBulli back in Spain. We start our tour upstairs, at the Linda Lovelace exhibit. With a looping sequence on a floor-to-ceiling screen that features the porn legend's most spectacular oral performances, Adrià explains the intimate connection between food and sex. "Forty thousand years ago, when humans were really animals, they only cared about two things—sex and food," he says. These two primitive elements were responsible for human development, he tells me. "Thanks to food, our brains became bigger. And thanks to sex, populations were able to grow." As the species evolved, "sex and food became more than a necesity. It became pleasure. Now, we live in a McDonald's of sex."
 
The next room is full of animals captured en flagrante. Downstairs there's video porn, X-rated scenes painted onto iPhones, galleries of vaginalia, and some texting poetry from none other than Carlos Danger. At some point, perhaps inevitably, the topic of aphrodisiacs comes up. Adrià doesn't buy the idea that any foods can possibly trigger the pheremones. For him, the link between dinner and foreplay exists because of something more straightforward: "Alcohol."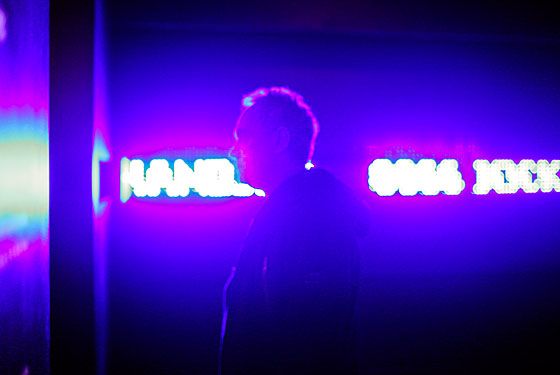 The Musuem of Sex visit came about because Adrià is looking for ideas for an exhibition center he wants to build to commemerate elBulli back in Spain. We start our tour upstairs, at the Linda Lovelace exhibit. With a looping sequence on a floor-to-ceiling screen that features the porn legend's most spectacular oral performances, Adrià explains the intimate connection between food and sex. "Forty thousand years ago, when humans were really animals, they only cared about two things—sex and food," he says. These two primitive elements were responsible for human development, he tells me. "Thanks to food, our brains became bigger. And thanks to sex, populations were able to grow." As the species evolved, "sex and food became more than a necesity. It became pleasure. Now, we live in a McDonald's of sex."
 
The next room is full of animals captured en flagrante. Downstairs there's video porn, X-rated scenes painted onto iPhones, galleries of vaginalia, and some texting poetry from none other than Carlos Danger. At some point, perhaps inevitably, the topic of aphrodisiacs comes up. Adrià doesn't buy the idea that any foods can possibly trigger the pheremones. For him, the link between dinner and foreplay exists because of something more straightforward: "Alcohol."
 

"I have a lot of orgasms."Photo: Melissa Hom
To Adrià, the most impressive part of the museum are the café and gift shop. He marvels and snaps pictures of the sleek, airy design, wondering how he might incorporate it into his own museum of sensations. He then saddles up to the bar and orders a finger of Campari to settle his stomach, no doubt aroused by those tacos. But the presence of such a celebrity at the museum draws fans. The cooks come out of the kitchen to greet him. Then the owner and manager appears holding an empty plate, a strange offering for the high chef.
 
The plate is handmade, the manager explains, and designed to hold one of the museum's new, signature cocktails. The drink arrives in a carafe, the liquid inside milky white. The manager tilts the carafe over and pours the mix of rum, saki, yuzo, and xanthan gum onto the plate.
 
"This, you are supposed to lick," he instructs Adrià, the same way elBulli's servers instructed so many diners. "You bend down and lick and lick again. For a guy, it's supposed to be like cunnilingus. For a girl," the manager says, "well, it's obvious."
 
The manager waits, but Adrià does not bend down. He does not lick. Instead, the chef says something in Spanish, gets off the stool, and leaves.
 
The manager seems puzzled by Adrià's dismissal of such an Adrià-like creation. What could have driven the chef out? Putting on her coat, the apologetic translator relays the chef's message: "He said, 'He had this in 1997.'"