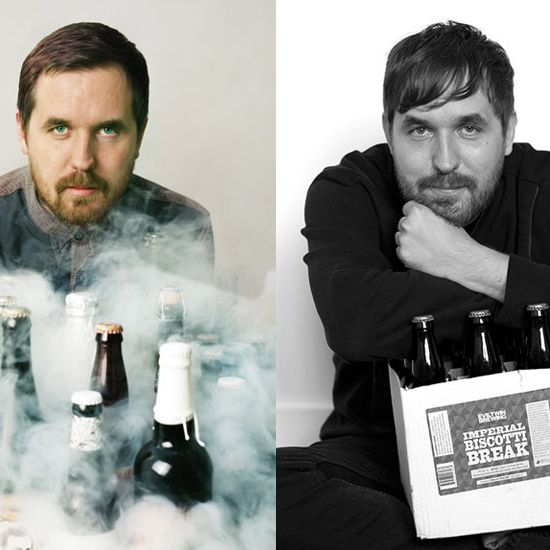 These identical twins are like the Oasis of brewers.
Photo: Rasmus Malmstrøm; Corry Arnold
As part of its annual Food & Drink Issue, The New York Times Magazine takes a look at tensions between Mikkel Borg-Bjergsø and Jeppe Jarnit-Bjergsø, who run rival "gypsy breweries" from the West and East coasts, respectively. Their career paths follow awfully close trajectories: One makes a special beer for Mission Chinese Food; the other supplies Pok Pok. Jeppe also controls the staggering lineup at Tørst in Greenpoint, while Mikkel's got a bar in San Francisco. The brewers, who are identical twins, come across like they've each got more talent than they know what to do with, or at least the uncanny ability to torque their sibling-rivalry origin story to their advantage. Straight ahead, some key facts and put-downs.
1. The brothers haven't spoken to each other in a year. A friend comments on the rift: "It was a big relief for Mikkel when Jeppe moved to Brooklyn. It was like the Danish beer scene wasn't big enough for the two of them."
2. Mikkel, on his casual-sounding dedication to the craft: "I don't enjoy making beer […] I like making recipes and hanging out."
3. On Mikkeller's copious output: "In any given year, a typical craft brewery produces maybe 20 different beers. Last year, Mikkeller made 124."
4. On Mikkel's business decisions: "He once bought $8,000 worth of truffles for use in a small-batch beer called the Forager."
5. Mikkel, getting all Definitely, Maybe on his brother: "You know Oasis? The Gallagher brothers? They were one of the most successful bands in the world, but those guys had problems with each other."
6. On Jeppe's improbable success with Bozo, a kind of stunt beer created to "make fun of" the kind of overkill deployed by craft brewers like Mikkeller: "We added cocoa, chocolate, coconut, cinnamon, oak chips, chili, coffee, vanilla, hazelnut, chestnut, marshmallows […] It's not a beer I'd drink, but it came out excellent, and it gets crazy high ratings."
7. Jeppe, on how Tørst is geared to being a different kind of beer bar: "I like to go out sometimes and not only be around fat men that drink beer."
8. Jeppe, on Mikkeller: "I don't want to sound like I put down my brother's beer, but he's in the line of Three Floyds a bit too much. He's very fascinated with what they do. He makes this blueberry spontaneous […] I hate it. I think it's disgusting. It tastes like Kool-Aid."

A Fight Is Brewing [New York Times Magazine]