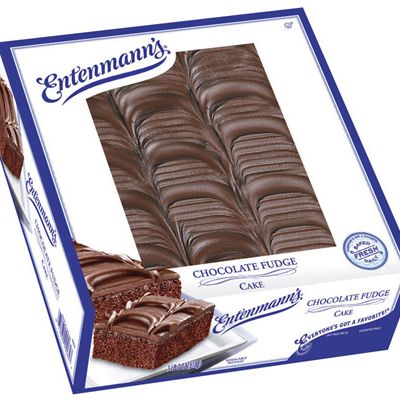 Remember this?
Photo: Entenmann's
In a move reminiscent of the great Hostess Shutdown of 2012, Entenmann's Bakery announced today it will shut down its 53-year-old Bay Shore plant, leaving 178 of its 265 on-site workers out of a job. The company, which has roots in Brooklyn and eastern Long Island, is known for packaging its products in distinctive white boxes with a see-through "window," a packaging design it invented in 1959. Entenmann's products include — but are by no means limited to — brownies, cherry cheese danishes, doughnut-hole-like Pop 'Ems, iced chocolate cakes, coffee cakes, lemon loaf, and pound cake.
For decades, Entenmann's baked goods have an unwavering presence in grocery and convenience stores, and for a long time were a basic fact of thousands of kids' brown-bagged lunches throughout the city and the surrounding areas. Entenmann's cookies, cakes, and various glazed things were fixtures of office break rooms, birthday parties, AA meetings, auto repair waiting rooms, post-funeral gatherings, treehouse tribunals, and pretty much any other kind of gathering imaginable. The brand's various "outlet stores" that once dotted the highways of Long Island in greater numbers were packed with so much bakery overstock that it was dangerous to go to early in the morning, for fear that someone's granny might elbow you in the eye socket while the two of you fought over the last box of Apple Danish Twist.
The company has been owned by Bimbo Bakeries USA, a division of the Mexican Grupo Bimbo. An executive making the announcement today said the company's immense, 53-year-old Bay Shore facility "cannot operate efficiently on a cost competitive basis with the other bakeries in our system." Production is now expected to shift elsewhere: "We are committed to ensuring that there will be no change in the quality, freshness or availability in the Entenmann's products consumers have come to know and love," the executive said. After restructuring, the Bay Shore bakery will become a distribution center, and remaining workers will also focus on research and marketing.
Entenmann's closing Bay Shore bakery, cutting 178 jobs [Newsday]