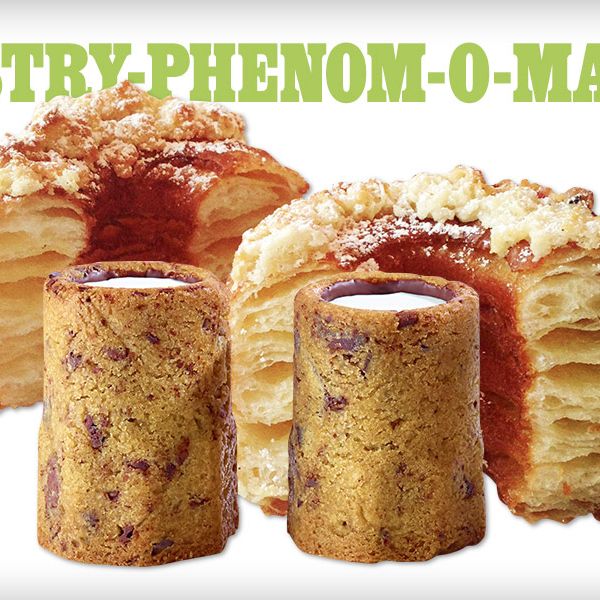 What will be the next big thing?
Photo: Marisa Woocher; Cronut and cookie shot photos courtesy of Dominique Ansel Bakery
Dominique Ansel — cronut inventor, the man behind those new milk-and-cookie shots — is in a spot where all great hitmakers eventually find themselves: If his next creation is anything less than a masterpiece, people will inevitably feel let down. That kind of pressure can be daunting, which is why Grub Street wants to help out.

So, how to create the next pastry phenom? Each of Ansel's two previous baked-goods sensations (the cookie shots and the megahit cronuts) contain some common elements: They both start with a classic, American-favorite sweet (doughnuts, milk and cookies) as the base. They add European whimsy (croissant dough, a very French repurposing of form in the case of the cookies), and — this seems to be the crucial bit that sets Ansel apart — add a final luxury technique (fillings and glaze for cronuts, milk that's been cold-infused with vanilla for the cookies). You could argue that the cronut's catchy name helped, too, but the cookie shots are proof that a silly mash-up name isn't strictly necessary.
Keeping in mind that simple formula — American favorite x French twist + luxurious secret weapon — Grub Street built the Pastry Phenom-o-Matic, a carefully calibrated tool that can generate exactly 1,728 possible pastry combinations, all of which could be Ansel's — or anyone's, really — Next Big Thing. Give it a spin, tell the world about it via Facebook, then start figuring out how to actually make something like Rainbow-Cookie Crêpes or Snickerdoodle Profiteroles.