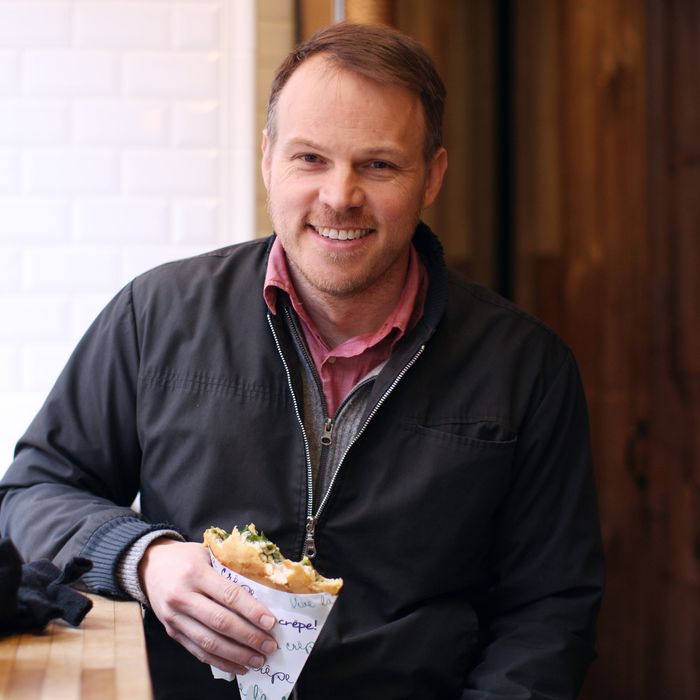 "I use whole milk because I'm lactose-insistent."
Photo: Melissa Hom
As the world watched the final The Amazing Spider-Man 2 trailer this week, director Marc Webb was busy finishing the actual film, which premieres on May 2. "All the work makes my diet a bit erratic," he says. "So forgive me, diet gods of Grub Street." While, yes, late-night post-production work (and a big move out of his L.A. home) meant that he had to skip dinner in favor of Trader Joe's Breakfast Trek mix, "bi-coastal curious" Webb wasn't stuck in a dark room all week: He found time to break for tiramisu at Rao's in Hollywood, a "flaky-ass biscuit" with raspberry jam at Sqirl in Silver Lake, and, back in New York, plenty of tequila at the Bowery Hotel. Read it all, straight ahead.
Thursday, March 13
For breakfast, I like to mix Special K with strawberries (healthy-ish?) with Froot Loops (colorful and denied to me in my youth). And I throw in a bit of Honey Nut Cheerios because I'm a glutton. I use whole milk because I'm lactose-insistent. I eat a lot of great food, but I have no real palate for coffee. All I want is a Starbucks Grande drip before 10 a.m. Keeps the chemistry in check.
My morning is spent talking about the Spider-Man press tour and looking at the final visual FX shots for the movie in 3-D. No fucking snacks because — having spent the last six months in front of a computer in a dark room — it's a slippery slope. But the muffins, they call to me.
Lunch is a quinoa salad from Lemon Moon. It's got green apples, cranberries, and almonds. Also, the almonds are shaved, which is just how I like them. I'm not sure I can find a salad this dependable in New York.
During post-production, Esther the PA introduced me to Trader Joe's Breakfast Trek mix. It has cranberries, white-chocolate chips, granola globs, and almonds (unshaved). I eat it to get my blood sugar up. I work out at the gym, and then go to NBC/Universal in my gym clothes, which is kind of a bad move. But I don't have time because I have two more conference calls. I'd rather smash my head through a plate of glass than do conference calls, but no one ever gives you that choice, unfortunately.
We have a post-production wrap party at Cowboys & Turbans near my house in Silver Lake. I have a couple glasses of Cabernet and some pizza that's being passed around. Too busy saying goodbye to too many awesome people to get to sit down and actually enjoy any food. I love my crew.
Friday, March 14
In stable moments of my life, when I'm not finishing a movie and moving out of my house, I have cottage cheese and an apple for breakfast. This makes me happy. But since the fridge at my house is unplugged, I hit the cereal again.
More quinoa salad for lunch, and three bites of a cookie. The cookie has been out too long and I throw it out, ragefully, like the cookie had betrayed me. 'Cause it had. Fucking cookie.
Blair's on Rowena for dinner. I live in Silver Lake, and it's my go-to place with my go-to friends, Adam Siegel and Jared LaBoeff. Thank God Siegel orders the truffle mac-and-cheese, because I can steal some without the guilt of a whole order. I get the trout, which has a dill-yogurt sauce that makes my life feel whole. The wine is a Pinot Noir called Tintara.
After dinner, we go meet some other folks at the new Rao's in Hollywood. I haven't gotten into the one in New York, but if someone knows someone, please let me know. Anyways, I have a bit of tiramisu. A few of us end up at Jared's house, and two Johnny Walker Blacks later, the idea of going back to my packed-up, soon-to-be-sold house is too depressing, so I fall asleep on Jared's couch listening to Jesus Christ Superstar on Vinyl.
Saturday, March 15
Jared's house is next to the Silver Lake farmer's market. There's mostly raw vegetables from what I can tell, so I duck into a local coffee place and get pretty much the best cinnamon roll that I've ever had. It's a place called Mornings Nights, and I was not expecting something so magnificent so early.
For lunch, I take the recommendation of a Grub Streeter and go to Sqirl (too cool for u) on Virgil. The line is long and the guy behind me is griping about it to his girlfriend. She's taking it like a champ, but my guess is that they're not going to last.
The cashier is a perfect Silver Lake mixture of perkiness and facial piercings. She's focused and alert and actually gets me excited to eat again. I get a "flaky-ass biscuit" with raspberry jam and some Kokuho brown rice with pesto. The butter for the biscuit is perfectly soft. I could do without so much feta, but damn! It's really good. Thanks for that, Tishgart!
I spend the rest of the day looking at visual FX, which are nearly done now. For dinner, my editor, Pietro Scalia, is cooking dinner at his house. He's a superb chef and made a simple dinner of chicken and pasta taste perfect. Dessert is a lemon tart with a thin layer of raspberry jam (just like at Sqirl!). We finish off with grappa.
Sunday, March 16
I'm staying at the Chateau Marmont because my house is officially uninhabitable. It's a wonderfully quiet Sunday morning in the dining room. I have oatmeal with fruit and brown sugar and a coffee for breakfast.
Running errands back in Silver Lake, and I stop to get lunch at Say Cheese. Glenn [Harrell], the owner, knows more about cheese than any human I've met (and I'm from Wisconsin). I get a Charlemagne sandwich, which is turkey, melted cheese, and some jam. Plus sour-cream-and-onion chips and a big bottle of water.
After lunch, I'm back to work. The movie is due in eight hours, and I have three more shots to finish. I think they're minor tweaks, but of course things take longer than expected. I skip dinner in favor of a Trader Joe's Breakfast Trek mix and spend all night in a dark room with the last vestige of my visual-effects crew. I try eating a muffin, but it feels less like eating and more like licking bark. We finish the movie at 1:13 a.m.
Monday, March 17
I again have oatmeal, fruit, and coffee in my hotel room while I pack for New York. On the way to the airport, I chow down on more Trader Joe's Trek mix and drink a bottle of water. Hydrate when you fly! I have some baked ziti at the airport. It's not half bad for airport food.
On the plane, I have something that looks like salmon. It's fucking gross. And there's chicken with cheese, which tastes like microwave sogginess. My assistant packed some Cheerios and Froot Loops in my backpack. I discover this with a mixture of awe and deep gratitude. Thank you, Hillary.
The rest of the flight, I watch the brilliant The Act of Killing and promptly lose my appetite. The New York night skyline is beautiful. I listen to Billy Joel's "New York State of Mind" to get me in the mood.
Tuesday, March 18
When I'm in the city, I generally spend more time cooking. I have a few minutes before an appointment uptown, and rather than face the enormous void that finishing a movie creates, I thinly slice some apples into circles and put a dollop of (very fresh) cottage cheese on it. Plus a drop of honey and a few flakes of salt on top. I have five or six pieces. If cottage cheese doesn't freak you out, this is super delish.
For lunch, I go to Vive La Crêpe! and I get the one with chicken, basil, and Gruyère. I love New York so much.
I'm meeting my friend Michael Weber at the premiere for Breathe In. I sit next to General Zod [Michael Shannon], who's incredibly polite and sweet. Ah, super-villains. I pour through half of my pack of Raisinets, but I forget about them because it's too much fun to watch Felicity Jones. Lucky for me, she's also in my movie.
Afterwards, Weber and I have some tequila and many, many limes at Hotel Chantelle. I eat a slider. A bunch of us go back to the Bowery Hotel and unsuccessfully try to order some food (kitchen's closed). We have another round of tequila to console ourselves.
Wednesday, March 19
I go to the Think Coffee next to my apartment. I love Think. But I buy a peanut-butter-and-banana sandwich called a "Johnny Boy," and it tastes like a babysitter made it while watching reality television. I toss it and realize I have a nasty habit of quickly abandoning food: muffins, cookies, side salads, and now this.
I manage to watch an episode of Girls (almost caught up!) before Domino's opens, and I order a sausage-and-pepperoni pizza with a can of Coke. I don't care for fancy pizza. I swear the Domino's-and-Coke combination is well worth a Lipitor prescription.