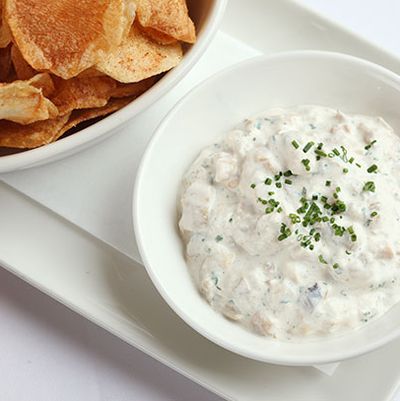 The Clam's dip comes loaded with cayenne, Worcestershire, sour cream, and actual chopped clams.
Photo: Melissa Hom
Dip is what you eat at March Madness parties, not high-end restaurants, right? But even chefs know the fundamental appeal of plunging something crunchy into something smooth and delicious. So whether a menu lists them as "spreads" or "snacks," dips are popping up at plenty of restaurants: Bobby Flay offers a trio of spreads at Gato, Estela has salted-cod mantecato, and there's The Clam's clam dip, of course. In fact, here are 14 dips that make for great starts to your meal — or hearty accompaniments to your after-work drinks.

Trio of Spreads
Where: Gato
Cost: $16 for three
Bobby Flay's featuring a trio of spreads on his menu: Greek yogurt mixed with charred-green-chile pesto; chickpeas, Meyer lemon, and house-smoked paprika; and a dip with white bean, feta, garlic, and a walnut-piquillo relish. They come with enough buckwheat pita to last you until you hit the bottom.
Smoked-Tomato-White-Bean; Housemade-Ricotta-Honey-Chili-Oil
Where: General Assembly
Cost: $11
There's an entire section of the menu dedicated to dips (and crudité) at this just-opened restaurant, which occupies the space left behind by the Hurricane Club. Even better: a sampler costs $18.
Burnt-Jalapeño Hummus
Where: Empellon Cocina
Cost: $8
Alex Stupak is always changing up his menus, but his hummus has stuck around for a while. It's made with heirloom black beans, slightly sour crema, and cotija cheese. To temper the dish's heat, Stupak roasts the jalapeños in the oven until they've turned to ash, which is then pulverized and folded into the hummus.
Escalivada Catalana
Where: Toro
Cost: $9
Jamie Bissonnette and Ken Oringer transform eggplant into a tender, gooey stew. Smoked eggplant is slow-cooked with onions, peppers, and tomatoes in a sweet and sour sherry vinegar and olive oil, and it's served with grilled bread for dipping or spreading. But you can always just take a spoon to the clay pot.
Cheese Fondue
Where: ABC Cocina
Cost: $17
This stick-to-your-bones cheese fondue is served alongside soft and crunchy tortillas, in-season vegetables, meats, and a slightly charred piquillo pepper.
Foie-Gras-and-Rabbit Terrine
Where: Ristorante Morini
Cost: $22
Though this terrine is less of a dip and more of a spread, Gordon Finn's dish is so creamy and tender that it's easy to tear apart the toasted brioche and just start scooping. The whole dish takes almost four days to make, from confit-cooking the rabbit to preparing the heirloom apples and fresh-fig mostarda.
Chips With Dips
Where: The Dead Rabbit
Cost: $9
This FiDi bar's revamped menu includes a snack that's simple and perfect. Chips come with a trio of dipping sauces: tangy Old Bay mayo, Irish curry, and spicy homemade ketchup.
Salted-Cod Mantecato
Where: Estela
Cost: $12
Ignacio Mattos thickens his whipped-salt-cod spread with creamy potatoes and shiitake mushrooms. It's paired with an excellent rye-matzo flatbread.
The Clam Dip
Where: The Clam
Cost: $9
It's all clam, all the time at this West Village restaurant, as best demonstrated by this creamy, chunky clam dip. Scoop the restaurant's homemade potato chips (coated with Old Bay seasoning) into the dip, which is made of tender chopped clams, cayenne pepper, sour cream, and Worcestershire sauce.
Beetroot-Walnut Hummus
Where: The East Pole
Cost: $8
This beetroot-walnut hummus is as earthy as it gets: The bright pink dip comes spiced with cumin and arrives with seasonal veggies (beet chips, broccoli, cauliflower, radishes, and Romanesco) for dipping.
Potato Chips and Caramelized Dip
Where: The Runner
Cost: $3
At this Clinton Hill spot, you'll find a dip made of just mayo and onions, with a bit of sour cream, onion, garlic powder, garlic confit, and Worcestershire sauce. The restaurant also plans to introduce homemade flavored chips soon, like barbecue and salt-and-vinegar.
Eggplant Dip
Where: The Dutch
Cost: $12
Andrew Carmellini has been serving a smoky charred-eggplant dip at The Dutch for a while now, but only recently did he reveal the secret behind the dish's chips: They're thinly sliced, fried in lamb fat, and spiced with za'atar.
Spinach-and-Artichoke Dip
Where: The Butterfly
Cost: $11
This spinach-and-artichoke dip is salty and peppered with actual fresh vegetables — far from the gloppy, flavorless kind you're used to. It comes baked with Panko breadcrumbs in a glass pot with cheddar, crispy shallots, and a toasted baguette.
Pub Cheese
Where: Alder
Cost: $11
Even though Wylie Dufresne's lilac-colored pub cheese is simply presented, there's a lot going on under the snack's surface: The chips are made from sliced potato bread, and the cheese itself — a milk, cheddar, and cream-cheese combo — is cooked with thyme, bay leaf, red wine (for a port cheese flavor), garlic, clove, Dijon mustard, and red miso paste. It's topped off with pistachio nuts, too.