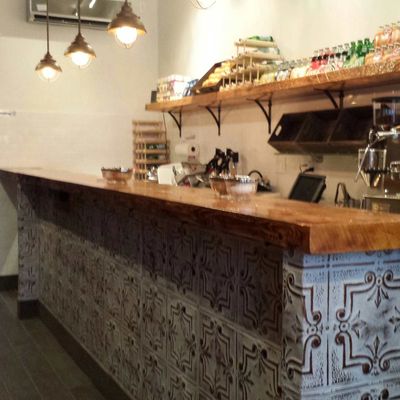 Southern Italy is very much the theme.
Photo: Courtesy of Da Capo
Since Anastasios Nougos opened Zibetto in midtown eight years ago, it's become a destination for aficionados of Italian-style coffee bars. Now Nougos has converted an erstwhile Carnegie Hill bagel shop into Da Capo, named for the musical term that means "repeat from the beginning," and Zibetto fans will discern a family resemblance in the long, narrow space, the standing bar, and the classic caffè menu. But where Zibetto is sleek and as well-marbled as Donald Trump's bathtub, Da Capo is rustic and casual, furnished with brick, wood, and copper. And once Nougos has installed additional seating in a skylit atrium (and a two-bench-wide patio), he'll invite customers to linger over their Americanos and shakeratos.

The veteran barista has debuted a new medium-roast blend from his private-label roaster in Bologna ("More chocolate and hazelnut," he says), and he's swapped the Zibetto uniform of dress shirt and necktie for a chambray shirt, its buttoned-down collar buttons rakishly unbuttoned, and the linen coppola that's a nod to his Sicilian heritage. Southern Italy is very much the theme at Da Capo, from cornetti and granita at breakfast to the aperitivi Nougos will serve with antipasti and pizzette once the liquor license arrives — just a few points of differentiation between this coffee shop and the Starbucks and Dunkin' Donuts across the street.
Da Capo Aperitivo e Caffe, 1392 Madison Ave., nr. 97th St.; 917-526-8112