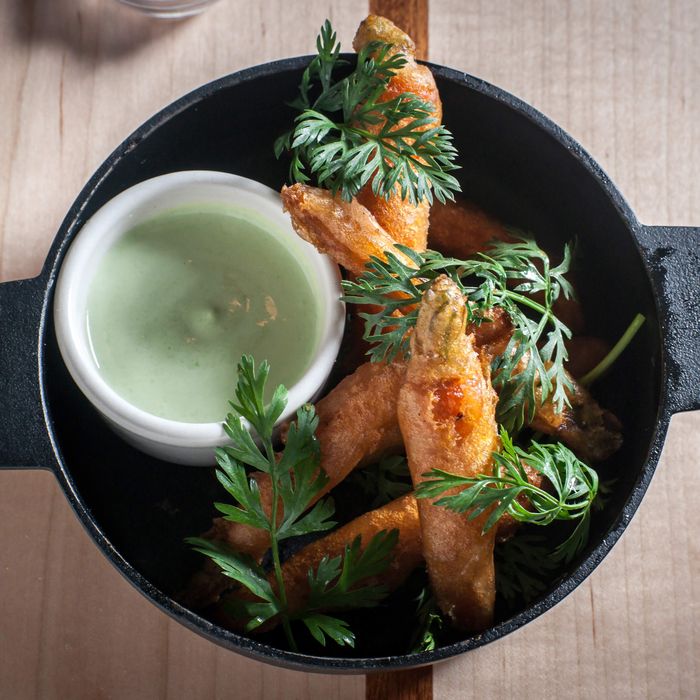 "Impossibly delicious" carrot fries.
Photo: Paul Wagtouicz
This week, Alan Richman, Steve Cuozzo, and Daniel S. Meyer all dined at hotel restaurants — some better than others. Meanwhile, Pete Wells checked out the affordable and innovative tasting menu at Contra while Stan Sagner ate at Empire Diner. Read it all, straight ahead.
Pete Wells checked out the $55 five-course tasting menu at Contra, awarding its "understated, modern approach to deeply seasonal cooking" two stars. While the bread service costs an extra $3, it's "worth it for the supremely creamy butter alone." Other highlights: monkfish with a fish-sauce foam ("cooked with faultless timing"), the "unexpected" combination of chicken breast with pickled daikon and blood sausage, and raw scallops with kohlrabi. Even the wine list, which features small winemakers who "avoid modern tricks," is "unfamiliar," and includes a bottle of French cider that "had a note of blue cheese." Best of all, though, are the two dessert courses, especially the successful "beets-and-yogurt number."
Alan Richman visited two new hotel restaurants. He awarded Margaux at the Marlton one star and Narcissa at the Standard East Village two stars. The interior at Margaux feels dated and "replicates the look of Italian restaurants of memory that attempted to evoke Tuscany with fake windows, fake shutters, fake arbors, fake amber moonlight, and genuine hanging plants." The menu has some standouts: "pleasantly tender" grilled artichokes, "sturdy and meaty" lamb meatballs, and a "juicy and lightly spiced" burger. At Narcissa, Richman found plenty to love: the "tender" Carrots Wellington, roasted breast of duck ("luminous, lacquered, and exotically spiced"), the rotisserie beets ("marvels of slow cooking"), and "impossibly delicious" carrot fries. Desserts, like the "masterfully light" fennel cheesecake, are a must-order, too.
Steve Cuozzo made his way to the Regency Bar & Grill at the recently renovated The Regency hotel. The restaurant is best known for it "power breakfast," with "seductively buttery" scrambled eggs and "crispy muffins." But the lunch and dinner menus are more impressive, with "first-class entrees" like spiced duck breast with black barley, saffron-roasted halibut, and a lamb loin chop. While the cooking is "neither timid nor revolutionary," it is "refined" and "contemporary," which is rare in a "traditional Manhattan hotel." Two stars.
Daniel S. Meyer filed a review on the two new restaurants from Jason HIcks and Yves Yadot at midtown's Williams Hotel, and awarded them three stars each. The Shakespeare features "low-ceilinged rooms of worn wood" and plenty of pub-friendly English eats. Dishes like "crackly" Scotch eggs and "peppery" Cumberland bangers with "creamy" mash are successful, but the "waits between courses make airport security look like the 100-meter dash." Upstairs is the Peacock, which feels like a "luxe clubhouse." The food isn't "particularly worth of its dapper digs," though: The short-rib pie is "marred by the unrelenting funk" of Stilton, and the lamb curry is served over "mushy rice." Order the beef tartare, loaded into "crunchy" Yorkshire-pudding cups, or the "silky" roasted salmon instead.
Shauna Lyon of The New Yorker was quite pleased with the seafood-heavy menu at All'onda. Some hits: uni-topped squid-ink arancini, monkfish liver with compressed persimmon ("a decadent riff on peanut butter and jelly"), and "delicately fried" sweetbreads. The real standouts, she says, are the house-made pastas, like the uni carbonara and "intense" Manila-clam spaghetti. "Entrees feel beside the point," as do unsuccessful desserts like a "strange" soy-sauce gelato and "heavy" olive-oil cake.
Stan Sagner awarded Amanda Freitag's revamp of Empire Diner two out of five stars for the "gorgeous" Art Deco space and so-so menu. The Buffalo skate wings work "better as a pun than a dish," and while the flavors are "sublime" in a dish of lox and burrata, it "evokes sophisticated baby food." There are some must-orders: fish and chips that "transcends its humble name," a patty melt made with "gooey" Gruyere-and-onion compote, "solid" honey-crisp pie, and a "perfectly proportioned" banana split made with "beautifully caramelized banana spears."