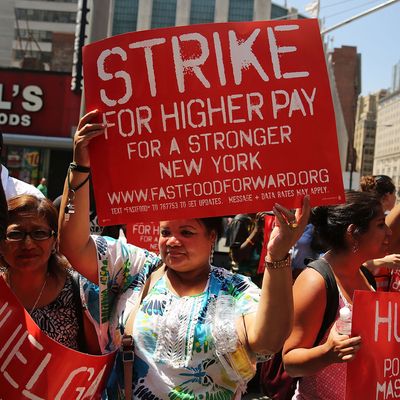 Fast-food workers striking last year.
Photo: Spencer Platt/Getty Images
State lawmakers approved the law yesterday, so Connecticut fast-food workers will be the first in the nation to rake in at least $10.10 an hour. The law won't go into effect until 2017, which the Connecticut Restaurant Association is already fearing as the year of hard knocks: "Connecticut's restaurateurs will be forced to cut back on staff or increase menu prices — neither are easy decisions," the organization says.
While the hike affects most fast-food workers, Connecticut's waiters, who by law get a percentage of minimum wage, actually had their hourly rate cut last legislative session. A new law shaved the figure from 69 percent of minimum wage to 63.2 percent, leaving tipped workers a little bitter. "The 27,000 waiters and waitresses in Connecticut were unfairly left out," one advocate wrote earlier this month in the New Haven Register, explaining that the lower the tipped wage, the more "workers must rely on the generosity of customers to earn a living."
Connecticut Approves Highest State Minimum Wage [AP]
State Legislature Passes Minimum Wage Hike [Hatford Courant]