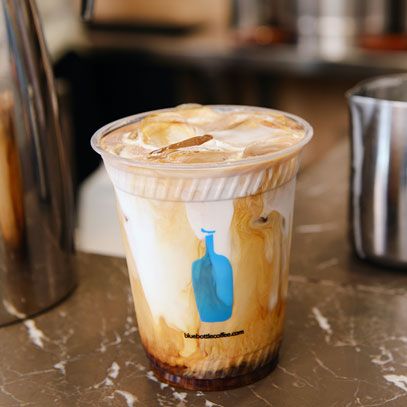 Taste the difference.
Photo: Matt Dutile
For all the high-caliber coffee shops that assert an undying devotion to fair-trade beans and espresso machines that cost more than a car, there's surprisingly little talk of another essential ingredient: milk. It's an odd thing to overlook, considering how large a role it plays in coffee culture. As Blue Bottle's James Freeman recently told Grub, "How coffee tastes is directly related to how the milk tastes," but he also noted that milk is one of his biggest expenses. Fortunately, more and more shops around the nation are turning to small-scale, high-quality dairies as well as testing out serious non-dairy milk alternatives: La Colombe recently introduced hemp milk, Joe Coffee just added almond milk, and Intelligentsia plans to unveil new varieties soon. Learn which American coffee shops take milk seriously, straight ahead.
1. The Shop: Blue Bottle (New York, San Francisco, Oakland)
The Milk: San Francisco and Oakland: St. Benoît's organic, low-pasteurized, pasture-raised Jersey cow's milk; Clover Stornetta Farms's 3.5-percent-fat milk; New York: Battenkill Valley Creamery's farm-fresh milk.
Freeman's willing to splurge on high-class offerings: On the West Coast, he brings in milk from Jersey-based, single-source farm St. Benoît, as well as Clover out of nearby Petaluma, California. His New York shops all use milk from Battenkill Valley Creamery (based in Salem, New York.). Freeman's toying with the idea of producing his own almond milk, too.
2. The Shop: Jack's Stir Brew (New York)
The Milk: Hudson Valley Fresh's rich, 3.9-percent-fat milk.
Cows at upstate dairy Hudson Valley Fresh are fed a diet of healthy grains and hay to produce clean, fresh milk that enhances Jack's signature stir-brewing method. This milk also happens to be certified Kosher.
3. The Shop: Cafe Pedlar (Brooklyn)
The Milk: Ithaca Milk's non-homogenized Jersey cow's milk.
The same company that makes the popular buffalo yogurt offers two different types of milk: sweet, creamy, non-homogenized Jersey cow's milk, and homogenized Holstein cow's milk. Cafe Pedlar offers Ithaca's whole and skim varieties of the former.
4. The Shop: Victory Garden (New York)
The Milk: Housemade mastic- and cardamom-infused goat's milk.
This West Village ice-cream shop actually has excellent coffee: It mixes Irving Farm's house blend with lightly sweetened mastic- and cardamom-infused goat's milk, which owner Sophia Brittan sources from Side Hill Acres in Candor, New York.
5. The Shop: Stumptown (New York, Portland, Seattle, Los Angeles)
The Milks: New York: Hudson Valley Fresh; Portland and Seattle: Sunshine Dairy; Los Angeles: Rockview Farms.
Stumptown's purveyors vary across the country — which is a good thing, because it means everything is local. Sunshine Dairy is a Portland-based company that uses a cold-bowl separation process, which means that milk's only heated at the pasteurization stage. Family-owned Rockview Farms, based in Downey, California, is one of the only dairies in California to own its own cows and process, package, and distribute milk. All Stumptown outposts offer both whole and skim varieties, as well as Pacific's Barista Series almond and soy milks.
6. The Shop: Joe Coffee (New York and Philadelphia)
The Milk: Guida's Dairy's hormone-, pesticide- and antibiotic-free milk.
Besides Connecticut-based purveyor Guida's, the Rubinsteins also provide the option of Organic Valley milk. They've offered Pacific's Barista Series soy milk for a while, and in the beginning of March, they introduced Pacific's almond milk.
7. The Shop: La Colombe (New York and Philadelphia)
The Milks: Organic Valley's ultra-pasteurized, homogenized, pasture-raised milk; Pacific's hemp milk.
All the shops carry Organic Valley milk (whole, skim, and half-and-half): As it turns out, the grocery-store favorite sources from farms all across the country. Up until recently, La Colombe had a strict policy of no non-dairy alternatives, but the owners just introduced a nutty hemp milk.
8. The Shop: Little Collins (New York)
The Milk: Battenkill.
Battenkill — which prides itself on getting the milk from the cows into bottles in less than eight hours — is a popular choice in the city: This new-ish Australian-style coffee shop in midtown offers the whole and 2-percent-fat varieties, and Sweetleaf uses it, too.
9. The Shop: The Marlton Espresso Bar (New York)
The Milks: Battenkill; housemade almond milk.
There's a stylish new coffee bar tucked into the hotel on West 8th Street, with Ferndell Coffee Company beans, Battenkill dairy offerings, and, impressively, housemade almond milk.
10. The Shop: Intelligentsia (Los Angeles, New York, Chicago)
The Milks: New York: Battenkill's special barista milk; Los Angeles: Strauss Family Creamery's organic, non-homogenized, cream-top milk; Chicago: Kilgus Farmstead's 5-percent-fat milk.
No matter which Intelligentsia outpost you're at, you won't ever find skim milk — just whole and 2 percent. Cows at Strauss, based in Marin County, eat the distinctly sweet grasses that grow in the Tomales Bay region, which creates a rich flavor of milk. Even richer is the Kilgus milk in Chicago: all 5-ounce coffee drinks and smaller come with 5-percent-fat milk. Soy milk's available, but the company's developing better non-dairy alternatives.
11. The Shop: Go Get Em Tiger (Los Angeles)
The Milks: Housemade nut milk; Strauss's dairy milks.
At their new-ish coffee shop in Windsor Square, Kyle Glanville and Charles Babinski offer whole milk from Strauss, as well as housemade almond-macadamia milk, which they sweeten with dates.
12. The Shop: Sqirl (Los Angeles)
The Milks: Housemade almond milk; Strauss's dairy milks.
Jessica Koslow's laid-back Silver Lake café makes its own almond milk using nuts from Santa Barbara-based Fat Uncle Farms. It's smooth, slightly sweet, and pretty much perfect inside coffee — a rare feat for almond milk. Straus's barista whole milk is available, too.
13. The Shop: Cognoscenti Coffee (Los Angeles and Culver City)
The Milks: Califia Farms' almond milk; Strauss's dairy milks.
Cognoscenti's almond milk, which comes from California-based Califia Farms, is made from whole blanched (not roasted) almonds. Last year, Califia struck a deal with Whole Foods, so you can find the almond milk in stores nationwide. For dairy offerings, Straus is again the brand of choice.
14. The Shop: Ritual Coffee (San Francisco)
The Milk: Clover Organic Farms' fresh-pasteurized, antibiotic-free milk.
Clover Organic Farms, an offshoot of Clover Stornetta Farms, has won awards for the way it humanely produces dairy products. It's a popular California dairy: Other shops that use it include in Sightglass, Handsome, Verve, and Linea Caffe.
15. The Shop: Houndstooth Coffee (Austin)
The Milk: Mill King Milk's low-temperature pasteurized, non-homogenized milk.
Brothers Sean and Paul Henry stay true to their Texan roots by using Mill King Milk, a family-run business in Waco where the cows ("handpicked" Holsteins, Brown Swiss, and Jerseys) are grass-fed as much as possible.
16. The Shop: Little Goat Bread (Chicago)
The Milk: LaClare Farms' non-homogenized goat's milk; Prairie Farms ' dairy milk.
Stephanie Izard's coffee shop, which is adjacent to Little Goat Diner, offers next-level goat's milk sourced from LaClare Farms in Wisconsin. Wholesome dairy milk from family-owned Prairie Farms in Carlinville, I.L., Almond Breeze vanilla-almond milk, and Sunrich soy milk are also available.
17. The Shop: Heart (Portland)
The Milks: Sunshine Dairy's natural, rBST-free milk; Pixie Retreat's hazelnut milk.
For his nonfat and whole milks, Finland native Wille Yli-Luoma turns to Portland-based Sunshine Dairy. (Coava Brew Bar, Courier Coffee, and Ristretto Roasters all use Sunshine Dairy, too.) Yli-Luoma also offers Oregon hazelnut milk from local company Pixie Retreat: It's made with Oregon hazelnuts, vanilla bean, dates, and a dash of Himalayan pink salt.
18. The Shop: Ultimo Coffee (Philadelphia)
The Milk: Maplehofe Dairy's pasteurized, homogenized Holstein cow's milk.
This Philadelphia-based coffee company sources cow's milk (skim, whole, and half-and-half) from nearby Maplehofe Dairy in Lancaster County. The owners describe it as "sweet, sweet milk."
19. The Shop: Barista Parlor (Nashville)
The Milk: Hatcher Family Dairy's non-homogenized, farm-fresh milk.
This multi-roaster shop serves whole and skim milk from a family that's been in the farming business since 1851 in College Grove, Tennessee. You can even get to know the cows!
20. The Shop: Sump Coffee (Saint Louis)
The Milk: Ozark Mountain Creamery's antibiotic-free, vat-pasteurized milk.
Owner Scott Carey sources whole milk (and only whole milk) from Ozark Mountain Creamery in Mountain Grove, Missouri. It's a small, local, family-owned company that favors a low-temperature vat-pasteurization process and sells milk in classy glass bottles.
21. The Shop: Artifact Coffee (Baltimore)
The Milk: Trickling Springs Creamery's organic milk.
This spin-off of Woodberry Kitchen gets its milk from Trickling Springs Creamery in Chambersburg, P.A., a darling little dairy that only opened in 2001 (so, compared to the others, it's new-ish).
22. The Shop: Counter Culture HQ (Durham)
The Milk: Maple View Farm's hormone- and antibiotic-free milk, with added vitamin D.
Counter Culture training centers around the nation all use different milks sourced from local dairies — like Sparkman's Cream Valley's milk in Atlanta and Battenkill in New York. But in Durham, where the company is based, Maple View Farm in Hillsborough, North Carolina is the dairy of choice.
23. The Shop: Old City Java (Knoxville, Tennessee)
The Milk: Cruze Dairy Farm's cream-top milk.
The oldest coffee shop in the city serves milk from local purveyor Cruze Dairy Farm (also in Knoxville) with its homemade strawberry-Nutella "Pop-Tarts" and Counter Culture coffee. You can find the milk at farmer's markets around the Knoxville area — and definitely take a look at the charming, retro website.