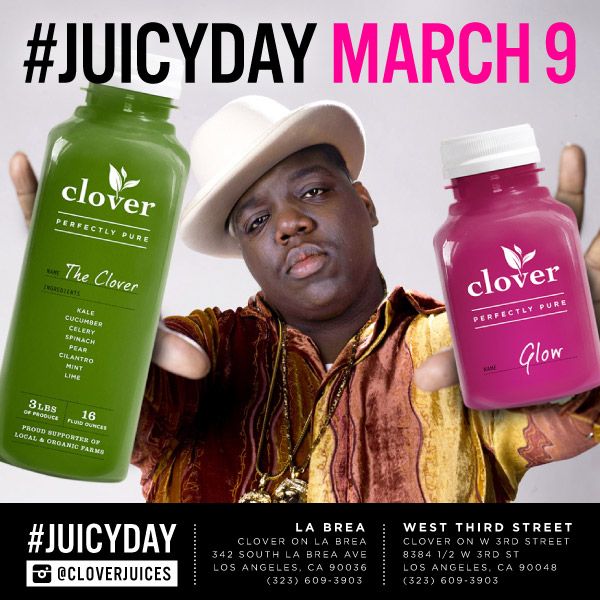 There's nothing at all questionable about a line of Charles Bukowski—themed beer that promotes literacy in comparison to this completely objectionable use of the likeness of the Notorious B.I.G. by L.A.-based juice company Clover, to promote its latest line of "cleanses." A reader at Eater points out that March 9, which Clover Juice has dubbed #JUICYDAY, is the 17th anniversary of the late rapper's murder.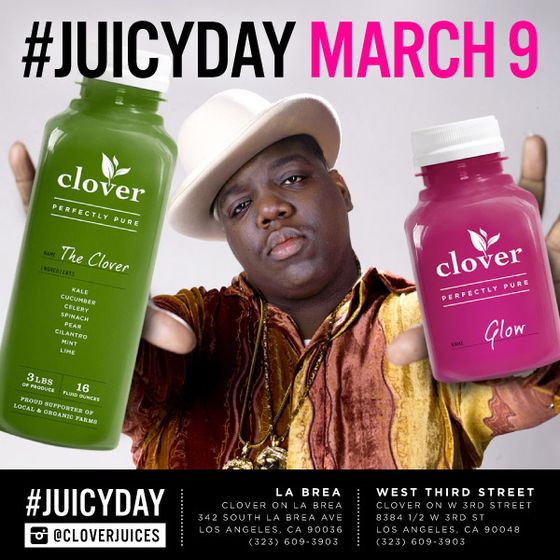 Though the rapper once made a commercial for St. Ides, we doubt he would have supported a blend of kale, romaine, and asparagus. Photo:
Clover Juice via Eater/Racked

Here's Eater with the breakdown on the misguided "promotion":

Customers who buy a juice and mention "Biggie Smalls" will get a free mini-bottle of juice, aka a "Smalls." (Get it?) Customers more tolerant of humiliation can win both a regular and a mini juice on the house in exchange for rapping a Biggie hit.

So, yes, it sounds as despicable as it looks.
LA Juice Bar Uses Notorious B.I.G. to Hawk $10 Drinks [Eater]