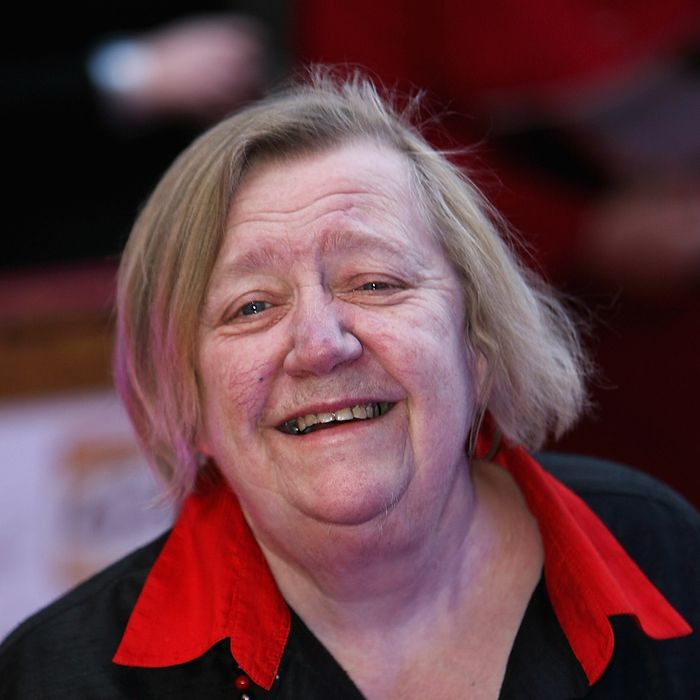 Clarissa Dickson Wright wasn't afraid to mix bacon and butter and fry her vegetables.
Photo: Dan Kitwood/Getty Images
This morning, news spread that television chef Clarissa Dickson Wright died on Saturday at Edinburgh's Royal Infirmary at the age of 66. While Dickson Wright was best known around the world as one of cooking TV's Two Fat Ladies — her counterpart and co-host Jennifer Paterson died in 1999 — the English celebrity chef also had success as the author of several non-food books, including a revealing 2007 autobiography, and as a barrister and entrepreneur. Her approach to food was tellingly heavy on the lard, butter, and bacon, and her style was unapologetically disdainful toward health food addicts and vegetarians, but often, Dickson Wright's demeanor was more comical than anything else. It's next to impossible to imagine such a character as the lead story on Entertainment Tonight in 2014, but here she is, hamming it up in 1998 with Paterson, along with nine other clips.
The now-classic intro for Two Fat Ladies. Dickson Wright and co-host Jennifer Paterson sing their own theme song, thank you very much.

Here they are, in 1998, as the lead story on Entertainment Tonight. "You really want to get it well-greased," Dickson Wright says, of parchment-lined cake pan, during a cooking demo. "Did you see Last Tango in Paris? Something like that."

Here she is in an episode of the 2011 BBC show Great British Food Revival, cooking with a lot of lard and offering bits of heritage-breed pork salumi to people on the street.

A sizzle reel of lard wisdom. (Plus streaky bacon, and butter.)

Here, Dickson Wright delves into the royal British cookbook with aplomb. Plenty of organ meats.

Here's a segment where the ladies learn how to make a Caprioska, a strong Cachaça-based cocktail. "Ah, the dear Dorchester," Dickson Wright says. "I used to come here and sit and listen to Mike McKenzie and sit on these bar stools until I fell off 'em."

The ladies do afternoon tea. Predictably, there are many, many carbs on the table.
Clarissa Dickson Wright wrote a book called Rifling Through My Drawers, a year-in-the-life narrative. She speaks on her distaste for Tony Blair and Gordon Brown and overcoming alcoholism. She's asked about losing the love of her life, and if she has hope for the future. "Oh no!" she exclaims. "One never gives up hope on men."

Here are Dickson Wright and Paterson, in full Two Fat Ladies swagger mode, beating up on vegetarians. "Hurrah," Dickson Wright says, "always get rid of all the lentils. People have no idea how randy it makes vegetarians."

A classic Two Fat Ladies Christmas episode includes Dickson Wright's recipe for, you know, an ice cream bombe with a Brandy butter filling.