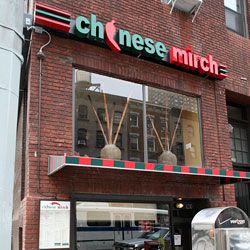 See you at the Crossroad (coffee shop, that is).
Photo: Shanna Ravindra
Faced with a recent rent hike, Chinese Mirch owner Sienam Lulla decided to shift gears at the 11-year-old restaurant. Half of the Murray Hill dining room has closed; starting this week, the Indian-Chinese fusion will still be served on the ground floor of the space, but the second floor will become Crossroad NY, a café serving Intelligentsia coffee, pastries from Balthazar Bakery, and perhaps most significantly, sandwiches devised by Morris Grilled Cheese.

In keeping with the cross-cultural theme that's defined the space for more than a decade, there are a few unusual features: One coffee drink is infused with green cardamom, and forthcoming monthly specials will involve other spices in the future. The melting-pot aesthetic also carries over to melting cheese, too: One of Morris's sandwiches on the Crossroad NY menu is made with Edam, Brooklyn Cured chicken-garlic sausage, tikka masala, roasted Brussels sprouts, and garam masala brown butter.
Crossroad NY, 120 Lexington Ave., at 28th St.; 212-532-3663