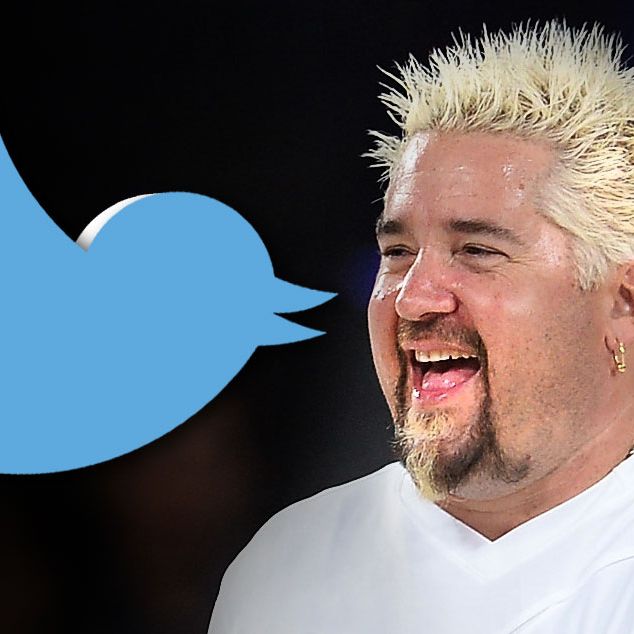 When Guy Fieri tweets that you should hold on, you hold on.
Photo: Mike Coppola/Getty Images
In celebration of its eighth anniversary today, Twitter launched a site that allows users to find their first tweets as well as the first tweet from any Twitter handle. The food world at large is populated by thousands of users who wield their 140-character deftness and wit in response to everything from escatological dessert news to sandwich mishaps to zero-star reviews. This, however, was not always the case. Turns out no matter how many successful restaurants they helm or hit shows they host, a lot of chefs' first tweets were just like the rest of ours — pretty awkward.
Trying to figure out how to combine barely cooked egg yolk and soy in an interesting way….— Grant Achatz (@Gachatz) March 1, 2009

Welcome to my world!! You never know what is going on in the mind of the chef.— Ludo Lefebvre (@chefludo) June 11, 2009

just had an incredible dinner at Eleven Madison Park. Two sips of cognac sealed the deal— Danny Meyer (@dhmeyer) June 28, 2009

on a 3 whiskey dare from @gwenhyman I'm finally doing this— Andrew Carmellini (@andrecarmellini) September 20, 2011

watching tv drinkin the pinot— hugh acheson (@HughAcheson) March 11, 2008

I am trying to resist eating the rest of the blueberry crumb loaf sitting on my kitchen counter. I am chanting my mantra: "Salad is better"— alex guarnaschelli (@guarnaschelli) May 1, 2009

trying to figure out Twitter. Watching Superbowl.— ruthreichl (@ruthreichl) February 2, 2009

Uploading pictures to facebook & myspace!— Cat Cora (@catcora) February 5, 2009

alright it has happened, i am finally postin on the big T. thanks to the brooks media team, and Brandt our creative guru. hold on tight!— Guy Fieri (@GuyFieri) April 14, 2009

Hey folks its emeril no really just finished doing marthas show this morning crawfish etouffe oh yeah check out the show— Emeril Lagasse (@Emeril) March 10, 2009

Just trying to figure out Twitter.— Todd English (@ChefToddEnglish) March 26, 2009

Hey Y'all, getting ready to cut the ribbon on my new buffet in Tunica— Paula Deen (@Paula_Deen) May 23, 2008

is sooting in New York— Tyler Florence (@TylerFlorence) December 15, 2008

*We hear Tyler Florence is just fine now, by the way.