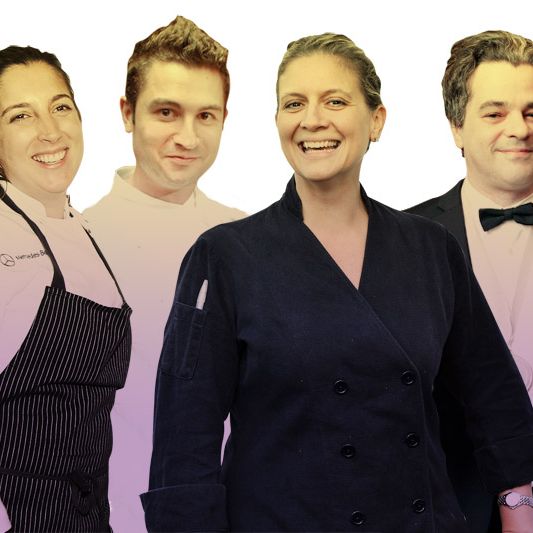 From left: Karen DeMasco, Alex Stupak, Amanda Freitag, and Brooks Headley.
Photo: Neilson Barnard/Getty Images; Brian Ach/Getty Images; Daniel Boczarski/Getty Images; Paul Porter/BFAnyc.com
Earlier today, Adam Platt lamented the state of sit-down desserts in New York. In today's post-recession economy, it seems pastry chefs are going the way of tablecloths: You can certainly still find them at top-tier, fine-dining establishments, but ambitious restaurants that happen to be more affordable — like Estela, Charlie Bird, and Toro — have decided to allocate dessert responsibilities to cooks that aren't as highly specialized. It's a problem.
As Platt notes, the past few years has seen several high-profile restaurant pastry chefs resign their posts, including Karen DeMasco at Locanda Verde, Nancy Olson at Gramercy Tavern, and plenty of others.
So what's going on, exactly? Grub tracked down pastry chefs (both current and former) and chef-owners to see why it feels like restaurateurs are phasing out full pastry programs. The perceived loss of kitchen real estate, diners who don't order dessert, and the increasing economic strain of pastry chefs' salaries all play a part.
• The Economic Realities of Full-Time Pastry Chefs:
Karen DeMasco, former pastry chef at Locanda Verde: When chefs are forced to make the tough decisions about how to cut labor costs, the pastry department is often the first thing to go. It's because you can have a cook put together a couple of desserts and get away with it without getting too much slack, which makes me sad.
Ignacio Mattos, chef at Estela: The financial part of dessert is really hard. At the end of the day, there's not a mass markup that you end up doing on dessert. For the most part, for a table of four, people end up ordering two desserts. The whole dessert program has a lot of implications. You might have four people staying for 30 minutes more when you need other people to sit down for a meal. You could actually shorten that time by giving away something.
Ryan Hardy, chef at Charlie Bird: There are only so many amenities you can give from the pastry department: pre-desserts, desserts, chocolates. There are only so many of those tasks that pastry chefs can accomplish for the salaries they're drawing … Panna cotta probably costs me $1 to produce, and I sell it for $12, but it's not like selling a steak where you have a high margin but a cost percentage. If you sell a $40 steak and it costs you $30, and you put $10 in your pocket, that's a win. On dessert, if you sell a $12 dessert and it costs you $3 to make it, percentage-wise, it sounds better, but you make less money on it [because of the pastry department's other costs].
Amanda Freitag, chef at Empire Diner: There are only so many dollars that go around in a restaurant, especially a new one. I would have loved to hire Colleen Grapes, who still works at the Harrison and the Red Cat. But I wouldn't take her away from that. And the salary demands of someone like that, and the level of desserts they want to produce, don't really fit into this concept. I wouldn't be able to support that — financially or creatively.
Will Goldfarb, former pastry chef at Room 4 Dessert; currently cooking at Mejekawi in Bali: During my career, the first major clear-out was post-9/11, and in each economic down-cycle, restaurateurs face tough choices, particularly in areas like New York, where the margins are so fine. The reality is that if your restaurant does not gross over $6 million, you are unlikely to do greater than $600K in desserts, and there really is no financial justification for a $50K to $60K position. Most restaurants, therefore, choose the economically viable option over the greater quality, which really isn't much of a choice if faced with survival.
Alex Stupak, chef at Empellón Taqueria and Empellón Cocina: The $60-check-average kind of restaurant that's serving super-interesting food is actually really hard to keep afloat. The presentations and the ingredients are very high quality, and that requires a meaningful amount of cooks in a kitchen. At high-end restaurants, when you spend several hundred more dollars, I don't think they make a lot more money, but [higher checks] allow them to afford more cooks in the kitchen or servers on the floor. At Empellón Cocina or Estela, it's difficult because people are expecting a lot, and people deliver a lot. But it's a harder to do because you become less specialized. Do I hire a sous-chef to help me, or a pastry chef who really only controls maybe 20 percent of the total offerings of the restaurant? That decision can be hard. As pastry chefs running a restaurant, Lauren [Resler, Stupak's wife and business partner] and I decided that we didn't need one.
Brooks Headley, pastry chef at Del Posto: We can be kind of pains in the asses to chefs and general managers because it's really easy to put a price tag on, say, a $100 ribeye. It's a quantifiable thing, whereas dessert in general, a lot of times, is the stuff given away for free. That's the most labor-intensive thing, so sometimes you're working crazy hours to produce a bunch of stuff that's free, like cookie plates. I'm so used to making stuff that's basically given away for free, because I'm deeply rooted in the fine-dining world. Across the board, I just think of it as a hospitality issue. The two most crucial plates of food that go out are the antipasti, and then the dessert, because it's the first impression and then the last impression. Hospitality is a hard thing to put a number on, you know? It's hard to quantify making people feel good.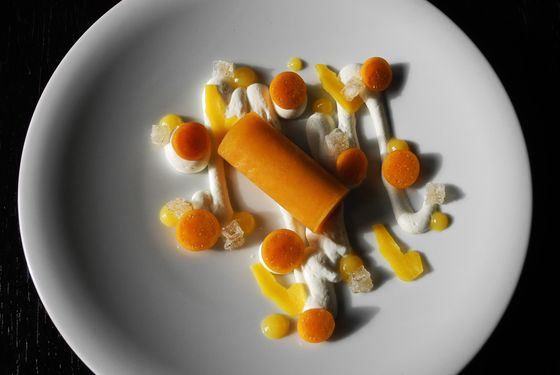 Alex Stupak's dessert of fresh gooseberries, whipped cream, jackfruit, mezcal toffee, and tangerine ice at Empellón Cocina.Photo: Diana Perez
• How Diners Order Dessert Now:
Stupak: At Taqueria, Lauren and I made the decision to pare the menu down to a couple of desserts, only because people weren't ordering it that much. We chalked it up to the unique nature of our dining experience: the chips with guacamole, the queso fundido, and the tacos — a lot of carbs before you get to dessert. We made a decision for a hyperminimal dessert offering. But at Cocina, the bigger that we can seem to muster the menu, the more desserts we do actually sell.
Ken Oringer, chef at Toro: I think we're selling dessert at close to 30 or 40 percent [of diners]. Churros cost $8, and the rest are about $10. We'd never thought we'd hit those numbers. We don't even print dessert menus; we just verbalize them. They're selling so well now that we're toying with the idea of printing a dessert menu.
Hardy: Typically, in a restaurant, if 15 percent of the diners buy dessert, that's pretty typical and good. We've been fortunate: We sell about 25 to 30 percent in desserts, and they cost $12 each. There's been a real love for tasty, approachable desserts, and we don't charge a lot for them. If we sell 40 or 50 a night, we've crossed that threshold. It keeps one chef, [Chris Hunter] who does a lot of things for us, but dessert is a good 30 to 40 percent of his job now. He's braising duck currently, and then he'll make olive-oil cake.
Freitag: Shockingly, our dessert sales are incredible, which I think is very telling that people just want a piece of chocolate cake at the end of their meal, or a banana split.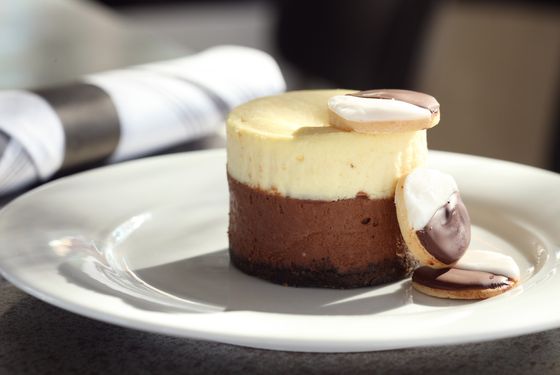 Amanda Freitag's black-and-white cheesecake at Empire Diner.Photo: Melissa Hom
• The Shift Toward More Savory Desserts:
Mattos: From my perspective, savory cooks have a much more elegant and accurate way of handling sugar. It's very complex. Pastry chefs have a huge grace of style and approach. What we do is very simple: It's more about balance and flavor than achieving an ornament or a sculpture. When you see something so beautiful and so technically put together, it has a sense of preciousness. There's a little bit of guilt that goes into it. There are amazing people who are able to do something gorgeous with pastry, and I appreciate the level of skill that requires you to execute such a thing. But for the most part, a lot of people forget that it needs to taste good. If it doesn't taste right, I don't care about the firecrackers and fireworks.
John Fraser, chef at Dovetail and Narcissa: Narcissa is a vegetable-focused restaurant, so we found an abundance of savory elements wouldn't be out of place in pastry. Rotisserie beets, carrots Wellington, carrot fries, and an olive-oil sundae are all in the same language. The desserts needed to be simple in the way that there weren't 1000 ingredients on a plate, and they weren't confusing: There needed to be a central component that flavors dance around. But lastly, they needed to be craveable.
Daniel Burns, chef at Tørst and Luksus (and former pastry chef at Noma): In certain restaurants that are pushing forward, the desserts are not sweet. They're under-sweet, so there's a progression from the main course to the desserts that make sense. Restaurants want to make the whole experience cohesive. I'm trying to do a seasonal restaurant, and desserts should be seasonal as well. When you use vegetables in desserts, it's bound to be less sweet. That's how I approach it.
Stupak: I don't understand why having a vegetable in a dessert would make it less sweet. Less sweet or more sweet is a function of sugar and how much you add. I dislike cloyingly sweet desserts, but I also dislike desserts that don't taste like desserts. That's all personal preference. I've worked with some chefs who do not like dessert, and they always say it's too sweet, even when it's perfectly balanced. But rhubarb tastes better with sugar sprinkled on it.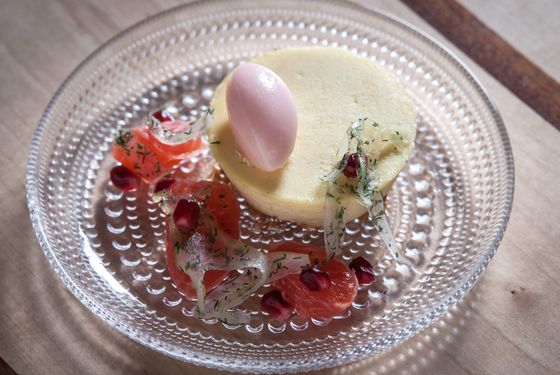 John Fraser's toasted fennel cheesecake with grapefruit and chartreuse at Narcissa.Photo: Paul Wagtouicz
• The State of Modern Pastry Stations:
Oringer: We didn't have the space at Toro New York. We don't have the storage space. We don't even have a corner of the kitchen that could be just for pastry. Pastry chefs are sometimes like the field-goal kickers of the kitchen. They're left to themselves. They spend a lot of time in basements. Sometimes, they don't even have a staff. You have to be a unique breed. Alex Stupak thrived in that environment.
Shuna Lydon, former pastry chef at Peels and Calliope; now part of Ovenly's executive team: Restaurateurs build smaller and smaller kitchens, which means they force out any department that doesn't need to be there. Often, a cook is given a sous-chef title, or called "pastry chef," but they're not really the chef of anyone, including themselves. What pastry chefs learn very quickly is that you're a third-class citizen in a restaurant, no matter how much experience you have … I wouldn't want to work for a hole-in-the-wall that didn't give me enough space. I'd much prefer to practice my craft in a space where I have the tools that I need. I wanted to get out of the basement: I've spent the last 20 years in a basement, I didn't want to spend the next 20 years of my life there.
Fraser: What you see at Narcissa is just the pastry chef's plating station. [Pastry chef] Deborah [Racicot] has a sous-chef, plus three others, and their production station is downstairs. I've worked in kitchens in the past where there's literally a separate pastry kitchen, and reds and blues can start to happen. Pastry chefs, regular cooks: We're all in the same kitchen. If anything, we're making our cooks fat because they're eating a lot of pastries! But there's a natural kind of separation just because of the style of cooking. The savory cook and the pastry cook have different brains, so to speak.
Headley: [Del Posto] is a big restaurant with a really big staff, so we can have like 17 different petit-four options. Right now, I have a team of seven people. This is an anomaly in terms of size just because of the nature of the space. I've been here for six years, but the big-staff thing was new to me because I was used to working in 30-seat restaurants with maybe just myself doing all the production and all the service, or having one part-time person to help.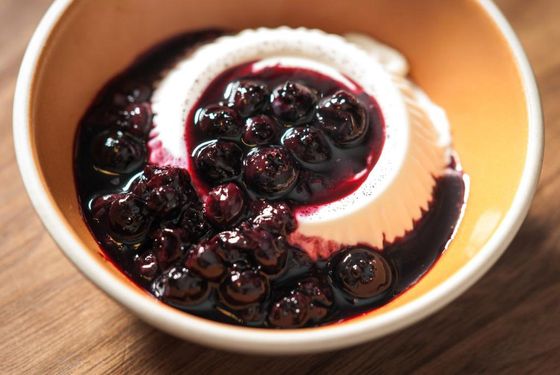 Ryan Hardy's panna cotta at Charlie Bird.Photo: Melissa Hom
• The Sweet-Savory Power Balance of a Professional Kitchen:
Goldfarb: A pastry chef should be able to treat the department like an independent unit financially and organizationally, in the sense that it must fit the economic reality of the restaurant - sales, product cost, labor cost, inventory management. At the same time a pastry chef has to realize, and I think Daniel Boulud put it best, that he isn't the chef. He works for the chef.
Mattos: The reality is that we try to build a language. The meal has to make sense from beginning to end. When you go to some restaurants, there's a big disconnection between the savory dishes and dessert. The most important thing is how that translates to the customer. The whole packaging needs to make sense. I find it easier to control and articulate that philosophy [without a pastry chef]. If you have a pastry chef who's trained in many kitchens, it's difficult and frustrating for them to follow someone else's vision of how things should be. In a place like this, there's not really room for that. I'm not willing to compromise at all.
Freitag: [At Empire Diner] I knew I needed someone there that I trusted. Leo [Leonardo Petino] has the title of pastry chef. His name isn't on the menu, but it actually probably should be. Conceptually, we work together on pastry, and then he executes the work every day. He knows me, since we've worked together for eight years. He doesn't have his own agenda to make his mark and go somewhere else. He's happy to be a part of our team. Maybe some day he'll go off and do his own thing, but it's nice to work with someone who's focused on this and only this. Sometimes, if you bring in a pastry chef with a big name and a big salary, they have a different agenda. Sometimes one small restaurant can't support all of those agendas.
DeMasco: When the chef is treating you with a lot of respect, the whole kitchen staff will treat you with respect. I never felt like a second-class chef at Craft or Locanda. I felt very valued. But at the same time, I've always been aware of where we stand and what we're bringing in financially. It's important to be a team player in the kitchen. I've been open to taking on breads, and doing what I can to make myself valuable. We were responsible for a lot of the brunch menu at Locanda. That was crazy — a lot of work. We grounded meat for prosciutto bread. We caramelized onions for focaccia to broaden the specific definition of what's involved in the pastry department. It made me feel part of the kitchen as well, and part of the team, which is the whole point of a restaurant.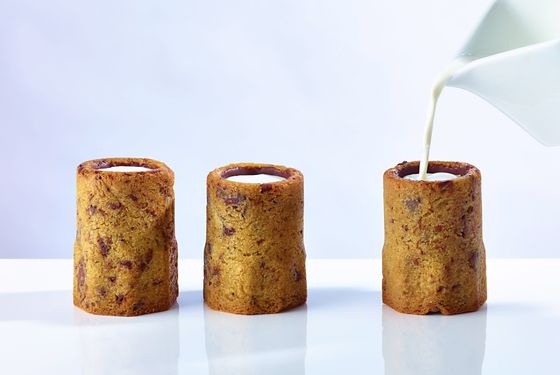 Dominique Ansel's much-anticipated milk-and-cookie shots.Photo: Thomas Schauer
• The Career Trajectory of Pastry Chefs
Goldfarb: There are so many fewer plateaus to reach [as compared to a savory chef]. Show me the line of pastry line-cooks opening their own dessert bars … It is a much slower process, with many fewer opportunities, but that doesn't make it any less desirable to me … I branched out because I couldn't support a family with a pastry-chef salary — and I wanted my family to eat.
Burns: After working at Noma, it's hard to think about what you want do next. That was a big thing for me. Once you decide to leave, there aren't a lot of options. I don't know if the right word is plateau or not, but it makes things difficult. But I think any chef reaches that point.
Lydon: Savory chefs start at $80,000 a year in New York. Pastry chefs are lucky if they break the ceiling of $80 or $100K. You have to constantly redefine success. If you allow the industry to define success, you're an irrevocable failure. I need to set my sights differently: I want to be with my partner for a long, long time. I'm not out of the kitchen 100 percent. I'll be baking until the day I die. But I had to change how, where, and why I was doing it, and for how many hours.
Headley: Something I try to instill in everyone who comes in the door here is that dessert is just the food that comes at the end. It doesn't have to be different. It doesn't have to be this completely separate focus. It should be something that's balanced and delicious, and maybe it's got a little more sugar in it than the rest, and maybe it doesn't. Once you get into that mind-set, you're a cook. You're a cook like everyone else is a cook, and then your options for doing things beyond being a pastry chef at a restaurant are exponentially compounded.
DeMasco: I've seen a lot of people move up really quickly because there's a lack of people looking for this job. If you're a hard worker, it's easy to move up quickly … Maybe you do reach a plateau and you have to figure out where to go from there. That's where I am … This whole celebrity chef thing has opened doors for pastry chefs to have their own businesses, or find some niche when they can be successful without having to work at a restaurant. I just don't know what the future holds for the restaurant pastry chef.