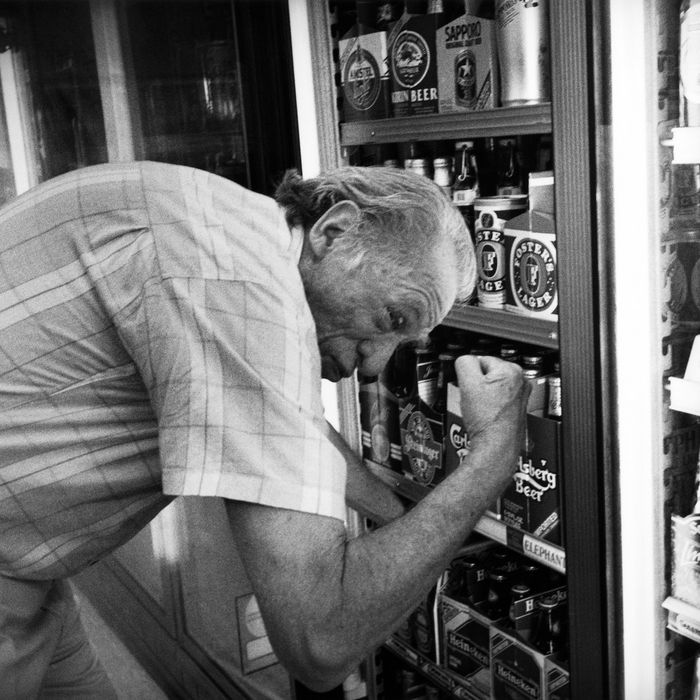 Decisions, decisions: Bukowski brandishes his guns while grabbing a six-pack.
Photo: Chris Felver/Getty Images
All your MFA-student friends will no doubt put a fist of joy (or two) through the nearest sheetrock wall once you inform them that writing legend Charles Bukowski is finally getting his own line of commemorative beer. The new project, which will continue throughout the year, originated at Boston's Bukowski Tavern, which is one of several establishments around the world either named for or in honor of the famous author, who liked drinking. (This includes Post Office in Williamsburg, incidentally.)
The so-called "R.I.P. Series" is timed with the 20th anniversary of Bukowski's death and launches this weekend, with a hibiscus ale named after the writer's novel Pulp, a "home brew" produced by Bukowski and the Portico Brewing Company. It's actually made at Watch City Brewing Co. in Waltham.
A handful of Boston-area spots will pour pints of Bukowski-themed beers throughout the remainder of 2014, with proceeds from sales benefiting an as-yet-unnamed literacy group in Boston. Brewers from Harpoon, Rising Tide, Clown Shoes, Jack's Abby, and Cisco have also signed on, which sounds good, but if all the beers are named after Bukowski book titles, does this mean we might expect something called "Harpoon Dirty Old Man"? That's going to be a really confusing drink order.
Wilcox Group To Honor Bukowski With Craft Beer Series [Craft Beer Boston]