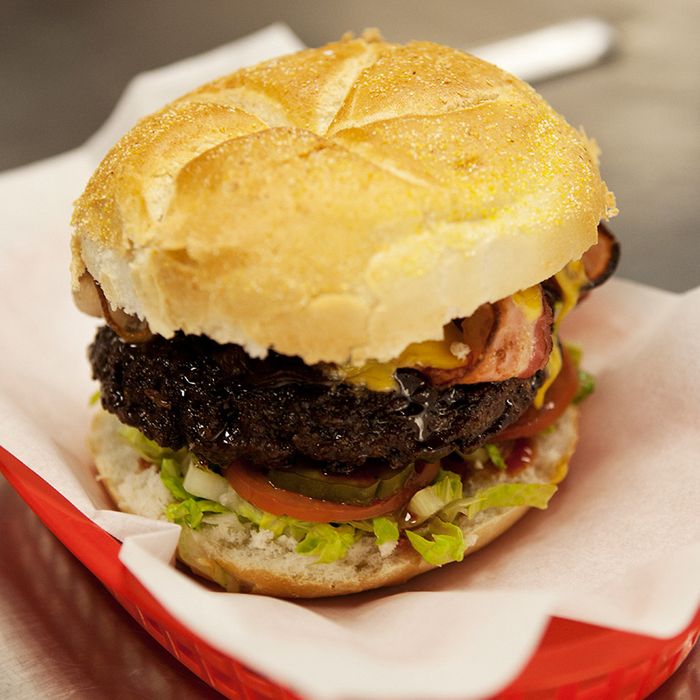 Three of these? Make it six.
Photo: BFB Highline
New West Village restaurant BFB Highline is charging right out of the gate with one of those insane eating challenges that sometimes prompt people to wonder about the future of humanity: To win, the diner has to consume the entirety of three, ten-ounce pork and beef "Heisenburgers," in one hour. Cheese, toppings, and the bun must also be finished, and the diner gets three napkins to cope with all this. No bathroom breaks are permitted per the rules, but unlimited drinks are encouraged. Losers pay full retail for the burgers, naturally, which must to be "cooked medium at most," at $15.95 each. Winners get a free meal and a spot on the wall of fame. So far, one person has lost.
It's kind of weird to see a challenge like this in the city. Maybe there's a small subset of New Yorkers desperately seeking things like this nine-pound, 6,000-calorie raft of carbs and fat made up of sausage links, eggs, and bacon rashers strung together with crown of toast? Thing is, though, is that the so-called "Kidz Breakfast" is served in seaside Norfolk, England, where they have to come up with insane combo meal challenges just to stave off depression in the very unsunny off season.
The city may be home to Kenka's four-pound Japanese curry plate and a ghastly hot challenge version at Brick Lane Curry House. Neither of these things seem to have much of a following because they're on menus with other spicy or outlandish choices. And other venues known for their food challenges — Yummy Village, Buffalo Cantina — have closed, leaving behind curiosities like the habañero-infused "Punisher" shot at Mojave in Astoria. New Yorkers don't need the implied danger of seven-pound burritos, or pho with two pounds of meat and two pounds of noodles, because we deal with more genuine challenges on daily basis, just by crossing the street.
Perhaps in awareness of such considerations, BFB Highline's gauntlet comes with assets, and a pedigree: Chef Chris Mitchell cooked at Fatta Cuckoo, and the Breslin before launching BFB Highline, which also serves things like French fries with bacon salt, for a not-so-over-the-top $4. And the beef that's ground and mixed with fatty pork to make those burgers? It's Pat LaFrieda dry-aged rib eye, of course.