It's no Dumb Starbucks, but here's a clever vegan pop-up made to look like Taco Bell called "Taco Beyond," which Foodbeast reports appeared in the middle of California's Natural Products Expo West last week.
It turns out that faux-chicken and -beef maker Beyond Meat was beyond the guerrilla marketing stunt. As the photo above, taken by Cruelty-Free Culture, shows, the vendor's booth was adorned with copycat Taco Bell signs. Company co-founder Brent Taylor told passersby that his aim was to "spam the fast-food giant's social media" in hopes that Taco Bell would use their vegan meat in future menu items.
"We'll probably get a cease-and-desist letter," Beyond Meat's COO Tony Prudhomme guessed, but despite expogoers' heads up to Taco Bell corporate, the corporation is remaining silent.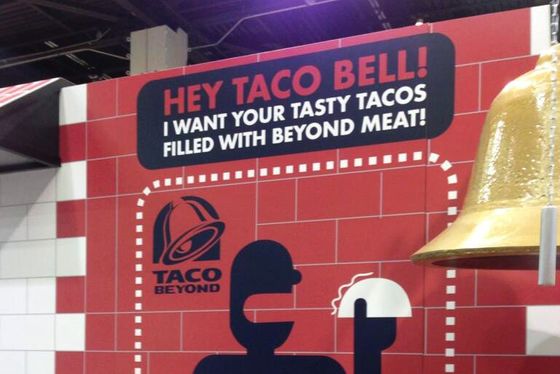 Beyond borders.Photo: James Joaquin/Twitter

It's worth pointing out that Beyond Meat has name recognition already. It snagged Twitter co-founder Biz Stone's backing and a few bucks from Bill Gates.

Mock Taco Bell Pop-Up Serves Vegan 'Taco Bell' [Foodbeast]