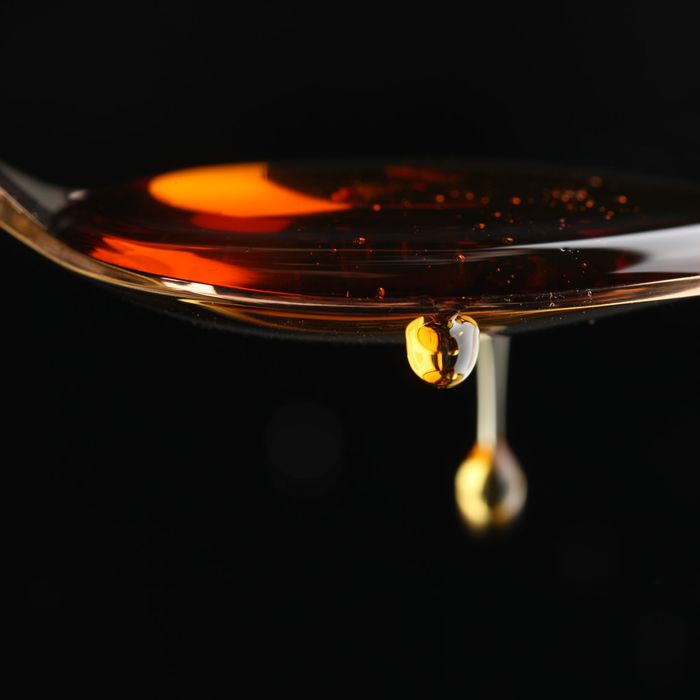 Waffles never had it so good.
Photo: Melissa Hom
Everyone has an old bottle or two of maple syrup sitting in their fridge, ready to deploy whenever waffles or pancakes are in the offering — but the syrup itself is an ingredient worth taking seriously. (If you've only had the artificially flavored stuff, upgrading to the real deal is like drinking the finest Burgundy after a lifetime of wine coolers.) March is prime syrup season, and now there's a whole crop of cool, small-batch companies that specialize in maple products (both syrup and otherwise) and are favored by restaurants like Gramercy Tavern and Mile End. Learn about 11 of the most exceptional companies, straight ahead.
Crown Maple
What to Buy: Dark Amber Syrup and Maple Sugar.
This three-year-old company claims to be "the most advanced maple syrup production facility" in the country. It's a true tree-to-table approach: The syrup comes from sugar and red maple trees on the 800-acre Madava Farms in Duchess County, where the sap's particularly sweet. The syrups are truly fantastic, and the maple sugar's perfect for coffee or cocktails.
Deep Mountain Maple
What to Buy: Ginger-maple syrup, made with freshly grated ginger.
New Yorkers have probably spotted this Vermont-based vendor at the Union Square Greenmarket: Owners Howie and Steph Cantor make the trek to the city every Friday and Saturday to sell their wood-fired syrup. It's worth the trip up to their tiny West Glover village to eat pizza at The Parker Pie Co., where Deep Mountain Maple syrup is used in the crust, but this syrup's also used at PDT and Gramercy Tavern.
NOBLE
What to Buy: Bourbon-barrel-aged maple syrup.
NOBLE makes syrups in flavors like Tahitian vanilla and chamomile blossom, but it's the bourbon one you want. The Hudson Valley's Tuthilltown Spirits provides the barrels, which get filled with medium amber-grade syrup made from Quebec's heritage sugar shacks. The result is a syrup that has a faint taste of bourbon — perfect for a very adult meal of breakfast for dinner.
Société-Orignal
What to Buy: Remonte-pente maple syrup.
This fancy French company, which makes outstanding creamed honey, produces its syrup in the Frost Village of the Estrie region of Quebec. The sap is 150 years old on average.
Langdon Wood
What to Buy: Brandy-barrel-aged maple syrup.
Here's another producer that ages maple syrup in barrels of rye whiskey: This D.C.-based company gets its barrels from Cactoctin Creek Distilling Company in Virginia. It also makes brandy-barrel-aged maple syrup, using Cactoctin Creek's 1757 brandy.
Wood Homestead Maple Syrup
What to Buy: Maple cotton candy.
Another Union Square Greenmarket favorite: The Van Glad family produces syrup up in the northern Catskill mountains, as well as superb maple cotton candy and sorghum syrup — the sweet juice from the sorghum plant typically served with hot biscuits in the South.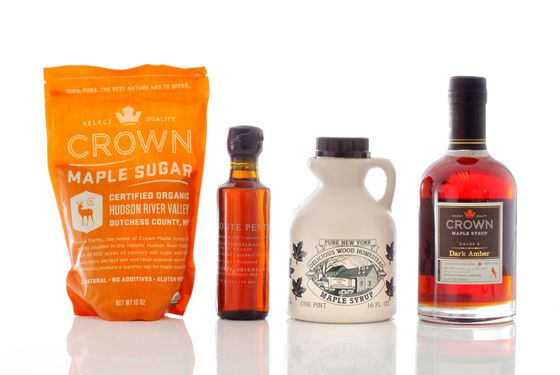 Your new pantry staples.Photo: Melissa Hom
Tonewood
What to Buy: Maple flakes, an adult alternative to eating sugar cubes.
This company offers cool, innovative products like maple flakes, wafers, and seasoning. The latter mixes with maple sugar and with black pepper and sea salts — perfect if you want to add a bit of sweetness to savory foods.
Highland Sugarworks
What to Buy: Highland Estates Private Reserve.
This 28-year-old company's signature product is limited-edition private-reserve syrup: fancy stuff. It's produced in small batches from a private sugarbush — think of this as the syrup equivalent of a top-shelf single-malt Scotch.
Abderdeen Farm
What to Buy: Straight-up maple syrup
In addition to making maple syrup and raw wildflower honey, this family-owned property also raises Nigerian Dwarf fairy goats. Best family business ever.
Miller's Maple
What to Buy: Smoky maple rub.
This Pennsylvania-based farm takes maple flavors to the next level, offering maple-crumb sugar, maple mustard, maple coffee, maple granola, and, best of all, maple rubs for your meat.
Catskill Mountain Sugar House
What to Buy: Classic maple syrup.
Telepan, Sarabeth's, Back Forty East, and Mile End all favor this old-school maple syrup. Since it's not mass-produced, you can't purchase it online, but it is sold in specialty stores like Dean & DeLuca.