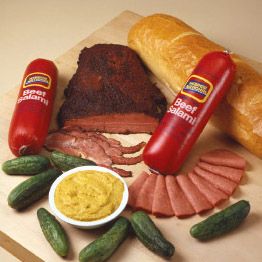 Ben's Brooklyn package.
Photo: Courtesy of Ben's Kosher Delicatessen
Owner Ronald Dragoon is opening a new, 215-seat outpost of Ben's Kosher Delicatessen in Scarsdale this summer, and plans to follow that one up with outposts in Boston and Washington, D.C. The sudden expansion of the decades-old business, which has locations in New York and Florida, is just the beginning, apparently: Crain's reports that Dragoon and partners plan to open "scores of new restaurants" in the next decade or so, even as kosher meat manufacturers continue to close and other businesses are shifting gears to include non-kosher menu items.*
Despite earlier reports suggesting otherwise, a representative from Ben's Delicatessen tells Grub Street that the business has no intentions of giving up kosher certification, even while its expansion plans continue to develop and new locations open. "Ben's will remain kosher until the end," she said.
The Long Island-based mini-chain's Manhattan location is, along with places like Jay & Lloyd's in Sheepshead Bay and Liebman's in Riverdale, one of a handful of kosher delis left in New York, down from the thousands that thrived around 80 years ago.
Ben's deli chews over giving up kosher [Crain's]
*This post has been corrected to show that despite earlier news reports, Ben's says it is not considering non-kosher menu items and ingredients.