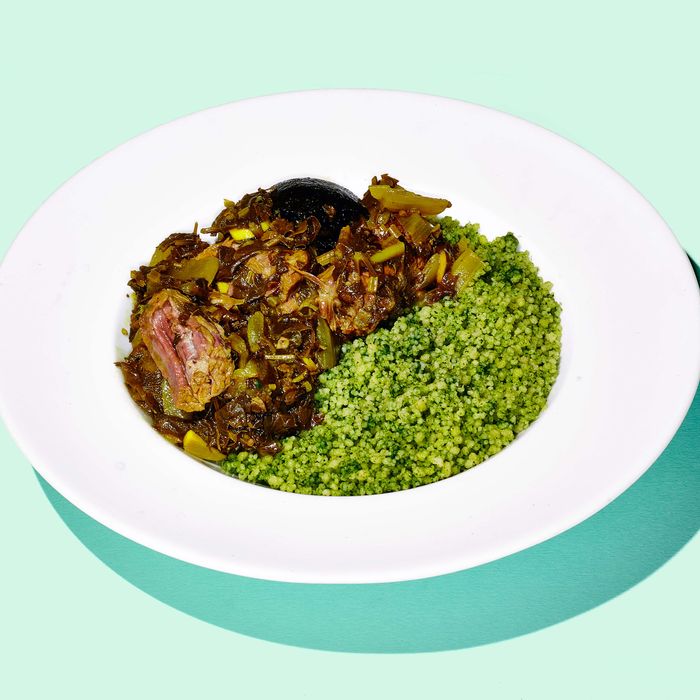 Slow-cooked beef cheek with couscous.
Photo: Bobby Doherty
Einat Admony never set out to become an ambassador of Israeli cuisine. After spending her first decade in New York cooking in high-profile kitchens like Bolo, Danube, and Patria, she finally embraced her heritage by opening Taïm, the falafel joint that made her famous. Next came Balaboosta, where the Middle East met the fellow Mediterranean cuisines of Italy, France, and Spain. Now, at Bar Bolonat, her most ambitious restaurant yet, Admony plans to introduce New Yorkers to her personal take on modern Israeli cuisine.
On the menu and plate, this translates into a fusion of the Sephardic foods of her family (her father is Yemenite, her mother Iranian) with the Ashkenazi staples of her childhood friends and neighbors near Tel Aviv, melded with the chef's own multicultural experience and appetite (she happens to be a Thai-food fanatic). So when the corner spot opens opposite Abingdon Square Park later this month, you can expect to find Admony's take on the sesame-seeded "Jerusalem bagels" sold by Palestinian vendors at the Old City's Western Wall; cauliflower coated in crushed Bissli, a corkscrew-shaped, "Grill"-flavored Israeli wheat snack; and shrimp in Yemenite curry, an Admony invention of preserved lemon, coconut milk, and the ubiquitous spicy condiment zhrug.
Admony cooks her turkey shawarma not on a spit but the way her mother does it, searing the dark leg meat, slicing it thin, and sautéeing it with lots of onions. Then she dispenses with family tradition to serve it taco style in cumin-and-nigella-seed tortillas she has custom made for her in an East Williamsburg tortilleria. Although her mint-tea gelato is a newfangled idea, its presentation isn't. Admony serves it in a Moroccan glass on "an ugly tray, the kind of thing every mom used to have." Like her own gastronomic legacy, it's something she's come to appreciate with age.
611 Hudson St., at 12th St.; 212-390-1545