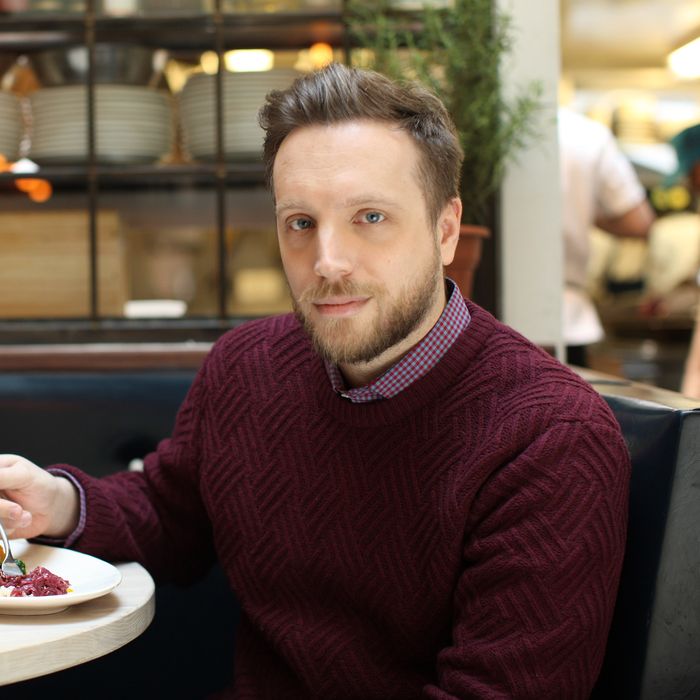 "I did vegan for three months straight, and I realized I can't do one thing all the time."
Photo: Melissa Hom
"I'm blessed with the luxury of eating out in great restaurants with fun people," says InStyle editor-in-chief Ariel Foxman. "But I'm always trying to get a bit more balance in my life." Foxman's life is certainly not without its elegance — filled with business lunches at The East Pole and date-nights at ABC Cocina — but Foxman knows the importance of a high-low balance. This week, he drank expensive Champagne with takeout pizza, ordered sushi on Seamless, and boldly snacked on expired hummus. Read it all, straight ahead.
Friday, March 21
I usually start my day around 9 a.m. with an iced coffee and a banana, which I grabbed at Pret a Manger. They're usually not ripe, but underripe or overripe. I'll just grab that banana.
Most of my lunches are with friends of the magazines: designers, clients, contributors. I went to The East Pole with David Lauren. I let him pick the restaurant, and I had never been to The East Pole. I started with hot water with lemon. I've been trying to go off Diet Coke and switch to that. We decided to share an appetizer: the burrata with roasted baby beets, aged balsamic, and caraway chips. My main dish was the macro plate with carrots, beans, ginger-brown rice, cabbage, kale, squash, carrot-hijiki salad, as well as almonds, radishes, and cucumbers. When they put it down, they said to eat it from left to right. I've never been told the order in which I should eat something before, except for when I was in Japan. I don't know what would have happened if I ate it in the other direction!
We keep some snacking supplies around the office: I had a snack of almonds from Pret and seltzer water.
Dinner was spent at my sister's home on the Upper West Side. We were celebrating Shabbat, and had grape juice (to signify the blessing over the wine) and challah bread. The rest of the meal was catered, and there were many things to choose from: I settled on branzino with a side of pasta with tomato sauce, and a little bit of the Caesar and heart-of-palm salads, with mixed berries. For dessert, there were Baked by Melissa mini cupcakes, and I had the rainbow cupcake at the urging of my niece. She picked the flavor for me, and she was very excited.
My fiancé Brandon and I came home and opened a bottle of Sancerre. We each had a glass and recapped the week.
Saturday, March 22
On Saturday I was in Bellport, Long Island. Normally, I cook there, but since we were prepping our house for sale, I did everything not to mess up the kitchen. I realized I had a Starbucks gift card from my mother-in-law-to-be, and used that to get my usual banana and iced coffee.
It's a small little town, and there aren't a ton of options. But there's a cute Italian takeout place called Il Castello, and we stopped there for lunch. I thought, I'm not going to eat junky just because I'm out of New York City, and I ordered a salmon-and-egg-white wrap sandwich with roasted vegetables. But once I brought it back it to the house, I realized it was not delicious. I basically didn't like it because I wanted to eat the pizza that we also bought. So I had one and a half slices of Margherita pizza.
We were scavenging for snacks in the house since we hadn't been there in a while. We found Snack Factory's garlic-Parmesan pretzel crisps and a container of unopened Sabra hummus. It was past the expiration date, but I had just read a report that the "best by" date doesn't mean anything — and it was totally fine.
We kept working, and my friend went out and got more pizza from Il Castello — this time, mushroom pizza. In the pantry, we found this magnum of Champagne: Gosset Grand Millesime Brut 1996. We went online to learn more about it, and it turns out that it was a super expensive bottle that I had received as a gift. So we had a very high-low dinner.
Sunday, March 23
We had gone to Target to buy cleaning supplies, and while we were there, we saw a scene out of a commercial: The woman runs in, jumps on the bottom shelf to reach the top shelf, and screams, "Oh my god, they have it!" She took five boxes of this Archer Farms coconut-macaroon granola. Of course we were totally intrigued, so we bought a box and took it home, and had it that morning with bananas and almond milk. It was like eating dessert for breakfast. Coconut macaroons are reminiscent of Passover, so it reminded me of being at a seder, which was nice and not nice at the same time.
I hate making plans on Sunday nights. I always have the same meal: sushi from Haru. I used to be worried because I read in Anthony Bourdain's book that you never should order sushi on Sunday because it's delivered on Friday. But I did this interview with Drew Barrymore, and she told me her food ritual is to order sushi on Sundays. I thought, If it's good enough for Drew Barrymore, and nothing's happened to her, I can do it!
I ordered the rainbow dragon roll (eel and avocado wrapped around kani, cucumber, and kaiware), a crunchy spicy salmon roll, one piece of ikura, and one piece of tamago right off Seamless. I washed it all down with an ice-cold can of Diet Coke. I only like Diet Coke from super-cold cans.
I wanted dessert, but didn't order any, so I went to the refrigerator and snacked on three mini-truffles from Per Se. We had previously gone for dinner for Brandon's birthday, and it was a nice little gift to take away from the evening.
Monday, March 24
I grabbed my typical iced-coffee-and-banana order from Pret on the way into the office.
It just so happened I had two meals on the calendar for Fred's at Barneys New York that day. It's not like I eat there every day! I met Alina Cho, Sarah Easley, and a television executive for a business lunch. I decided to have my hot water with lemon, and Fred's has updated its menu with all these vegan options. I had this amazing vegan salad with garbanzo beans, black quinoa, chopped carrots, radicchio, arugula, endive, avocado, and a salsa-verde vinaigrette. It's like a million and one things. I did vegan for three months straight, and I realized I can't do one thing all the time. I'm learning to go with the flow and be conscious of having a balance. When I think less about it, the balance happens.
That night, I wound up returning to Fred's for dinner with a different colleague (Lisa Perry)! They brought over this amazing bruschetta and a basket of delicious toasted breads to start the meal. I tried the vegan pasta Bolognese, and I have to confess that I had four Diet Cokes. When I fall off the wagon, I fall really fast and really hard.
Tuesday, March 25
Another iced-coffee-and-banana order from Pret before our weekly staff meeting.
For lunch, I had takeout from The Little Beet, a nice gluten-free restaurant right by the office. I ate the à la carte tofu with a side of charred kale and buckwheat-soba noodles, and "Sun Kissed," which is one of their cold-pressed juices with pink grapefruit and blood orange.
I was scheduled to go to a fashion dinner for Dries Van Noten last night, but I went to the doctor earlier and they dilated my eyes too much. They were dilated for three-and-a-half hours! So, much later, Brandon and I went to ABC Cocina. The menu is so overwhelmingly delicious. The first time we went, we had this incredible waitress who said, "How hungry are you?" and brought a sampling of the best options. Every time we go, we're chasing that high. I always get the grilled fish tacos, tuna tartare, hamachi tartare, that mushroom-and-goat-cheese situation, and a basil-jalapeño margarita.
Wednesday, March 26
This morning, I had my banana and coffee. But this is so funny: I was running a little late, and I got into the taxi and said to the driver, "Coffee and banana, please!" The driver said, "And how are you this morning?" I had to apologize and say I was waiting to get out of the taxi and eat.
Today, I'll probably run to Pret and get the falafel wrap for lunch. I don't know what I'm doing for dinner tonight — maybe I'll call a friend and grab sushi somewhere last-minute.
I'm always trying to get a bit more balance in my life, and the goal is to eat more meals at home and take care of myself. And then when I'm home, the temptation is to order Seamless! Unfortunately, it's aptly named. I don't know why I think it's easier to order Seamless and wait 45 minutes than to cook something in 20 minutes: It's like why I always think it's faster to take a taxi than to get on the subway. It's not.