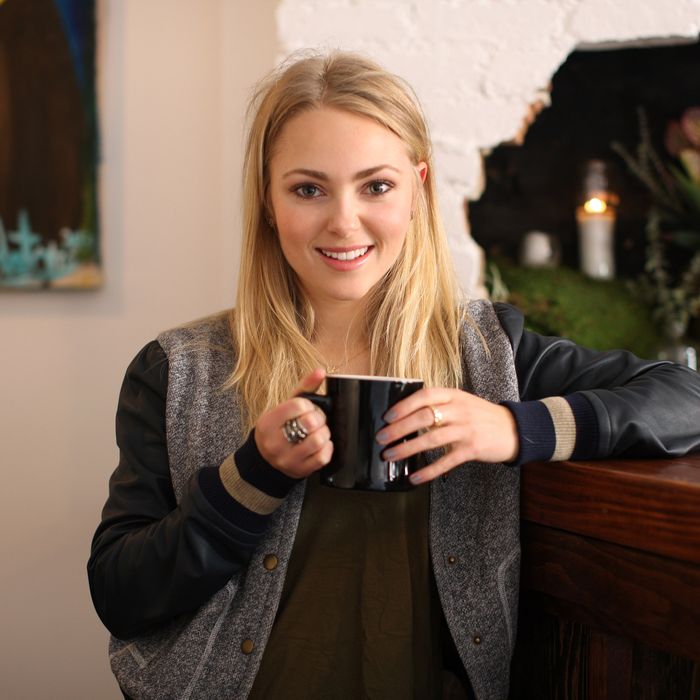 "St. Balmain also has a more-than-decent playlist, which I like to bop my head to as I answer emails."
Photo: Melissa Hom
Twenty-year-old actress AnnaSophia Robb — the star of The Carrie Diaries and The Way Way Back — has some time off at the moment, which means she can enjoy living in Williamsburg and "catching up on life." But that doesn't mean she's out raging at clubs every night with famous starlets: Robb's life in the city is calm and grounded. She eats grilled-cheese sandwiches at her yoga studio, goes to Chipotle with friends, and stays in to cook with her boyfriend. This week, Robb also found time to attend her first-ever Knicks game and indulge her sweet tooth at One Lucky Duck, Cookshop, and Gramercy Terrace. Read it all in this week's Grub Street Diet.
Friday, February 28
Some friends and I attempted to go to Brooklyn Bowl the night before, but — surprise! — you have to be 21. Which sucks. Who has to be 21 to bowl and eat wings? So we made our way down to one of the coziest spots in Williamsburg, called Shelter, for salads, Brussels sprouts, and truffle pizza. Incredibly satisfying.
I typically start off my day with half a grapefruit and a smoothie. And I finally purchased a toaster! Before my workout, I had a toasted (whoop, whoop) chia waffle with some maple-almond butter and coconut-butter spread over it. Very tasty. Then I hit the gym, and after, I made one of my morning shakes, with almond milk, strawberries, banana, pineapple, and avocado.
It was too cold and windy outside, so I just ordered La Esquina food off Seamless. Fish tacos and a salad for me. Later on, I snacked on an apple and KIND bar. They're the only snack bars that I enjoy. Everything else is too chalky and contains too many processed ingredients.
Later that night, I went to my first Knicks game! Halftime didn't provide much of an opportunity to dine, but I did manage to grab some of the lasagna and cookies at Club 200, this awesome behind-the-scenes area at Madison Square Garden.
By the time I got home, I was starving, so I made a little snack: brown rice with sunflower butter, coconut oil, and cinnamon.
Saturday, March 1
Saturday began with half a grapefruit and a smoothie. Before yoga, I had the café inside the studio save me one of its famous grilled-cheese sandwiches. They always sell out of them by the time my class gets out. It's made with the thickest and most seed-filled bread, extra cheese, tomato, and avocado. I'm salivating just thinking about it. And of course, to balance my dairy and gluten intake, I ate it with one of the café's equally delicious salads.
I cooked dinner with my boyfriend: a leftover medley made up of Brussels sprouts, rice, eggs, beans, brisket, and grits. It ended up being tasty. My goal for this year is to feel comfortable and confident in the kitchen. I try to cook one meal a week. For dessert, I ate a baked sweet potato with coconut oil and cinnamon.
My midnight snack was Jeni's coffee ice cream. I have a big sweet tooth.
Sunday, March 2
Sunday, once again, began with a smoothie.
Later that day, I went to One Lucky Duck for a salad and one of the "healthy" desserts. I'd definitely say One Lucky Duck is one of my favorite spots in the city. My favorite thing to do is bring home a bag of the rosemary crackers. Something about the texture of the nutritional yeast just feels so satisfying. That sounded so health-nutty — my goodness.
Later, I went to church. I didn't have time for a full dinner, so I ran to Chipotle with a friend. Chipotle feels like home. I definitely ate there at least once a week in high school. Nothing beats the chicken burrito bowl.
After church, I went over to my friend's apartment and ordered food from Sugar Beets Thai off Seamless. I had a curry dish. It wasn't the healthiest dinner, but it was tasty.
Monday, March 3
Another smoothie! Based on my breakfast consumption, you'd think I don't care much for breakfast. But breakfast happens to be my favorite meal of the day. Well, brunch is my favorite "meal." I love New York brunches.
I had to run into the city for a meeting, so I took some low-sodium turkey jerky, nuts, and dried berries to snack on while on the subway. Everyone watched me eat. It's strange: I don't see a lot of people snacking on food from home. New Yorkers purchase on-the-go snacks. Anyway, after my meeting, I had a roast beef sandwich from Dépanneur. I glanced into the freezer there, and I ended up buying three tubs of ice cream: black coffee, pistachio honey, and goat cheese with black cherries. All Jeni's.
I had a tea at St. Balmain, which is one of my favorite spots to hang. It feels like I'm in a Williamsburg version of Cheers, because I run into all my friends there. They're opening a restaurant portion in April, and I can't wait to get a taste of the menu! But for now, I like the Dough doughnuts, tea, and mellow atmosphere. St. Balmain also has a more-than-decent playlist, which I like to bop my head to as I answer emails.
Later that night, my boyfriend and I went to a dinner hosted by BCBG Max Azria for the Whitney Museum's Biennial Dinner at the Gramercy Terrace. The branzino was very nice, as were the little chocolate-mousse cakes.
Tuesday, March 4
Tuesday began with oatmeal, which I soaked for a day in apple juice. It's a fabulous and quick way to make steel-cut oats. You can use any kind of juice. Peach is nice as well.
Later, I grabbed a sandwich with turkey, avocado, and egg from a local café. I ate the other half a bit later in the day.
For dinner, I took my friend Bethany Hamilton and her husband to Gemma, a favorite spot of mine. We shared kale salad, arugula salad, the artichoke-and-truffle salad, and the beet salad. I usually try to stay away from pasta because of my quote-unquote gluten allergy — I'm slightly intolerant — but I splurged and had the most amazing pasta ever. It was a squid-ink linguini with baby octopus. It was so delicious. I ate the whole thing.
Wednesday, March 5
I once again started my day off with a smoothie, and then, I had lunch with my boyfriend. We threw leftover chicken in the crock-pot. The crock-pot is the best invention ever. You just throw everything in the pan, add some water, and let it cook! The entire apartment smells delicious, and you have dinner for the rest of the week. We also had sweet potatoes and spinach.
While working, I snacked on apples and Justin's maple-almond butter. The maple flavor is so delicious.
For dinner, I went to Cookshop and had a business meeting. I shared the cauliflower gratin, which was so rich and creamy and garlicky and lovely. Then, the spaghetti squash tossed with fried kale, chickpeas, and cranberries. I also ate the kale salad, and I ordered the rotisserie chicken with sweet potatoes for myself.
I got the dessert special: apple-pie nachos. Crazy good! They're made of puff pastry that's fried and rolled in cinnamon-sugar — and apple-pie filling is in the middle, like guacamole. The pie crust serves as chips, and there's shredded cheese and a dollop of cinnamon-spice ice cream on top. It was so much fun to eat.