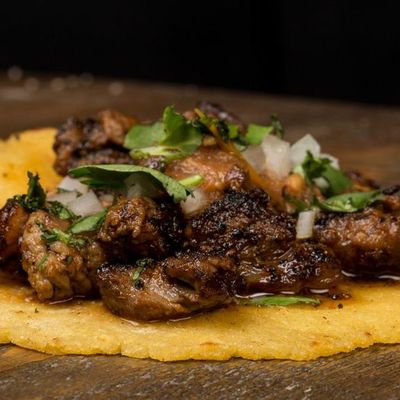 Rolling, rolling, rolling.
Photo: Otto's Tacos
After learning yesterday that Mexican chef Enrique Olvera will open a small-batch Brooklyn tortilleria to supply his forthcoming restaurant, Cosme, Alex Stupak tweeted, "Strangely I'm doing the same thing on St. Marks and A," referring to his third Empellón restaurant, which he told Grub Street last year would "be built around" fresh corn tortillas, not flour — a place "that processes masa first, and then you better use it in just about everything."
With all this masa talk, it's pretty fair to say that city chefs are beginning to approach tortillas in the same way they embraced fresh pasta around 30 years ago. Several high-profile converts have recently begun treating masa with newfound respect: Otto's Tacos already processes masa in-house, and Danny Bowien swears by the the in-house corn nixtamalization process he's developed at Mission Cantina.
Alex Stupak Plans to Jump into the Tortilla-Making Game [Eater]