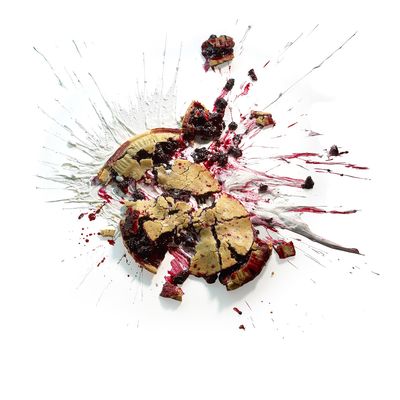 Splat.
Photo: Annabelle Breakey/Getty Images
I can't remember where I was, precisely, when I finally had my fill of what passes for dessert these days in most trendy new restaurants around this food-mad town. Maybe it was at a tasting room out in the wilds of Long Island City or Greenpoint, where the only evidence of something sweet to eat (after an otherwise enjoyable $100 dinner of pork neck and carefully articulated winter root vegetables) was a tiny spoonful of carrot parfait. I could have been at an expense account joint in midtown, where the ancient pageantry of rolling dessert carts and 15-minute soufflés was replaced, long ago, by a bland procession of overpriced chocolate sundaes and stale, prefabricated layer cakes. Or maybe I was standing in the rain at 6:30 a.m. to get a taste of Dominique Ansel's fabled (and, yes, sort of delicious) internet sensation, the Cronut. Not that it really matters. The city may be awash, as I've written before, in a happy tidal wave of artisanal bakeries, ice cream parlors, and New Age doughnut shops, but the grim reality is that for lovers of the old-fashioned, sit-down restaurant dessert, this is the Dark Age.

Not so long ago, new kitchens of the highest rank were defined, in large part, by their ability to produce a glamorous crescendo of sweets at the end of every meal. Too often, these days, restaurant meals end with pre-made puddings (or panna cottas, watery rice puddings, and the ever-durable chocolate pot du crème) and scoop after scoop of of antically flavored ice cream (olive oil, sea salt, etc.). Instead of delicate wisps of, say, îles flottantes, we critics debate the latest gourmet version of carrot cake, or an endless, mind-numbing procession of fried beignets, churros, and gourmet doughnut holes, all of which taste fine, thank you, but also pretty much the same.
Sure there are highly trained pastry chefs hanging on at old line establishments such as Angela Pinkerton at Eleven Madison Park or Elwyn Boyles at Per Se. But upscale, white-tablecloth restaurants open less and less frequently in this comfort-food addled era, and the old lions who used to dominate the pastry field are mostly gone. Jean-Georges Vongerichten's talented maestro Johnny Iuzzini abandoned his post in 2011. Jacques Torres, who rose to fame constructing elaborate desserts at Le Cirque, is busy expanding his chocolate empire. Michael Laiskonis left Le Bernardin several years ago to teach at culinary school. And Alex Stupak, who made his name with cutting-edge dessert work at wd~50 (and, before that, Alinea in Chicago), now focuses his considerable talents in the more bankable realm of high-end tacos.
You can't blame Stupak for pulling the rip cord on his pastry career. In today's post-recessionary dining economy, dessert chefs tend to be viewed by your average restaurateur starting out in Cobble Hill (or even the West Village or midtown) as a luxury. More and more of the restaurants I review don't even employ full-time dessert cooks, which is why their menus are flooded with pre-made pies, cakes, and puddings that can be put together ahead of time and whisked out to diners as quickly as possible. As in the realm of savory cooking, the most interesting, innovative work tends to be done in small out-of-the-way tasting rooms, where set omakase-style menus conclude with one or two meager dessert "tastes" per sitting.
Tastes change, of course. The great gourmet-dessert apocalypse has also coincided with the rise of a generation of no-frills cooks (and eaters), who prefer a midnight tub of Ben & Jerry's ice cream to a well-fashioned éclair any day. David Chang famously avoided dessert at his restaurants altogether, until Christina Tosi came up with the genius idea of making ice cream out of sugary, leftover cereal milk. Danny Bowien doesn't employ full-time pastry chefs at his celebrated Mission restaurants, and neither did Mario Carbone and Rich Torrisi until they turned their modest Italian sandwich deli into a high-priced tasting room, and opened their retro red-sauce palace, Carbone, where the most talked-about item on the dessert list is a decorative $15 slice of, you guessed it, carrot cake
Not that this dyspeptic critic is averse to the occasional large bite of $15 carrot cake. I'm not even averse to a taste of the occasional Cronut. Even my most militant pastry-snob friends concede that Dominique Ansel's famous mash-up dessert is a brilliant marketing tool, and a canny gateway to his other, more classic pastry treats.
In fact, I look forward to sampling Ansel's latest invention, which, in case you haven't heard, is a shot-glass-sized cylinder made out of a chocolate-chip cookie, filled with the finest organic milk. When my daughters saw the enticing Instagram images on their phones, they could barely contain their glee. They want to go stand in line when the new wonder goes on sale this Friday. If the line's too long, they want me to pull strings to get them a taste. Have patience girls, I tell them. Pirate versions of Ansel's chocolate-cookie shots will be all over town in a week or two. And a few months after that, there's a decent chance they'll be coming to a swank restaurant near you.
Related: Chefs Chew Over New York's Changing Dessert Landscape