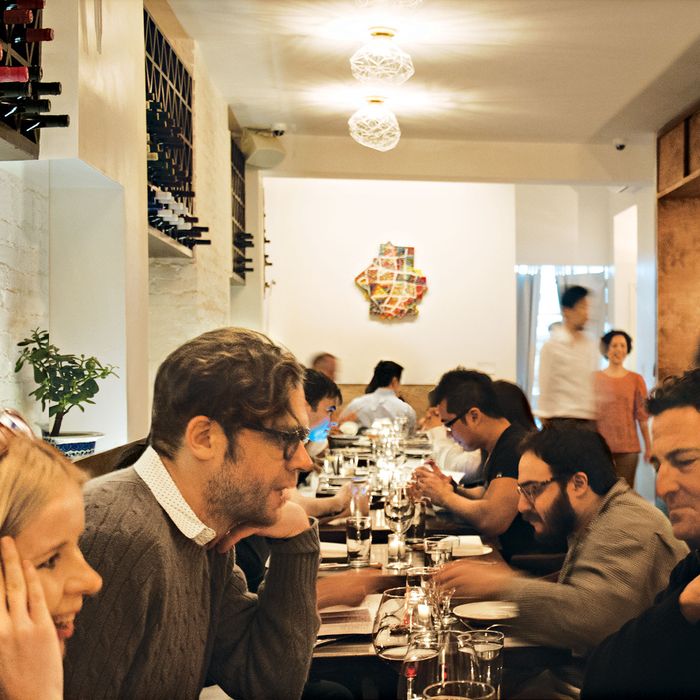 Photo: Sarah Silberg/New York Magazine
You won't find the usual ritualistic talismans of the Chinatown dining experience at Fung Tu, which opened a couple of months ago among the jumble of rapidly gentrifying storefronts on the southern end of Orchard Street. There are no murky aquarium tanks at the front of the house filled with near-dead lobsters or stunned-looking fish. Instead of, say, ­pictures of dragons or mist-shrouded mountains on the walls, there's a long wine rack stocked with a sparkling wine from Alsace, delicate Pinots from Oregon and Burgundy, and the occasional $120 bottle of ­Champagne. The chopsticks are elegantly tapered objects made of silvery metal, and if you call for the extravagantly priced house egg roll ($13), you'll discover that it's stuffed with two kinds of Mediterranean olives, among other non-Chinatown ingredients, and served with a bowl of citrus-tinged mayonnaise for dipping.
The egg roll is the work of a young chef named Jonathan Wu, who did time at Per Se before joining forces with Wilson Tang (Nom Wah Tea Parlor) to open this willfully sophisticated restaurant. It was served to us, along with a welter of other small-plate items, by a chatty member of the staff, who wore a silk handkerchief stuffed in his jacket pocket and recommended something called an Oolong Spritz, made with club soda, ­Prosecco, and Aperol infused with oolong tea. While we sipped our drinks, we tasted finger bowls filled with smoked mussels and scallion oil; wok-fried peanuts folded with dill and excellent nuggets of beef jerky; and an ingenious creation, smoked fried dates stuffed with duck, which tasted like a subtle fusion version of that bacon-wrapped Western ­specialty Devils on Horseback.
As with many well-trained cooks who dabble with high-low comfort-food combinations, Wu is an obsessive tinkerer, and some of his recipes are clearly still in the experimental stage. I enjoyed the lightly frizzled crêpe skin of the egg roll, and the pork-belly-and-olive filling (as my egg-roll scholar colleagues at the Underground Gourmet have reported, the pork is cooked in a combi oven and rubbed with coriander and cumin), but the extra dollop of mayonnaise is enough to give even the most grizzled fresser premonitions of a heart attack. At this stage in its development, the smoked-chicken salad with masa-scallion pancake lacks smoke, and the pancake could use a dose of oily Chinatown goodness. Our order of fluffy Parker House steamed buns (with a filling of ­butternut squash and shiitake) were technically ­perfect, however, and so was the excellent Jian Bing crêpe, which is crisp and tubular, like an Indian dosa, and stuffed with ropy deposits of braised beef.
The most successful large-plate items tend to be variations on old neighborhood specialties (fried pork chops, steamed fish, a nice squid stir-fry tossed over Japanese rice), and, frankly, I could have used more of them on the menu. The pork chops are thin and fatty and garnished with a pleasing sweet-sour combination of sherry glaze and pickled mustard cabbage. The steamed fish was black bass, on the night I enjoyed it, dressed with a delicate mix of orange peel, scallion, and fennel. The best dessert, by far, is a gourmet rendition of tofu pudding. It's pooled on its silky top with melted brown sugar and comes with a Per Se-level tuile made with crushed pistachios. Like the best cooking at this promising, slightly uneven establishment, it will make you want to return in a month or two, to see what these talented young chefs are up to.
Like Jonathan Wu, and almost every other cook in town, the seasoned executive chef and reality-show presence Amanda Freitag ('Cesca, the Harrison, Gusto, Iron Chef, Chopped) is dabbling in the dark realm of comfort foods. At her newly rebooted ­version of Chelsea's famous Empire Diner on Tenth Avenue, you can belly up to the counter for a very un-diner-like mound of crab salad scooped in a bowl of avocado, and crocks of onion soup capped with melted Gruyère and fat, slightly soggy croutons cut from a substance called "bagel bread ­pudding." The soupy, properly biting house mac 'n' cheese is constructed with Italian orzo, instead of elbow macaroni, and touched, a little unsettlingly, with truffle butter. The buffalo wings are spicy and tangy enough, but instead of chicken ­Freitag uses skate wing, cut in meager slices (I counted four) and graced with a spoonful of crème fraîche.
Would I have preferred the usual mess of Tabasco-doused chicken wings, ­supplemented with glops of blue-cheese dressing? Probably. Upon reflection, I also would have preferred less pork belly in my bacon-addled oyster pan roast, along with a traditionalist shmear of cream cheese with my lox, instead of a soggy wad of ­burrata. But we quibble. If nothing else, Freitag deserves credit for breathing new life into this ancient, iconic dining space. Her signature burger (with a "special sauce" on brioche) and patty melt (on crunchy rye with melted Swiss) work just fine, as does the trout amandine, which is set over a pat of parsnip purée in a pool of brown butter. The silvery Art Deco room is mobbed most nights, so get there early, and if you feel like a drink with your burger, call for the ample cocktail menu, which includes a seductive New Age martini, garnished, for an extra artisanal kick, with a pickled baby carrot.

Fung Tu
22 Orchard St., nr. Hester St.; 212-219-8785; fungtu.com
Hours: Dinner Tuesday through Saturday 6 to midnight, Sunday 6 to 10 p.m. Closed Mondays.
Prices: Starters and small plates, $6 to $15; large plates, $19 to $28.
Ideal Meal: Duck-stuffed dates, Jian Bing crêpe and/or Parker House buns, pork chops, steamed fish, tofu pudding.
Note: The restaurant features a decent wines-by-the-glass selection (there are ten), along with sherries
and sake.
Scratchpad: Some of the experiments work better than others, but we'll give one star for creativity and promise and another for technique.

Empire Diner
210 Tenth Ave., nr. 22nd St.; 212-596-7523; empire-diner.com
Hours: Dinner 5 to 11 p.m. every day.
Prices: Appetizers, $9 to $14; entrées, $12 to $25.
Ideal Meal: Crab salad, burger or trout amandine, (sigh!) doughnut holes or rice pudding.
Note: The kitchen hopes to begin serving lunch soon, but for now this is a dinner-only joint.
Scratchpad: One star for the iconic space and another for the more or less classic-diner portion of the menu. Minus a star for the sometimes overzealous experiments.
Related: How Fung Tu Put a New Spin on 'The Original' Egg Roll
*This article appeared in the March 24, 2014 issue of New York Magazine.