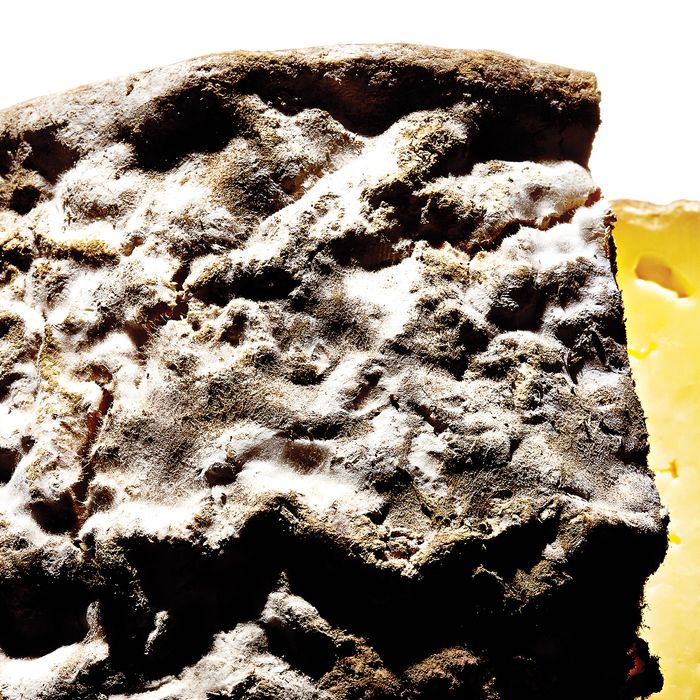 Twig Farm's Fuzzy Wheel.
Photo: Bobby Doherty/New York Magazine
With so many wheels, wedges, tommes, and pyramids out there, in so many styles (from clothbound to washed-rind) and textures (from chalky to runny), exhibiting flavors and aromas that seemingly couldn't derive from mere milk, there's never been a better time to eat cheese. The biggest news has been the tremendous growth of American farmstead cheeses, a realm that no one could have predicted three decades ago. Like bread, wine, and coffee, cheese has captured the imagination of not only consumers but also passionate producers and retailers, who fill their cases with the varieties that most excite them, be they microbatch experiments from upstate or even a new artisanal Limburger. We polled many of these mongers, plus importers and plain old curd nerds, to learn about their latest obsessions. Then we tasted a whole lot of cheese and categorized the eclectic results. The following 50 picks represent that diversity, without attempting the impossible task of naming the world's (or this city's) best cheeses. You won't find a rote recitation of classics, but instead the stinky, earthy, oozy, cave-aged, mixed-milk, and even process cheeses of the moment—and where to buy them.
Where to Find Them
Saxelby Cheesemongers
Essex Street Market, 120 Essex St., nr. Delancey St.; 212-228-8204.
No one has done more to give American cheeses their due.
Murray's Cheese
254 Bleecker St., nr. Cornelia St.; 212-243-3289; and Grand Central Terminal; 212-922-1540.
Terrific selection, lots of classes, and aging caves.
Beecher's Handmade Cheese
900 Broadway, at 20th St.; 212-466-3340.
Part creamery, part shop.
Lucy's Whey
75 Ninth Ave., at 15th St.; 212-463-9500; and 1417 Lexington Ave., nr. 93rd St.; 212-289-8900.
All-American in Chelsea; international uptown (plus a wine bar and café).
Bedford Cheese Shop
229 Bedford Ave., at N. 4th St., Williamsburg; 718-599-7588; and 67 Irving Pl., nr. 19th St.; 718-599-7588.
One of the city's biggest, ripest selections with a swanky new Manhattan branch.
Fairway
Multiple locations.
Without this pioneering cheese counter founded by Steven Jenkins, New York gourmets might still be eating third-rate Brie.
Eataly
200 Fifth Ave., at 23rd St.; 212-229-2560.
An undersung cheese counter not restricted to parm and mutz.
Bklyn Larder
228 Flatbush Ave., nr. Bergen St., Park Slope; 718-783-1250.
The best of Italy and beyond, from the folks at Franny's.
Whole Foods
Multiple locations.
Home to the Hervé Mons Camembert.
Gastronomie 491
491 Columbus Ave., nr. 84th St.; 212-974-7871.
Erudite cheesemonger Martin Johnson holds forth at the counter.
Di Palo's
200 Grand St., at Mott St.; 212-226-1033.
A New York landmark. Grab a ticket.

Campbell Cheese and Grocery
502 Lorimer St., at Powers St., Williamsburg; 718-387-2267.
A quaint provisions shop with a strong dairy bent.
*This article appeared in the February 24, 2014 issue of New York Magazine.