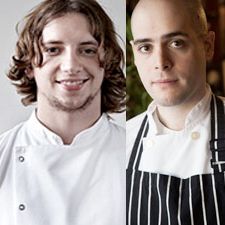 That's Wolff on the left; Basil at right.
Photo: Zero Degrees Zero Minutes
Wylie Dufresne's former sous chef JJ Basil and chef de partie Chris Wolff are opening a restaurant in D.C. that will be called — perhaps in keeping with wd~50's own minimalist name — 0º0', or "zero degrees and zero minutes," in its unpacked form. The chefs tell Washingtonian that they're still searching for a space where they'll eventually cook for twelve guests at a clip, but for now, Wolff and Basil are starting off with a series of six-course menus at Darnell's Bar, where their menus read in the same "ingredient-list" style used at wd~50 that has become a menu format just about everywhere else.
Neither the quirky name nor its chefs' terse menu style mean you should expect 0º0' to be a clone of the Lower East Side restaurant or its modernist cuisine: As the various branches of the wd~50 family tree attest, Dufresne's kitchen has turned out a staggering variety of talent from all stations. "Anyone can take that style and run with it," Basil tells Washingtonian, "but it would be doing Wylie a disservice. More than anything, it teaches you how to be your own guy, which is priceless."
Details on the New Restaurant Project From WD-50 Alums [Washingtonian]
Related: A Decade of Influence: The wd~50 Family Tree