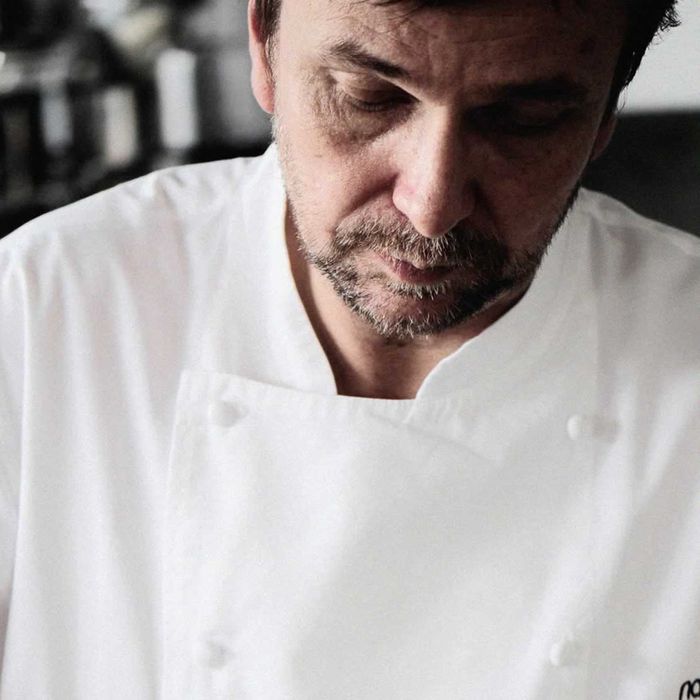 David Thompson of Nahm is No. 1.
Photo: Courtesy of David Thompson
The winners of the S.Pellegrino- and Acqua Panna-sponsored Asia's 50 Best Restaurants for 2014 were announced this morning. Notably, Australian chef David Thompson and Indian-born Ferran Adrià protégé Gaggan Anand, took the No. 1 and No. 3 spots, respectively, with their Bangkok restaurants Nahm and Gaggan. Yoshihiro Narisawa's namesake restaurant dropped to the No. 2 spot this year, slipping just a little with Seiji Yamamoto's 18-seat Nihonryori Ryugin, which drops to No. 5 from its second-place position last year.
Elsewhere, Joël Robuchon's empire is still very much in effect, and the chef has two restaurants on the list, while the famed Sukiyabashi Jirō ranks at No. 38.
Canadian Matt Abergel moved up a spot with Yardbird in Hong Kong, French chef Paul Pairet's Ultraviolet maintains its No. 8 ranking, and in general, the list is replete with the wide-reaching influence of modernist techniques. It's telling, for example, that Shinobu Namae's Tokyo restaurant L'Effervescence is a new entry entirely, coming in at No. 25, the midpoint. Namae trained with Michel Bras and Heston Blumenthal, and is known for serving savory snacks in playful packaging, like savory apple pies delivered to the table in red paper boxes made to look like the ones served at McDonald's.

1. Nahm, Bangkok,Thailand

2. Narisawa, Tokyo, Japan

3. Gaggan, Bangkok, Thailand

4. Amber, Hong Kong, China

5. Nihonryori Ryugin, Tokyo, Japan

6. Restaurant Andre, Singapore

7. Waku Ghin, Singapore

8. Ultraviolet, Shanghai, China

9. Lung King Heen, Hong Kong, China

10. 8 1/2 Otto E Mezzo Bombana, Hong Kong, China

11. Mr And Mrs Bund, Shanghai, China

12. Iggy's, Singapore

13. Caprice, Hong Kong, China

14. Les Amis, Singapore

15. Bo Innovation, Hong Kong, China

16. Ishikawa, Tokyo, Japan

17. Jaan, Singapore

18. L'atelier De Joel Robuchon Hong Kong, China

19. Fook Lam Moon, Hong Kong, China

20. Jungsik, Seoul, South Korea

21. Sra Bua By Kiin Kiin, Bangkok, Thailand

22. Quintessence, Tokyo, Japan

23. Tippling Club, Singapore

24. Le Moût Restaurant, Taichung, Taiwan

25. L'effervescence, Tokyo, Japan

26. Fu1015, Shanghai, China

27. Bukhara, New Delhi, India

28. Bo.Lan, Bangkok, Thailand

29. Indian Accent, New Delhi, India

30. Dum Pukht, New Delhi, India

31. Issaya Siamese Club, Bangkok, Thailand

32. Varq, New Delhi, India

33. Hubin Road, Hangzhou, China

34. Takazawa, Tokyo, Japan

35. Shinji By Kanesaka, Singapore

36. Wasabi, Mumbai, India

37. Eat Me, Bangkok, Thailand

38. Sukiyabashi Jiro, Tokyo, Japan

39. Robuchon Au Dome, Macau

40. Imperial Treasure Super Peking Duck, Singapore

41. Sawada, Tokyo, Japan

42. Hajime Restaurant, Osaka, Japan

43. Sushi Saito, Tokyo, Japan

44. Nihonbashi, Colombo, Sri Lanka

45. Yardbird, Hong Kong, China

46. Family Li Imperial Cuisine, Shanghai, China

47. Sarong, Bali, Indonesia

48. Franck Bistro, Shanghai, China

49. Karavalli, Bangalore, India

50. Tenku Ryugin, Hong Kong, China
Asia's 50 Best [World's 50 Best]