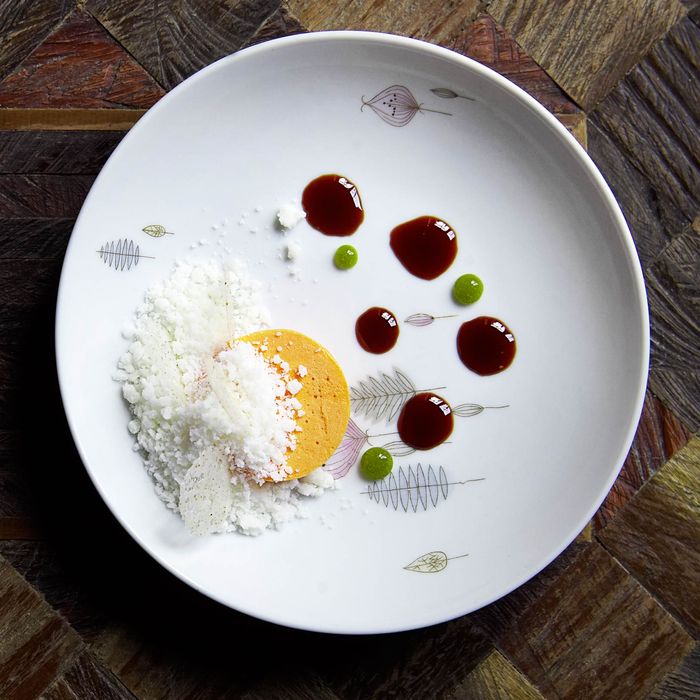 Luksus's carrot parfait is like the love child of cheesecake and panna cotta.
Photo: Signe Birck
Veggie desserts aren't exactly a new concept — there's carrot cake, of course; and celery sorbet has been a staple of Del Posto's dessert menu for a few years — and yet this winter has seen a number of New York chefs take the idea further, using plenty of beets, parsnips, and fennel in their meal-finishing dishes. These desserts won't substitute for a green juice, but they do make the case that more savory vegetables can be made sweet with impressive results.
Fernet Branca Panna Cotta With Fennel Mostarda
Where: All'onda
Cost: $11
Chris Jaeckle tops a bowl of Fernet Branca-laced panna cotta with large spoonfuls of sweet and spicy caramelized-fennel mostarda for a boozy, earthy dessert.
Sweet Potato Beignets
Where: The Cecil
Cost: $10
Sweet potatoes are roasted, pureed, and folded into a beignet batter that is then deep-fried. The doughnuts are topped with a black-pepper-citrus glaze made from candied orange zest and kumquat syrup, and served with crème anglaise on the side for dipping.
Fennel Cheesecake
Where: Narcissa
Cost: $9
After you finish eating carrot fries and rotisserie beets, try pastry chef Deborah Racicot's slightly savory toasted-fennel-infused cheesecake, rolled in a brown-sugar-toasted fennel shortbread crumb and plated with chartreuse-compressed grapefruit segments, bright pomegranate seeds, and ribbons of candied fresh fennel.
Skyr and Beetroot
Where: Skál
Cost: $8
Dessert at this Nordic restaurant means mousse-like skyr (a soft and intensely tangy yogurt-like cheese) layered with Concord grape preserves, sharp sorrel granita, and beetroot that has been glazed in a rose-petal syrup, dried until raisin-like, and run through a meat grinder before being tossed in dill oil.
Carrot Parfait
Where: Luksus
Cost: Part of a $75 tasting menu
It's essentially the love child of a cheesecake and a panna cotta: Egg yolks get cooked in a simple syrup made from carrot juice, and are then whipped into a carrot-puree-and-yogurt mixture and set with gelatin. The chilled rounds are topped with shaved yogurt granita, blood-orange-cumin sauce, juniper syrups, and a cumin tuile.
Beets
Where: Contra
Cost: Part of the $55 tasting menu
This much-lauded plate features a chewy hazelnut cremeux topped with tangy yogurt sorbet, desiccated beet chips, and a splash of a bright magenta sauce made from roasted beets pureed with lemon juice.
Kobocha Brulee Cake
Where: Spot Dessert Bar
Cost: $9.75
The orange-hued cake made with Japanese squash is served warm with a sprinkling of walnut soil and a scoop of condensed-milk ice cream.
Chocolate Beetroot Cake
Where: Vinegar Hill House
Cost: $12
Raw shredded beets add moisture and texture to the rich chocolate batter, as well as plenty of natural sweetness.
Puruppu Payassam
Where: Dosa Royale
Cost: $6
Best after a meal of crispy dosas and spicy sambar, this popular South Indian dessert is a sweet pudding made from yellow split peas (with a pinch of cardamom). It has the consistency of split pea soup.
Rice Pudding With Fennel
Where: The Cleveland
Cost: $8
New chef Max Sussman cooks rice pudding in fresh cream, and tops it with pieces of chewy candied fennel and colorful sugar-coated fennel seeds, which are most commonly found in Indian restaurants.
Apple Tart With Swiss Chard
Where: wd~50
Cost: Part of the $155 tasting menu
Apple tarts are best served with ice cream, and pastry chef Malcolm Livingston II serves his with a bright green swiss-chard sorbet piped inside a pistachio tuile.
Parsnip Ice Cream
Where: Estela
Cost: $12
Ignacio Mattos offers sea-salt-topped parsnip ice cream with a scoop of 32-percent chocolate caramel — plus candied sesame seeds.
Fennel Baked Alaska
Where: Eleven Madison Park
Cost: Part of the $225 tasting menu
The classic flaming American dessert is torched tableside and garnished with fennel four ways: a candied fennel puree, fennel pollen, fennel meringue, and a fennel-seed shortbread.
Rosemary Eggplant Tiramisu
Where: Dirt Candy
Cost: $12
Amanda Cohen is the pro at using vegetables in unexpected ways: She grills and purees Japanese eggplant, folds it into a bowl of mascarpone, and slathers it between layers of house-made rosemary ladyfingers. It's served with a puff of rosemary cotton candy.