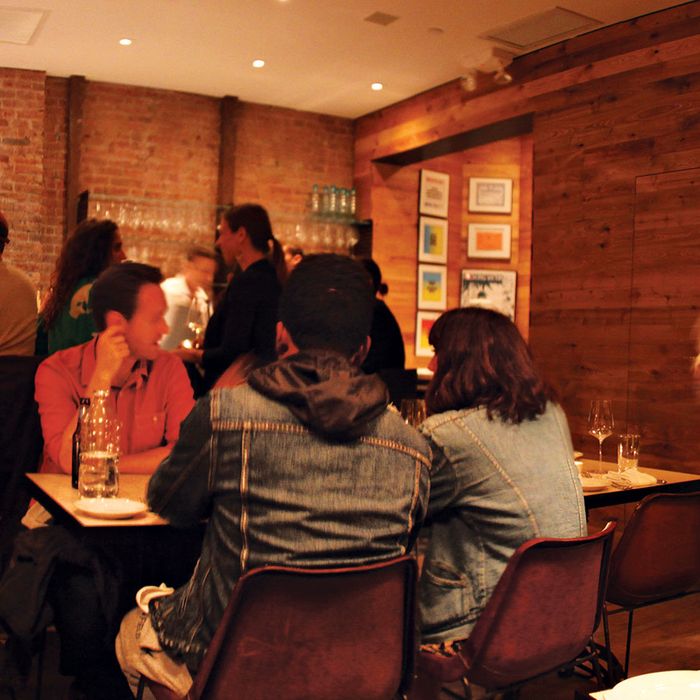 Sexy time at Charlie Bird.
Photo: Jenny Westerhoff/New York Magazine
It is Grub Street's stated position that February 14 is one of the two worst nights of the year to go out to dinner — New Year's Eve being the other — but sometimes you just have to go out for Valentine's Day. (What's more romantic than overpriced prix-fixe menus?) Or maybe you don't care about Valentine's Day at all this year and just want to go out to dinner because it's a Friday night. Either way, you will be happy to learn that there are quality restaurants that will simply be offering their standard a la carte menus, and late planners will be equally happy to know that many of these restaurants will be taking walk-ins on Friday night, too. (All the restaurants that do require reservations are noted, and all still have availability as of this morning.) Keep reading to see the best of the bunch.
Empire Diner
Keep things laid-back by eating breakfast for dinner at Amanda Freitag's buzzy new restaurant.
Need a Reservation? Nope.
Dover
Head over to Carroll Gardens for the truffle-laden chicken for two and baked Alaska, which are both available a la carte.
Need a Reservation? Yes.
Han Dynasty
Slurp dan-dan noodles Lady and the Tramp-style.
Need a Reservation? Nope.
Khe-Yo
It's business as usual at Marc Forgione's Laotian restaurant, where you can bond with your date by eating sticky rice with your hands.
Need a Reservation? Yes.
Gotham West Market
Create your own DIY food crawl with the Cannibal's charcuterie, El Colmado's Spanish tapas, and Little Chef's whiskey pie. Just make sure your date stays away from Ivan Ramen's roasted-garlic mazemen.
Need a Reservation? Nope.
Ippudo
The most romantic thing you can do for your sweetie is endure the two-hour-long wait.
Need a Reservation? Nope.
Pork Slope
Dale Talde is bringing in D.J.s to "celebrate being single," but the menu's the same as usual.
Need a Reservation? Nope.
Marco's
It's a good move to spend your night eating wood-grilled bread and chestnut agnolotti in Francine Stephens' and Andrew Feinberg's cozy dining room.
Need a Reservation? Yes.
Charlie Bird
Stracciatella toast, roasted chicken, nineties rap music, and a bottle of vintage Bordeaux will definitely set the mood.
Need a Reservation? Nope. (Plenty of tables will be held for walk-in diners.)
Umami Burger
Nothing says "treat yourself" like Umami's ridiculous, limited-edition special: a vanilla custard-soaked deep-fried bun stuffed with a beef burger, prosciutto, and Gruyere fondue. It's topped with powdered sugar and served with a side of maple syrup.
Need a Reservation? Nope.
Hill Country
Both the Chelsea outpost and the new Brooklyn location will keep things casual, with Elizabeth Karmel's menu of pit-smoked and dry-rubbed meats, sweet sides like sweet-bourbon mash, and classic red-velvet cake.
Need a Reservation? Yes.
Pok Pok Ny
The perfect place to take someone you're only pseudo-dating.
Need a Reservation? Nope.
Golden Cadillac
If you want to hear some smooth jams, this East Village bar will play the "ultimate 1970s love ballads playlist" all night long. The menu isn't changing, though.
Need a Reservation? Nope.
Uncle Boons
Order massaman curry with beef ribs, plus a special Ya Dong shot: It's a Thai liquor made from infusing rise whiskey with herbs and honey, and it's thought to increase strength and libido.
Need a Reservation? Nope.
Telepan Local
Bill Telepan's American-style tapas menu includes fun, shareable dishes like shrimp poppers, bacon pizza, and arancini.
Need a Reservation? Yes.
Pig & Khao
Leah Cohen's BBQ baby-back ribs are downright sexy.
Need a Reservation? Yes.
The John Dory Oyster Bar
Along with her regular menu, April Bloomfield will offer caviar service ($55 per couple for one ounce) with all the traditional fixings.
Need a Reservation? Yes.
The Breslin Bar & Dining Room
The restaurant will accept reservations for groups of any size in honor of the occasion (e-mail here), and offers specials like lamb heart and beef tongue.
Need a Reservation? Yes.
Buddakan
Friday is a night to stay away from MePa, but if your date really wants a little unce-unce, at least Stephan Starr's restaurant has an a la carte menu.
Need a Reservation? Yes.
Extra Fancy
This excellent Williamsburg clam shack has added a few large-format entrees to its menu, like a New England clam-and-lobster bake for two.
Need a Reservation? Yes.
RedFarm
Both locations of RedFarm will accept reservations for the 14th, and they're serving the regular a la carte menu. E-mail jenn@redfarmnyc.com.
Need a Reservation? Yes.
The Smith
This East Village mainstay's comfort-food menu is the same as usual (brick-pressed chicken, shrimp and grits, and skillet-baked mac-and-cheese), but beverage director Jeff Leanheart recently introduced a few new winter cocktails, like a hot chai-spiced toddy.
Need a Reservation? Yes.