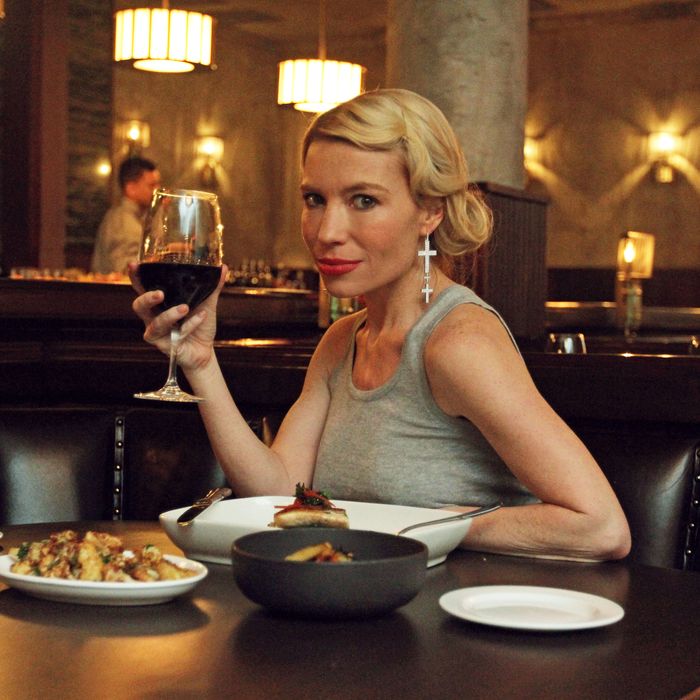 Anderson, with a big pour of wine at the Monarch Room.
Photo: Melissa Hom
Tracy Anderson has created a fitness empire — the Tracy Anderson Method — from the ground up, but she's best known for a client roster list that includes Kim Kardashian, Jennifer Lopez, Victoria Beckham, and, of course, her business partner, Gwyneth Paltrow. (Paltrow credits Anderson for her "22-year-old stripper" butt.) Even though Anderson's body is a big part of her business, she isn't overly strict about what she puts into it: "Eating great food with friends is such a happy part of life," she says. "I love food. I don't know many people that don't, but a lot of people don't know how to have a healthy relationship with it." This week, Anderson's healthy relationship meant grabbing burrata at Crown, pork shoulder at the Monarch Room, and cookie sandwiches from Babycakes. Read it all in this week's Grub Street Diet.
Friday, January 31
For breakfast, I had my Wellness Shake with whole milk and a date. I have my shake every morning: It's a great meal replacement, and I also have a major sweet tooth.
I treated my A Team to a fun lunch at American Flatbread, which is right by my studio. We all nibbled on Kalua pork pizza, turkey meatballs, and big salads. They have gluten-free pizzas and I have a gluten allergy, so it's really important for me to find restaurants with options. If you say the word "allergic," then they tend to take you more seriously. I'm a little dramatic with it.
I raced back home to Sag Harbor to catch my son's basketball game, and we enjoyed a family dinner at Gabby Karan's home. She owns Tutto il Giorno, which is closed right now, but she cooked recipes from the restaurant. We had roasted cauliflower and Brussels sprouts mixed with gluten-free pasta and Parmesan cheese. I cannot wait for the restaurant to open a location in Tribeca in the next few months. I've been in love with it for years.
Saturday, February 1
I started the day with my shake, but this time, I added a few drops of chocolate syrup to sweeten it before my morning workout. I enjoyed it walking along the bay with my kids.
For lunch, I stopped on my way back into New York City at the Americana in Manhasset and had lunch at Toku, an Asian spot. I ate vegetable dumplings.
I'm a huge John DeLucie fan, and I have been for years. I had dinner at the Crown with a ton of friends: I started with a big plate of Burrata and then had the snapper. I ended up at the Carlyle's piano bar for a friend's birthday, and had a glass of Barolo. Organic wines are getting better and better, and I try to drink them when I can. But I love wine, and I think there are benefits to having one or two glasses. We're emotionally programed to love certain foods.
Sunday, February 2
Brunch at Balthazar: one of my favorite places, and a classic New York City spot. I had some kind of omelette. I get the chicken paillard there a lot, too.
For dinner, I stayed in to watch the Super Bowl, and my nutrition guru and I worked on creating recipes for my next newsletter. We experimented with parmesan crisps with spinach on top, and other delicious small, gluten-free bites. I love Doritos — even though I haven't had them in years. This brand called Garden of Eden makes chips that taste exactly like Doritos, and I had a bunch of those with fresh salsa. I also had a delicious glass of wine from 24 Hubert Wines, where they have a $12 Torontes that tastes like a million bucks.
Dessert was courtesy of my dear friend Monica, who makes sugar-free, gluten-free cookies and treats that I absolutely love.
Monday, February 3
I drank my morning shake and ate a little bit of Green & Black's chocolate. I eat chocolate every single day, and I'd love to come out with my own chocolate bar to combat all of the negative stereotypes about eating chocolate. It's actually a great energy source, and there are health benefits from eating cocoa!
I had a working lunch with my A Team at my new favorite health spot, Mulberry & Vine. I'm obsessed with the nutritious food there, and I had roasted cauliflower with homemade green Sriracha sauce, roasted parsnip rutabaga, forbidden rice with butternut squash, and the delicious cabbage soup.
I was very excited to try a new spot in Chelsea called the Monarch Room! I enjoyed dinner with a friend. We shared roasted root vegetables and the braised beef without the pasta, and I ordered the pork shoulder over grits, which was amazing. It was one of the best pork dishes I have ever tried.
The Monarch Room's glass of wine was actually more like two — I was mad at them! I only had two glasses of wine, but their glasses are ginormous, and I was as tipsy as I've been in years.
Tuesday, February 4
For breakfast, I drank my shake blended with milk and a pitted date.
I went out for a great working lunch at Locanda Verde. I had the chicken and the rustic potatoes. The Greenwich Hotel is like my second home, and it's a great spot to have lunch on a freezing winter day. We also picked up some cookie sandwiches from Babycakes as an afternoon snack.
I stayed home last night. I'm really obsessed with the quesadillas I make at home with gluten-free tortillas and organic, slow-pasteurized cheese from Cavaniola's. I don't have a dairy sensitivity, and I've read that the enzymes in high-quality dairy can control stomach fat, so I'm not afraid of dairy at all. If you eat things in their purest form or organic, then you don't have to be so afraid of food.
Wednesday, February 5
I had my shake in the morning with nut milk and two pitted dates, and then I had a Green & Black's chocolate bar and another quesadilla. Tonight, I'm going to Charlie Bird. It's my first time there.
I created a fitness method to help people stay proportionate, and part of the reason is because we shouldn't be extreme dieting. It can cause a lot of inner stress and turmoil, and people cut food groups for no legitimate reason. They want to look and feel a certain way, or have a sense of security. But what you should really be doing is upping the integrity of what you eat. Food is life-giving. It's totally emotional.