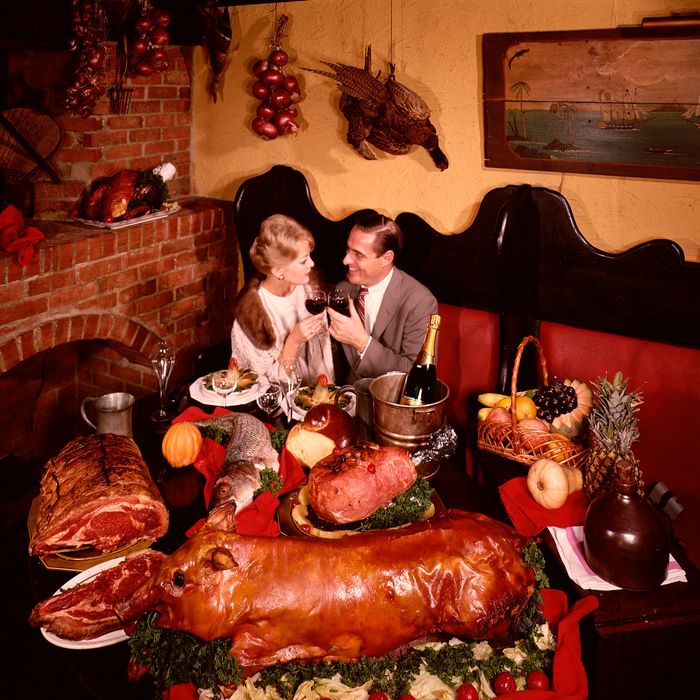 Nothing says "I love you'" like an entire pig for two.
Photo: Charles Rotkin/Corbis
I used to see a lot more people making out on the street. I lived around the corner from Alison on Dominick, the small, cozy Soho restaurant that couples flocked to in the 1990s. Coming home at night almost always meant walking past a kissing couple on the sidewalk. Even in the months after September 11, as the National Guard maintained a perimeter a few blocks south on Canal Street, there would be lovebirds, right outside the restaurant, going at it. They couldn't help themselves: Alison was romantic. But restaurants like Alison don't exist anymore. For years, it seems, owners and customers alike have conspired to kill the mood.
The idea of a "romantic" restaurant now conjures up many different ideas — a dark trattoria, or perhaps more cynically, a candlelit tourist trap near Times Square. But "romantic" was once a vaunted, specific restaurant category unto itself. Sure, you can still be pampered at a restaurant like Daniel or Le Bernardin (if you can afford them), but people didn't necessarily go to romantic restaurants to think about the food or the chef; they went to think about each other. There was Alison on Dominick; the velvet-walled Sign of the Dove — long regarded as the city's most reliably lavish and pampering establishment — on the Upper East Side. Karen and David Waltuck's Chanterelle remained an inviting Tribeca space even as downtown became a hotbed of Odeon wannabes. La Côte Basque thrived at both of its 55th Street locations (it moved a block west in 1995) for a time. Even Fleur de Sel in Flatiron and Café des Artistes (now The Leopard) on the Upper West Side were sanctuaries for couples looking for soft lighting and reliably familiar French cooking.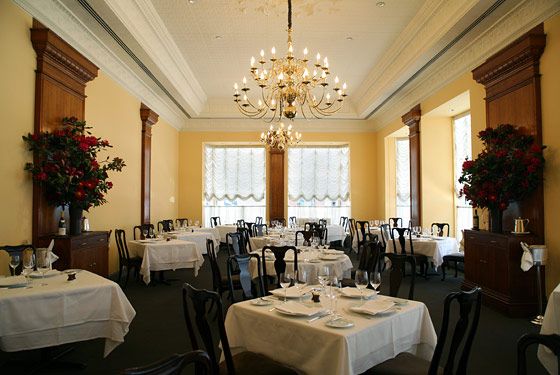 Chanterelle was for lovers, and people who loved food; places like it are now scarce.Photo: Shanna Ravindra

"Everyone has their own definition of what romantic is," says Marco Maccioni of Le Cirque, which has for 40 years has been both an intimate restaurant and a power-broker scene. "For us, it's where you find yourself in a place with a date, and even though you're amongst people, you feel like you're alone." The lighting will be so low that you aren't aware of the other customers; couples will be seated, usually side-by-side, at a comfortable banquette. Ladies may get a black napkin if they're wearing a black dress, so lint from the linen does not show up. There should be a wide assortment of serving forks, flutes of Champagne on every table, fresh flowers in every corner, and a somewhat fussy format. And the staff will go above and beyond to turn every meal into an experience.
Maccioni gives one example from 20 years ago. A young man planned to propose at the restaurant, so he arrived at the restaurant several weeks ahead of time, a nervous wreck. "Jacques Torres, our pastry chef at the time," Maccioni says, "came up with this idea of making blown-sugar apples, and inside each of these apples was a chocolate candy. He made a whole basket of them, and at the bottom of the basket was the apple that contained the ring." The plan went off without a hitch: "The woman opened the last apple, found the ring, and got engaged," Maccioni says. "Everyone applauded, they were served Champagne, and then they lived happily ever after." (If the story sounds familiar it's because Woody Allen was sitting at the next table that night and co-opted the scene for his movie Everyone Says I Love You.)
But think about New York's top restaurants now: Who's hand-blowing sugar apples these days and planting chocolate candies inside? "People say, 'It's all about the food,'" Maccioni says. "But, sometimes it's not just about the food. I want to go to a place where it's about me."
The problem is that customers started to care less about dining room glamour and more about what was happening in the kitchen. "The places that are 'romantic; — in the sense of being quaint, quiet and dark — mostly have such forgettable food that they aren't remotely romantic to anyone who cares about food," says former Times critic Ruth Reichl. "My parents had dozens of places they went, mostly in the Village. Small. Dark. French, Italian or Spanish. Very cheap. But they're all gone." She adds, "I used to think the River Cafe was very romantic, but I haven't been there in years."
Reichl isn't the only one who stopped going to the old-guard romantic restaurants: Alison closed in 2002. La Côte Basque served its last pike quenelle in 2004. Cyril Reynaud closed Fleur de Sel in 2009. Chanterelle closed the same year, along with Café des Artistes.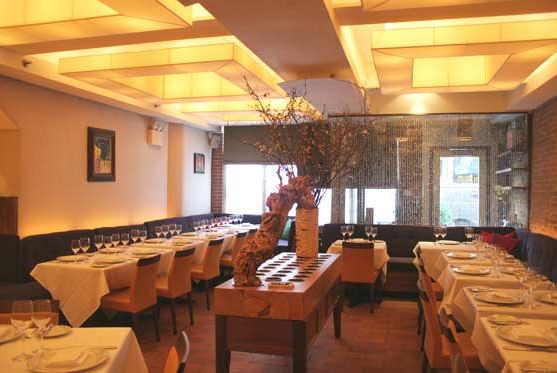 Cyril Renaud's Fleur de Sel was the rare romantic restaurant that was well-respected by critics but also thronged with couples.Photo: Shanna Ravindra

For some people, the closings weren't so much the problem. "M‪aybe it's just me," current Times critic Pete Wells says, "but I always found those clichéd romantic trappings kind of embarrassing‬."
It's not just him, of course: As those spots shuttered, the restaurants that become most successful (and generated the most press) were places like the Spotted Pig, Roberta's, or any of the Momofuku restaurants, which all favored loud music, communal tables, and packed dining rooms. "We just don't live in a very intimate dining era anymore," says New York critic Adam Platt. "Two-fisted bro restaurants just don't lend themselves to dates. Even when they're done by great chefs like April Bloomfield. These are are all kind of stripped-down, raucous, party restaurants. It's really the opposite."
Changing tastes aren't the only reason romantic restaurants are gone, though. Romance is expensive: tablecloths must be laundered, silverware needs to be polished, daily flower deliveries add up, and spacing customers comfortably means losing valuable real estate that could otherwise be used to fit in more paying customers. If customers don't value these trappings, why spend money to maintain them? Almost every restaurateur in town has decided the costs aren't worth it.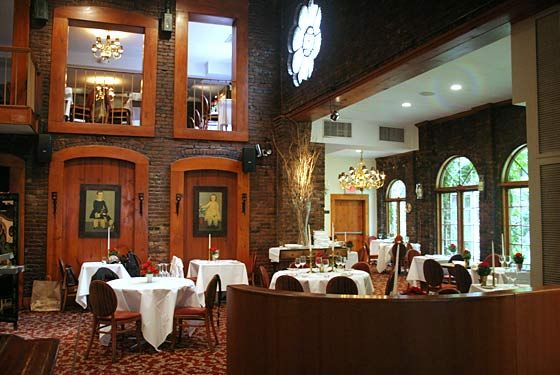 One If by Land, two If by Sea: The perfect place to host your next Red Wedding.Photo: Shanna Ravindra

There is one official Romantic Restaurant that's still open, One If by Land, Two If by Sea. But it's practically fallen into self-parody. One online review notes that the house musicians plunked out Bella's theme from Twilight. "I like the concept of this place," writes another reviewer. "Reminded me like I was in the Game of Thrones." As Platt puts it, "You have to be insane to take a date to One If by Land, it's such a cliché."
But in a city where every kind of restaurant can exist, perhaps that leaves an opportunity for someone who can marry innovative cooking with a romantic setting in a non-cynical, non-ironic way.
"Courtship is courtship," Maccioni says. "There's a certain protocol, and I think there's still an appreciation there. After all there's only one way to do it, which is to do it right."