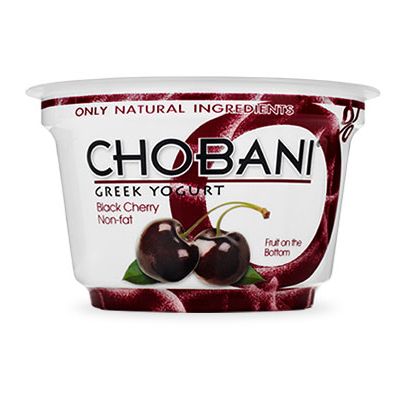 Why won't Russia let Chobani in?
Photo: Chobani
United States Senator Charles Schumer has urgently called on Russian ambassador Sergey Kislyak to expedite paperwork so that Team USA, along with many hungry NBC employees stationed in Sochi, can start enjoying what must be a massive shipment of delicious Chobani. Right now, Schumer says, the yogurt is sitting in storage at Newark International Airport because the Russian Federation's Federal Service for Veterinary and Phytosanitary Surveillance has not yet given the green light for the product to clear customs. The USDA has signed off on a "sanitary certificate" that states the yogurt meets Russia's food-safety standards, however, and regardless, it's being consumed only by Americans.
"With the Sochi Olympic Games starting at the end of this week, there is simply no time to waste in getting our Olympic athletes and employees a nutritious and delicious breakfast - Chobani Greek Yogurt," Schumer said in a statement first reported by the Rochester Democrat and Chronicle. In his letter to Ambassador Kislyak, Senator Schumer emphasizes that the yogurt care-package is a one-time shipment, and reiterates that only U.S. citizens will get to eat it.
The amount of yogurt being held at the New Jersey airport has not been disclosed, but considering that the United States has 230 athletes competing in Sochi, and other personnel, such as coaches and trainers — not to mention the television network's staff — that number increases significantly, and it is likely that many thousands of peach- and blackberry-flavored containers are just stranded in Newark.

Update: Chobani sends along official comment on the Senator's efforts and the fate of its Greek yogurt:


We appreciate Senator Charles Schumer's support of Team USA by helping us complete the delivery of Chobani Greek Yogurt to Sochi to naturally power our athletes all the way to the finish line—something we've had in the works for quite some time. Right now, 5,000 fresh single-serve cups of blueberry, strawberry and peach Chobani, and multi-serve containers of plain Chobani yogurt for smoothies, are being stored in a temperature-controlled facility, waiting for the final go-ahead from Russian authorities to be immediately transported. This is a time when the focus should be on our athletes, so we're just trying to do right by them in getting food they enjoy from home.

Supporting our Olympians over the past four years has been one of our greatest honors. Not only is Chobani a proud sponsor of U.S. Olympians and Paralympians - we're also an authentic part of their training regimens and honored to be found inside their fridges. As the official yogurt of the 2014 U.S. Olympic and Paralympic Teams, chefs and nutritionists have served Chobani to the athletes in the U.S. Olympic Training Centers over the past several months.

Chobani's commitment to Team USA is a recognition of how these athletes' training matters, doing things the right way and never cutting corners - just as we're committed to perfectly crafting every cup of Chobani.
Russia won't let Chobani yogurt in Sochi for Olympics [Rochester Democrat and Chronicle]