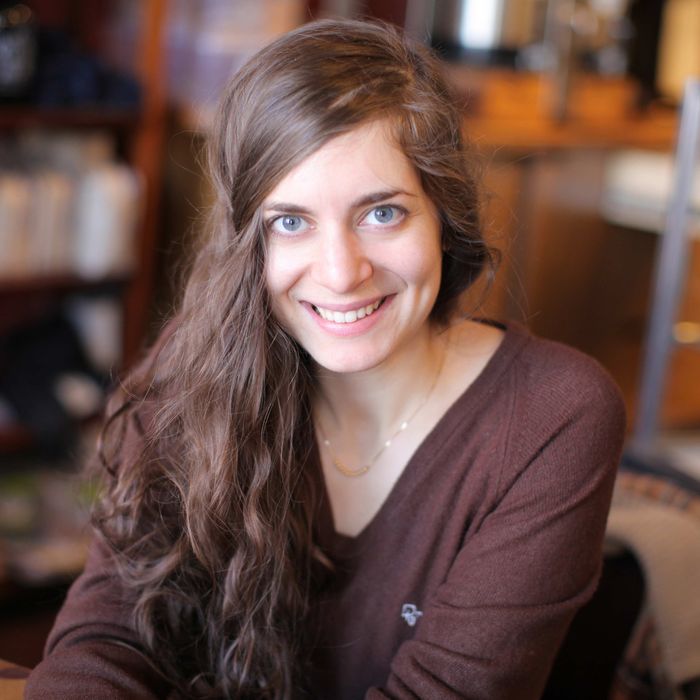 "I'm thankful for how well it was received, but I'm relieved by this decision."
Photo: Melissa Hom
Last week, Glasserie owner Sara Conklin and executive chef Sara Kramer shared the news with Grub that Kramer was in her final few weeks at the Greenpoint restaurant. This came as a huge shock: Since Glasserie opened in June, critics have praised it, locals have adopted it as a beloved neighborhood spot, and crowds of Manhattanites have happily made the pilgrimage for Kramer's glorious large-format rabbit. So what went wrong? Kramer says that the restaurant's heading in a totally new direction — one that isn't what she stands for professionally and personally. Read it all, straight ahead.
What caused this split?
The owner [Sara Conklin] and I had never really met or worked together previously. It was a big leap of trust on both of our parts. As much as two people can say that they want something similar, you can't ever know until you're doing it in practice. She had different ideas for the direction of the restaurant. There will be some significant changes to the food. The whole trajectory of the restaurant is very different from what I would have wanted, so I think that it's a positive move for both of us, even though it's sad.
As far as what we've achieved, it was a wonderful accomplishment. I'm proud of our success. I'm sad to walk away from it because I felt so warmly accepted. Going forward, I'm looking forward to working on another project in an environment that feels more cohesive, holistic, cooperative.
How does it feel to walk away from your recipes? Do you feel a sense of ownership?
There's a lot that I feel like I am losing, as far as my work and what I've built there. I can start over somewhere else, but this particular project was very personal to me. It involved a lot of recipes from my family and my heritage, as opposed to other restaurants I've been a part of before. This was a concept I've wanted to work toward for a long time.
Independent of one another, we wanted to open a Middle Eastern-inspired restaurant, and it just so happened that we found each other at the right time. What was exciting about Glasserie was that it was a fresh take with flavors that are relatively unfamiliar to the dining public. I knew that it was a risk worth taking because the moment in the culinary landscape was right, and that the space was beautiful. If I passed up on it, I might have missed the opportunity to showcase this style of food in my way, from my perspective. I hope that the accomplishment speaks louder than the failure.
The restaurant was, by all means, a success. How did that impact your decision, as well as the perception of it?
This has been an ongoing struggle, and part of what makes it even harder to walk away is the success of the restaurant. It's doing a lot for my career. But success isn't what matters most when it comes to you daily existence. It's working toward goals that are important to you, your work, and your integrity, and what you want to stand for professionally and personally. It's more important to stay true to what matters to me, and that applies on both sides.
It's easy to look at the situation from the outside and not understand why we were having trouble if the restaurant was doing so well, but success isn't just measured by how well a restaurant's received. I'm thankful for how well it was received, but I'm relieved by this decision.
Is any of your staff following in your footsteps?
The woman who's been working with me as my sous chef, Sarah Hymanson, and I are excited to try to work on something together. She's leaving as well. A lot of my kitchen staff, who I brought in, are leaving — independent of me. They're not leaving to come and work for me, but we were a team, and even if the new chef is great, I think that they feel like it's not the same place anymore. They don't feel as excited to stay because it's not what they signed up for.
Sarah [Hymanson] and I are excited about new frontiers and trying to figure out a way to work on a project together. What that is yet, I don't know, but we're a great team. We have as similar approach to food and management, and feel like we can do a good job and have fun at the same time. That's crucial when you're working so many hours and you care so much about what you're doing. That's about as much as I can divulge. She and I have a strong future ahead of us, as a duo.
Do you think you'll stay in Greenpoint?
Probably not. I'm hoping to stay in Brooklyn, unless something elsewhere calls my name.
Next time around, is it a goal of yours to be a chef-owner?
I might want that in the future. I'm glad that this wasn't the case in this circumstance. It all depends on it being the right project. I don't want to commit myself to something in that way unless it's exactly what I want. It's a big decision, both financial and in terms of a time commitment. I want to be very judicious in my selection in terms of ownership.
You've starred in a Broadway production of Mamma Mia!, and have said that you'd like to pursue writing. Do you plan on jumping back into the kitchen, or will you use this time to explore other interests?
I'm excited to live a broader existence for a period of time. I don't know if I want to jump right back into a full-time chef job, but I'm open to possibilities. I'm excited about pursuing other interests of mine, because there's a lot that I'm interested in and capable of, and cooking can feel stifling because it's so single-minded. It's so many hours dedicated to the same task. It's a good opportunity to see what else is out there for me — writing, maybe performing. I have other things that are calling my name. I'm only 28. I have plenty of time!
What do the next few weeks look like for you?
I'm happy to be walking away on amicable terms. I'm helping to transition the staff: The majority of the line cooks are leaving. With such a large kitchen turnover, it can be helpful to have my support. I'll be there, at the latest, come February. Come March, I'm a free woman! I'm going to take a road trip. I'm thinking Nashville and New Orleans. Maybe go down and hang out with the Rolf and Daughters crew for a bit. I've never been to New Orleans, and I hear that's a pretty fun place.