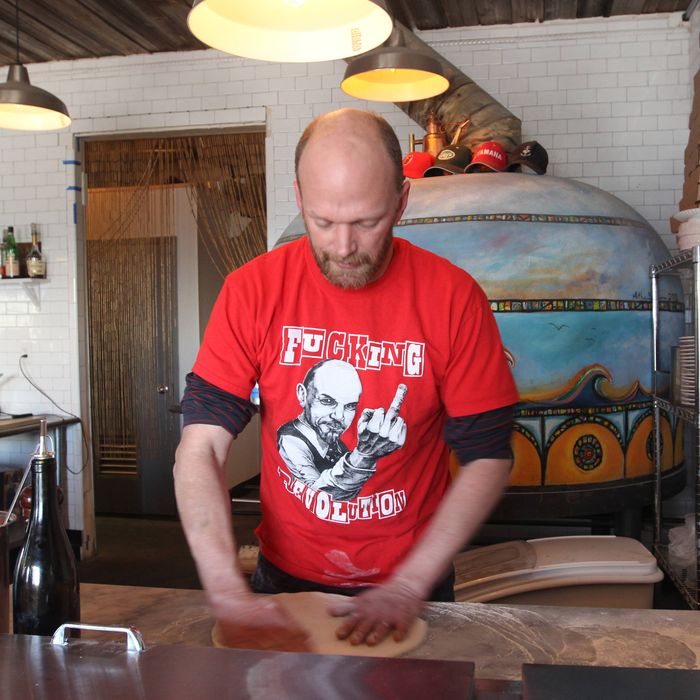 You can't wear that shirt on Seinfeld.
Photo: Melissa Hom
Slices aren't an option at Whitney Aycock's Rockaway Beach pizza shop, as he will happily explain to anyone who orders one: "If you want a slice, go to Elegante's. I don't give a fuck," he told one customer late on a recent Friday night. Next in line was a pair of teenagers. One was eager to sample Aycock's handcrafted creations. The other was scared to try something new. She asked for plain. "Plain pizza?" Aycock asked, sounding offended. "What is 'plain' pizza?" After a playful yet testy exchange, both kids turned around without making an order and fled out the door. Aycock was fine with losing the sale if it helped him make his point.
Aycock's rules go beyond no slices: Ask for faster service at his shop and he'll tell you to leave. Request a pizza that isn't on his menu, and he'll charge you a 500 percent mark-up. His behavior has even earned him a nickname. "He's the pizza nazi," says Douglas Owens, who raises houses in the Rockaways. "He's curt. He can come off as a guy you want to hate, like, 'What a dick!'" But Owens is a pizza convert, too: He's now on a pie-a-day diet.
Bryan Bernath, who runs an auto shop down the street and who orders between five and ten pizzas a week, explains exactly why Aycock has the name: "We call him the pizza nazi because it's his way or the highway."
Aycock is so intense about his pizza that a former employee once spit in his face, a shoving match ensued, and the cops were called. But Aycock agrees the moniker is accurate. "I love the relation," he says. "It's fucking hilarious."
It's not hard to see why Aycock might be demanding of his customers (and employees), given the work he puts into the pies. "I'm not here to mundanely make you food," he told me the other day, explaining his mission. Through his shop, connected to the Playland Motel in Rockaway Beach, he's on a kind of neighborhood enlightenment campaign of culinary-excellence-through-pizza. That's why he pushes his customers to read his menu, even if they've never heard of ingredients like rapini, taleggio, or fior di latte. For the dough, Aycock uses only Caputo flour imported from Naples. His olive oil and tomatoes are imported from Italy. He grinds Berkshire pork belly to make sausage infused with a Tuscan spice mix. He uses a blend of buffalo mozzarella and fior di latte, a cow's milk cheese, to lend lightness to his finished pies. Garlic comes from a farm upstate, shiitake mushrooms come from a mysterious forager who digs around abandoned fisheries on the Hudson. Aycock himself even fells some of the logs that he burns in his brick oven. Why go through all that trouble? "I'm neurotic as fuck," he says.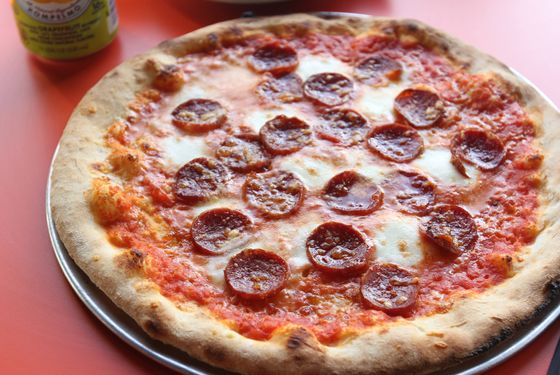 In a neighborhood like the East Village or Park Slope, Aycock's devotion to his craft and his ingredients would be an easy sell. He might even be heralded as New York's next great pizzaiolo. But while he does cater to the hipsters that flock to Rockaway Beach in the summer, most of the year he's serving longtime residents of the area — one of the poorest neighborhoods in New York — where his top-flight pizzas are an exotic luxury. For years, the cuisine here has been radically unglamorous: Once dubbed the Irish Riviera, there were so many cops and firemen in the Rockaways that deep-freezer pub fare was standard offering.
Now, even as the area moves past that reputation, Aycock still finds that his culinary idealism doesn't necessarily jell with the neighborhood's idea of what a pizza shop should be. Once, someone tried to throw a trash can through Aycock's window. His tip jar has been raided. He's sometimes called "cracker motherfucker." He keeps a big stick near his oven to fend off intruders.
His firm no-slice policy dates back to when he (briefly) tested the idea of selling two slices and a soda for $3 after school. He hated what happened to his shop. "These kids fucking destroyed everything," he says. "They ripped up the chairs. They pulled the plants out of the fucking pots."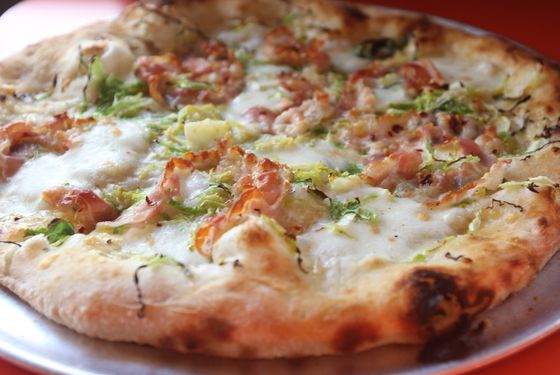 To understand why Aycock doesn't change his ways, it helps to know where he came from: He grew up on the island of Jamaica working at his family's upscale restaurant. After culinary school and apprenticeships, Aycock worked as executive sous-chef at Kerry Heffernan's restaurant at the Essex Hotel and, later, as chef de cuisine at Salumeria Rosi on the Upper West Side (Before those gigs, Aycock got himself ensnared in "some stupid young-man shit," he says, and was arrested in Georgia for driving under the influence and bootlegging large farm equipment.) Eventually he settled in the Rockaways and grew tired of the commute to Manhattan. When the Playland Motel opened on Beach 98th Street, Aycock got the chance to open his own casual project that would maintain his high standards.
But now, despite his demeanor, Aycock's commitment to quality has produced a following of devoted customers. On a recent afternoon, the pizza shop was pumping with reggae music as Aycock kept warm by the fire in his oven. Tommy Mink, a medic, and Dave Quinn, who works for the Sanitation Department, sat on bar stools waiting on two margheritas.
"In the Rockaways, things move very slowly,"  Quinn tells me.
"It's only pepperoni this, pepperoni that," Mink says of other pizzas in the area. Both men grew up out in the neighborhood and both men now eat at Aycock's pizza shop three times a week.
"My favorite is the bombolini," Mink says of Aycock's Italian doughnuts, which he fills with nutella and ricotta. "I never thought ricotta would be any good in a dessert."
Meanwhile, Aycock watches as a man smoking outside takes a huge haul off his cigarette and blows, clouding the pizza shop window over in a haze of smoke.
Aycock gives him a stare. "Thanks for the window wash, you fuck!"