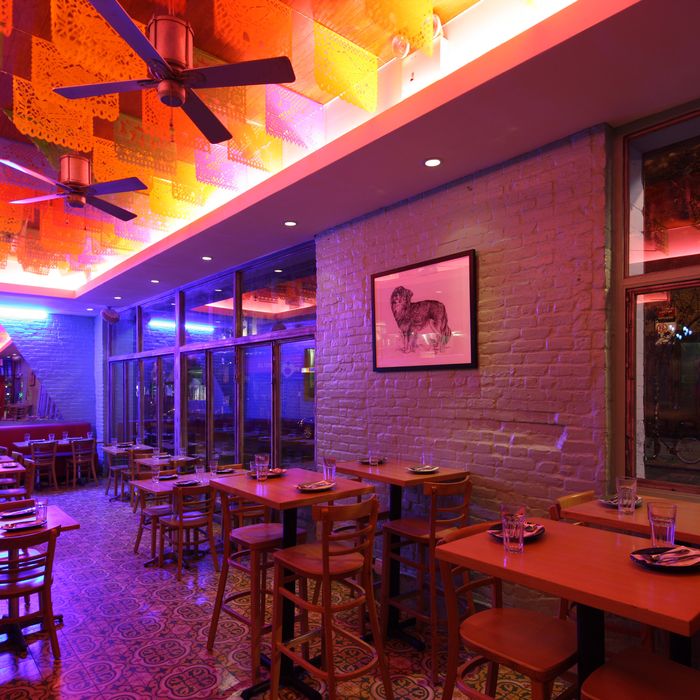 Wells should've tried the burritos.
Photo: Melissa Hom
This week, there weren't any reviews from Adam Platt or the Underground Gourmet. But Pete Wells couldn't get enough of the chicken wings and masa with collard greens at Mission Cantina, awarding it one star. Daniel S. Meyer ate scallion pancakes at China Blue, while Michael Kaminer enjoyed the desserts at Saul. Read it all, straight ahead.
Pete Wells visited Danny Bowien's Mission Cantina, and awarded his "nonconformist Mexican food" one star. While some of the menu items were "remarkable and original," a surprising number of dishes fizzle — something that is easier to digest thanks to the low price-point. Tacos al pastor were "flabby and flavorless," and a taco stuffed with shrimp and beef tripe "tasted heavily of iodine." But the tortillas impart a "deep, fragrant corn flavor." Other hits: mushroom-and-eggplant tacos, "crunchy, fiery, and messy" mole-dusted fried chicken wings that Wells "would run back for," and a Southern-inspired dish of "supple, tender" collards with "fluffy, creamy" masa so good, he ordered a second bowl.
Daniel S. Meyer headed to Tribeca and checked out the sophomore effort from Yiming Wang and Xian Zhang, China Blue. While this restaurant forgoes intense "chili-spiked" heat in favor of the "much tamer" flavors of Shanghai, it retains the duo's "trademark" aesthetic of being "fashionable, but not overdressed." Some must orders: cold-poached chicken in a "heady" marinade of sweet rice wine, tofu with chicken and cured Chinese ham in a "smoky" pork stock, "crunchy and saucy" Asian swamp eel, "airy, greaseless and crisp" scallion pancakes, and the "gelatinous" dongpo pork belly tucked into "fluffy" steamed buns table-side. Three out of five stars.
Joshua David Stein made his way to Central Harlem to check out the 19-seat Mountain Bird headed up by chef Kenichi Tajima. There is plenty of bird to be found on the menu (11 of 16 menu items to be exact) which is "classically French but seasoned with a subtle Japanese sensibility" and "devoted to the pleasures of poultry." Must orders: Chicken liver pate with port wine gelee ("tastes like an entire chicken parmigiana sandwich—a good thing"), chicken's comb with a honey mustard tartar sauce, duck heart and gizzards served in a "garlicky" herb sauce and wrapped in pastry dough, foie gras dumpling consommé ("is like [a] delicious goyische matzah ball soup"), and ostrich tartare that "tastes exactly like a Big Mac." Also noteworthy is the Moulard duck duo which is served with a "light" huckleberry sauce and "an almost ascetic" mushroom pilaf. Four stars.
Steve Cuozzo filed a review on the much-praised Sushi Nakazawa, and awarded it three stars for its "extraordinary" offerings. He found chef Nakazawa to be "infectiously jolly," charming, with an incredible "command of texture and temperature." There was little that was difficult to praise from the "appealing" rice to the "winning" wine and sake pairings. Some of the biggest hits: "an exquisitely calibrated" bluefin tuna progression, scallops with yuzu and chili pepper, and of course the "deservedly famous" egg custard. The only real downfall? The rushed timing: "twenty-one courses in 100 minutes … roared by like an express train."
Michael Kaminer checked out the Brooklyn Museum's Saul, and found the food "delivers competence but little excitement." The "spark" once felt when dining at chef Saul Bolton's previous restaurant on Smith Street has been "replaced by the cold, museum-curator's eye for perfection." The charred Spanish octopus is "tasteful and polite," and something "you can get in Manhattan"; the Atlantic mackerel with ponzu and scallion lacks a "eureka moment." The dessert menu on the other hand, is rife with hits like a "light and luscious" baked Alaska, "gorgeous" devil's food cake with sliced kumquats and chocolate pastry cream, and tiny peanut-butter-and-jelly macarons. Three out of five stars.
Ryan Sutton filed a review on the tasting menu at Grace in Chicago. The city's second-most-expensive restaurant (the first being Alinea), where the course-count is relatively low, isn't always successful: A chawanmushi is "overwhelmed" by yuzu and topped with "ho-hum" caviar, sweetbreads are "overcooked" and "inferior to cheaper versions served throughout Brooklyn," and "aggressively" seared tuna is overcooked and under-salted. Flavor-boundary pushing dishes, such as salt cod with cilantro and roasted pineapple batons, or duck three ways with sunflower seeds, are where the restaurant shines.
There were no reviews from Alan Richman or The New Yorker this week.
*This post has been updated to include Stein's review of Mountain Bird.