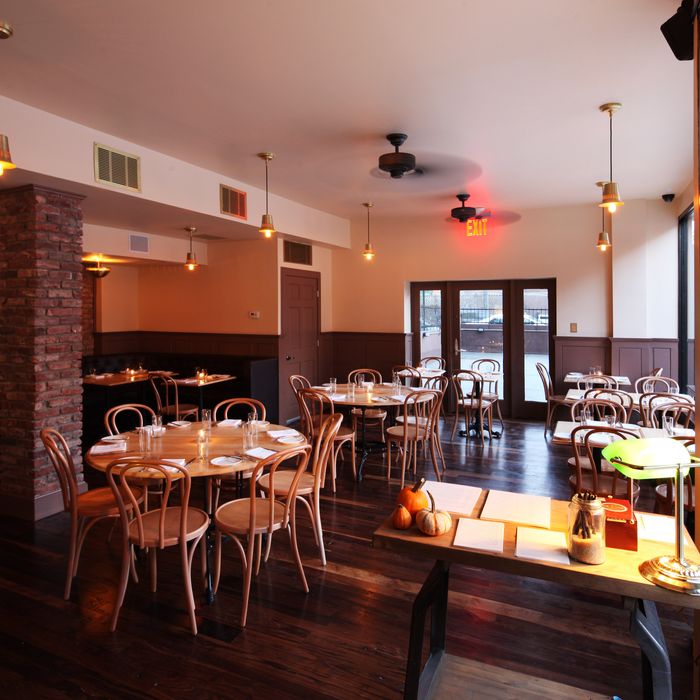 Dover's a hit.
Photo: Melissa Hom
This week, Adam Platt headed to the Lower East Side, where he awarded two stars to Mission Cantina for its "robust, compulsively edible menu," and two stars to Contra for "its advanced cooking techniques" and "overall value." Meanwhile, Pete Wells ate caviar pie at Dover and Alan Richman spent time a lot of time in Harlem, dining at three very different restaurants. Read it all, straight ahead.
Pete Wells visited Joseph Ogrodnek and Walker Stern's sophomore restaurant Dover in Carroll Gardens and awarded it two stars for its "refined and generous" food. Many dishes on the menu are hits: broiled oysters "just rich enough to feel like an extravagance without bringing on gloomy reflections," caviar pie layered with chopped egg, "spicy" lamb tartare, "cream-saturated" root-vegetable gratin that is a "winner," and "excellent" seared scallops that were a "treat for tired eyes." Dessert — "bittersweet" Brooklyn blackout cake with a scoop of beet ice cream, verjuice sorbet with "buttery" cheesecake mousse served in a jar — is worth saving room for.
Alan Richman headed up to Harlem to review not just one, but three, of its newest restaurants — Mountain Bird, The Cecil, and Minton's. He was quite impressed with the poultry-heavy fare at Mountain Bird, namely the "thick, juicy, and crisply fried" schnitzel. At Minton's Jazz Club, he found a much longer wait time and a handful of successful dishes, like "creamy" she-crab soup, but most are worth avoiding. (Sweet-potato dumplings are "cold and gummy," and a plate of lobster with shrimp and grits is "just terrible.") Over at the Cecil, the menu itself is massive (there's 72 options alone at the rice-and-vegetable wok bar, and four different mini versions of hot dogs), and portions are generous. Some hits: giant prawns served whole ("the kind to make any restaurant proud"), steamed black rice with chile-tofu, and the "ricey" gumbo. Just avoid the dessert menu.
Hannah Goldfield of The New Yorker filed a review on Betony, where the New American food, "distinctive" cocktails, and "impeccable" service are all "spectacular." Some must-orders: the "smooth, sweet, and spicy" milk punch served over an ice cube that "tastes like magic," whipped foie gras bon bons, "luscious" poached lobster, and the "elegant" roasted chicken accompanied by a bowl of confited leg and truffles. For dessert, save room for the Kola Flip, a "frothy play on a rum and coke" made from scratch, and the butterscotch pudding.
Daniel S. Meyers found much to like at Mission Cantina. Like other critics, he was impressed by the house-made masa, which results in "intensely corny" tortillas. The tacos are "hit-or-miss," but he says order the "deeply charred nuggets of pork cheek" and "livery" beef tongue with pickled tomatoes. Other successful plates: "crisp" chicken wings that "smolder in a dry rub of mole spices," creamed masa that "tastes like corn to the infinity power," and the recently added burrito (only available for takeout) filled with "luscious" and "fatty" brisket. Unfortunately, he attests that the whole "rotisseried-then-grilled" chicken had "all the makings of a trademark dish," but was "surprisingly bland." Three out of five stars.
Steve Cuozzo also made his way to Harlem, filing a review only on Minton's, where "2014 peers wistfully back on a distant golden age." While the food itself is not "quite three-star, it merges with the music into a three-star night." Chef Alexander Smalls churns out "dreamy" cheese grits that rival "Charleston's finest." Avoid the deconstructed vanilla pound cake "that tasted like a burnt cigar" in favor of the pineapple upside-down cake — "a proper closing note" to the "seductively sweet, 21st century Harlem nocturne." Three stars.
Stan Sagner checked out much-hyped All'onda and found that while chef Chris Jaeckle is quite "talented," the seafood-centric restaurant isn't great. Some hits: "crispy" urchin-topped arancini that ooze "luscious squid ink," tuna crudo sliced with "precision," and pastas like an "eggy" bucatini or the lumache with a "haunting, earthy ragu" of shredded duck, where "Jaeckle can seem to do no wrong." There are some "minor missteps" on the "generally satisfying menu," such as the razor clams and the "completely inscrutable" soy-sauce gelato. Overall, "All'onda has the potential to shine," as long as the rest of Jaeckle's crew gets into "shipshape." Two out of five stars.
Ryan Sutton and Joshua David Stein did not file reviews this week.