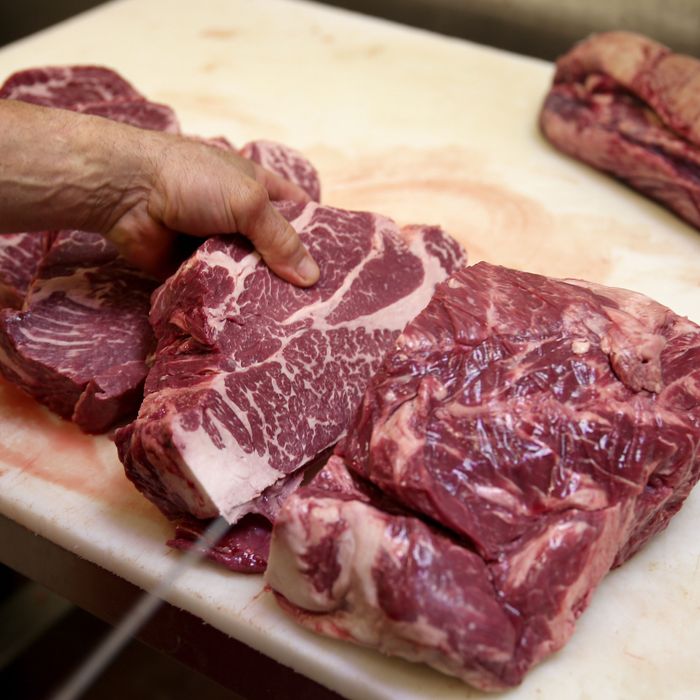 You'd best be skipping those "Mountain Oysters" for a while, unless you shucked them yourself.
Photo: Joe Raedle/Getty Images
Petaluma-based processor Rancho Feeding Corporation shipped millions of pounds of organs and cow carcasses derived from "diseased and unsound animals" to outlets around the country "without the benefit or full benefit of federal inspection," according to the USDA. The full, nose-to-tail recall includes liver, hearts, bones, and pretty much any other cow part you can think of (yes, "Mountain Oysters," too). No illnesses have been reported and authorities have not identified specific disease risks, but the federal agency has nonetheless given its recall the "high risk" Class I status, meaning that consumption of any of this bad meat could be very, very bad for your health.
Here's the definition for Level I: "This is a health hazard situation where there is a reasonable probability that the use of the product will cause serious, adverse health consequences, or death."
So, in short, Rancho Feeding's tripe ain't nothing to mess with. The Food Safety and Inspection Service tells the AP that the recall of the "unwholesome" meat has been designated a Level I in part because of the health risks, but also the fact that products being held in frozen storage are less likely to be rooted out of the food supply and may cause longer-term issues — it's best to purge the beef sooner than later.
The Rancho Feeding Corporation recall began with 41,683 pounds in the middle of January, a figure that increased by 420 pounds a few days later, and then by 8.7 pounds of beef carcasses and organs by Friday. That figure reflects a year of meat processed between January 1, 2013 and January 7, 2014. "The problem was discovered as a result of an ongoing investigation," the FSIS wrote on its website at the time of the initial announcement.
California Firm Recalls Unwholesome Meat Products Produced Without the Benefit of Full Inspection [USDA via AP]