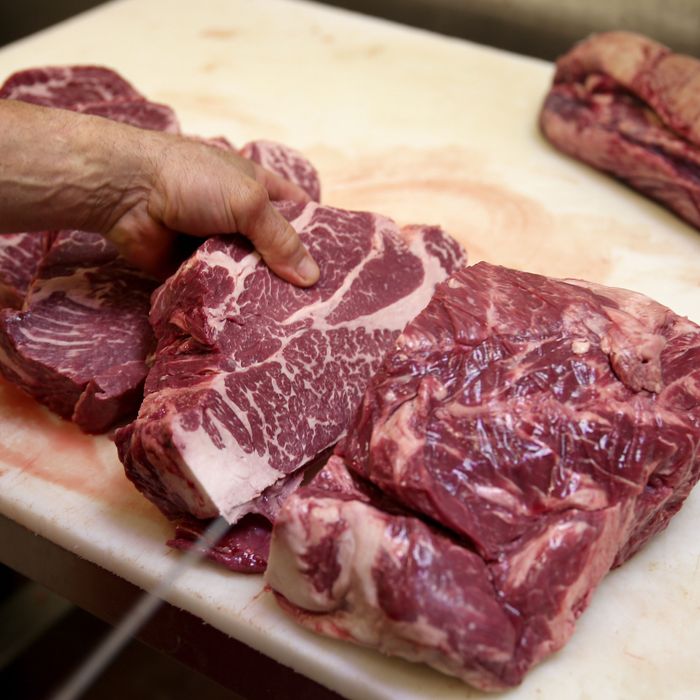 The recall affects 9.7 million pounds of meat.
Photo: Joe Raedle/Getty Images
Sources tell the San Francisco Chronicle that the massive recall of some 8.7 millions pounds of meat, organs, and beef byproducts shipped by Petaluma-based processor Rancho Feeding Corporation was prompted after USDA investigators learned that the slaughterhouse was illegally processing dairy cows that were sick with cancer. "Rancho was allegedly buying up cows with eye cancer, chopping off their heads so inspectors couldn't detect the disease and illegally selling the meat," report Stacy Finz and Carolyn Lochhead.
The practice of selling diseased animals for meat is illegal, and while no illnesses have been reported as a result of Rancho Feeding Corporation's alleged offenses, the USDA's investigation is nonetheless classified as criminal. As such, officials are not able to comment on specific aspects of the case.
In January, however, it is known that investigators discovered two cow heads infected with bovine ocular squamous cell carcinoma, also known as "cancer eye," which led to the initial recall of 41,683 pounds of meat. The condition, which results in tumors and growths on the animal's eyeballs, may be an indication of cancer elsewhere in the body.
"Rancho, we're told, was slaughtering them, somehow after hours or in other ways where the inspector didn't know about it," says the San Francisco Chronicle's source. "Because the carcass looked good, [Rancho] mixed it back in with other beef that it sold under its label."
Whatever prompted the continued investigation, the recall surged to 8.7 million pounds of meat earlier this month, covering Rancho Feeding Corporation's output during 2013. (For comparison, 43.4 billion pounds of beef are harvested annually under USDA inspection.) On the consumer side, the recall has affected frozen supermarket hamburgers, "Philly Cheese Steak" Hot Pockets, and even meat sold by ethically minded and sustainable producer Bill Niman, former owner of Niman Ranch. Though his animals have no connection to the diseased cows, Niman tells the paper he has no choice but to withhold 100,000 pounds of beef from the market because he used Rancho to slaughter 427 head of cattle, adding he may now lose up to $400,000 in sales.

Slaughterhouse accused of selling meat from cows with cancer [SF Chronicle]
Earlier: California Meat Company Recalls Nearly 9 Million Pounds of Beef Parts