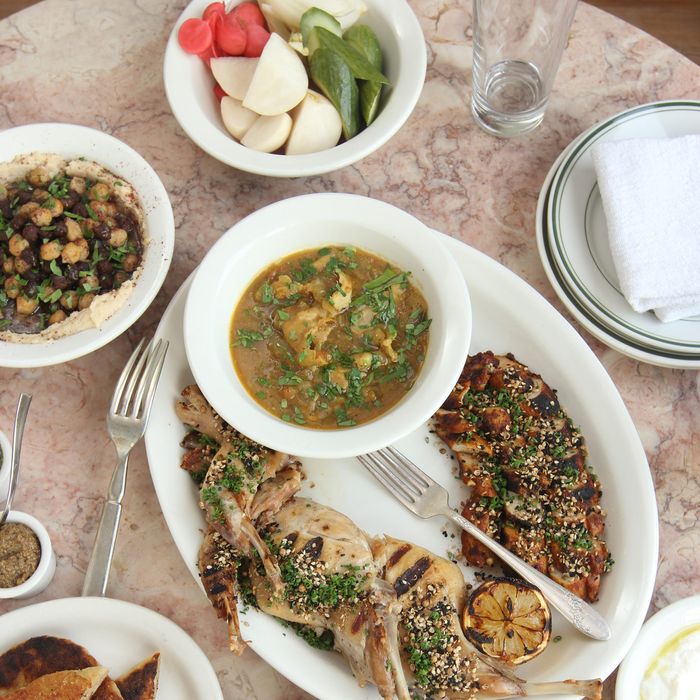 There's a lot more than rabbit involved.
Photo: Melissa Hom
Rabbit tends to occupy its own niche on New York menus: It's not impossible to find, but it's rarely a featured item. Lately, though, the perception seems to be changing as more chefs give rabbit the kind of star treatment that they usually reserve for high-profile proteins like pork and chicken. Nowhere is that more true than at Greenpoint's Glasserie, where chef Sara Kramer serves a $76 version that's not so much a single dish as it is a feast, a spread that takes up an entire table — it's worth not only the money that it costs, but every glowing review it's received. It's even worth an hour-long trek to Greenpoint in the middle of a snowstorm.
Here's why: Kramer prepares the rabbit three ways. First, she confits the legs in duck fat, marinates the saddle in paprika and a spice called Hawayij, and simmers the belly and scraps into a stew. Then, she adds pickled vegetables, preserved-lemon yogurt, a red and a green schug (Israeli hot sauce), braised chickpeas, a fennel-and-herb salad, and, best of all, fried "flaky bread" to the spread. The menu simply lists this under its "large dishes" category, but it could easily serve five people and turn into a kind of DIY rabbit-sandwich party. It is glorious.
"You see a whole-roasted chicken on every menu, but I noticed that nobody was serving a whole rabbit," Kramer says. "It's been integral to the concept of the restaurant since day one, but during the first two months, it was a hard sell." She says customers tend to be put off by the idea of eating a bunny, "but the actual texture and flavor of the meat is very approachable. We were selling six a week, and now, we sell something like 50. It's definitely changed as the amount of press has brought people in specifically for the dish."
To buy her rabbits, Kramer turned to the eighteen-month-old Cascun Farm in Syracuse, where Andrea and Don Cascun raise antibiotic-free rabbits and do all of the processing themselves. Needless to say, the Cascuns have had some trouble keeping up with demand. Kramer wants her rabbits to be large, and the Cascuns work hard to meet her special requests. "Sara was originally purchasing eight or ten rabbits a week, and then she had a review in the Times," says Andrea Cascun. "The next week, she asked us for 40 rabbits, which was awesome, but we've had to grow into her demands. Glasserie has jumped us to the next level."
Kramer's rabbits aren't the only ones that have seen a recent bump in popularity. Anna Klinger, the chef and owner of Park Slope's al di là, is New York's most prominent rabbit pioneer. She has served braised rabbit since the late nineties, and recently, she's noticed an uptick. "Rabbit has been on our menu for years, and it's waxed and waned in popularity," Klinger says. "This is definitely a high moment. A few years ago, I was cooking maybe three whole rabbits a day, which gives us nine portions, versus five a day right now." Anita Lo, who sells a saddle of rabbit at Annisa, agrees: "Rabbit, in general, has never been a big seller, but people are ordering it more and more," she says. "I'm not quite sure why."
Part of the reason could be rabbit's many virtues: It's lean, minimally processed, and sustainable as an ingredient. Plenty of other restaurants have recently added rabbit to their menus: The Dutch offers rabbit potpie; Il Buco Alimentari serves fried rabbit at lunch and a spit-roasted version at dinner; Pearl & Ash makes rabbit sausage; and the Modern offers rabbit-truffle dumplings.
Even if the preparations are similar to chicken, the profit margins aren't because high-quality rabbit is more expensive for chefs to buy. "Chicken can cost anywhere from $1.80 a pound to $4 for local, farm-and-pasture-raised beautiful chicken," Kramer says. "But I haven't seen rabbit anywhere for less than $7 a pound." (At $76, Kramer's rabbit feast costs exactly the same as the famous roast chicken for two at the Nomad.) "It's an expensive dish," she says. "But once it comes to the table, everyone sees much food it is. The accompaniments are part of increasing the perceived value of the dish, as well as the style of the meal."
Despite the acclaim and the still-growing popularity of Kramer's rabbit, there is one notable person who still refuses to try it: Kramer's mother. "Still, to this day, my mother won't eat it," Kramer says. "The fear is that they're cute and cuddly. Any association with a pet makes people feel bad. But chickens are cute, too. I actually have chickens in my backyard."