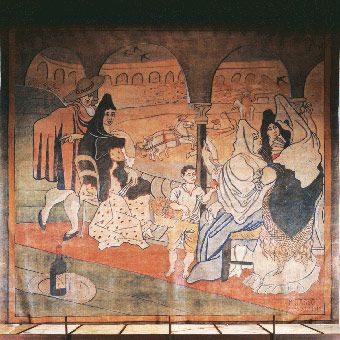 It could "crack like a potato chip."
Photo: Courtesy of the Four Seasons
A nineteen-foot-tall curtain Pablo Picasso painted over three busy weeks back in 1919 that's been hanging in the hallway at the Four Seasons for more than a half-decade is now in danger of being damaged extensively, the New York Times reports. The fragile tapestry is scheduled to be taken down on Sunday in order to give workers access to a limestone wall behind it in the Seagram Building, where the restaurant has been open for 55 years. Even if performed gently, some say this maneuver may cause portions of the tapestry to "crack like a potato chip," according to New York Landmarks Conservancy president Peg Breen, who also intimates that recent developments may be an overture to removing the Picasso permanently.
The New York Landmarks Conservancy owns the piece, called "Le Tricorne," but real-estate group RFR Holding, helmed by entrepreneur Aby Rosen, owns and controls the property. Though he did not provide comment to the Times, Rosen, who is a patron of the arts, is rumored to have a strong dislike for "Le Tricorne." In the meantime, Breen says that RFR is being unclear about what, exactly, is prompting the need for repairs in the building.
"I asked for his engineer's report and [Rosen] said he didn't have one," Breen tells the Times. "I asked why any repairs couldn't be done without moving the curtain. He said there was no room and that it should not be put up again because it would have to be moved in a couple of years when he planned additional work."
The Museum of Modern Art will put the Picasso in storage if it is removed, the paper reports.
At Four Seasons, Picasso Tapestry Hangs on the Edge of Eviction [New York Times]