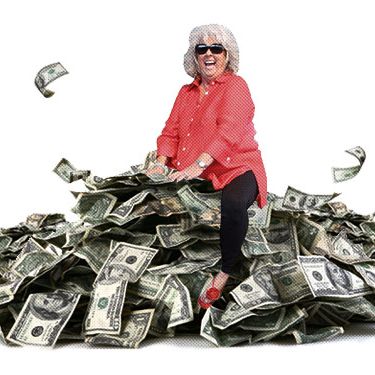 If ever there were a time to run this photo…
Photo: Andrei Kallaur, Jen Cotton
Has it been long enough that we've sufficiently stopped caring about Paula Deen and her previous indiscretions? Are we, as a society, prepared to let her start once again selling branded products like this handsome knife set and getting paid exorbitant speaking fees for appearances in places like Houston or Buffalo? Well it doesn't matter, because like it or not, the Paula Deen Comeback Train is fired up and rolling right along: She's formed a new company, Paula Deen Ventures, and she just locked down an investment that's reportedly worth between $75 and $100 million.
Per the Wall Street Journal, the money comes from Najafi Companies, a firm that also invests in glamorous businesses such as Columbia House (remember them?!), the Book of the Month Club, SkyMall, and the Phoenix Suns. (You can read the full press release here, if that's your thing.)
The plan for the new company is for Deen to move away from the licensing model — wherein she's paid in exchange for permission to put her name on things like glasses and mattresses — and, according to the Journal, to "take more ownership and control in partnerships with retailers and other companies."
And yet, Food Network says it hasn't talked to Deen about coming back on the air and her previous business relationships are still soured, so why take a chance on her? Najafi's CEO tells the paper, "The important thing to remember is that her fan base is rabid. Her Facebook fan base has more than doubled in the past year … The Paula Deen brand is alive and well."
"Alive and well" might be overstating it a tad, but no matter how far Deen has fallen, she's still better than SkyMall.