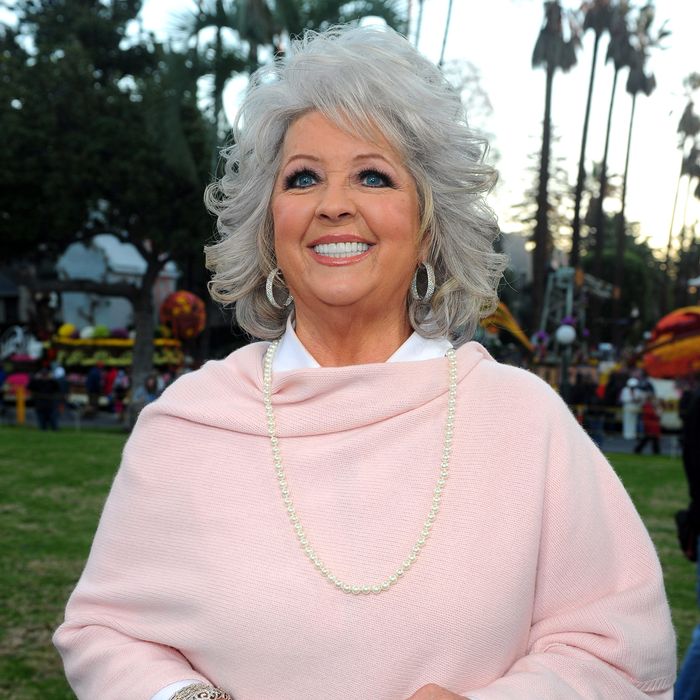 Ever notice how perfect her teeth are in this photo?
Photo: Alberto E. Rodriguez/Getty Images
The Paula Deen Comeback Spectacle continues: The latest development, a People cover story in which the celeb chef compares herself to Michael Sam, the former University of Missouri football player who famously came out as gay in advance of the NFL Draft.
Here's how the Wrap quotes her from the story:
I feel like 'embattled' or 'disgraced' will always follow my name. It's like that black football player who recently came out… He said, 'I just want to be known as a football player. I don't want to be known as a gay football player.' I know exactly what he's saying.
It seems that the embattled, disgraced Deen does not in fact know exactly what Sam is saying. Or does she? Can anyone really be this obtuse? Even for Deen, it's a stretch.
As anyone would expect, people have jumped all over this story. Here's Grub Street's theory: Deen's just Donald Trump-ing everyone now, dropping nonsense like this because she knows it'll get a rise out of people. Like Trump, Paula Deen the caricature has fully overtaken Paula Deen the person. When she starts calling her new $20 million restaurant "classy," we'll know this is the case.
Paula Deen Compares Recent Struggles to "That Black Football Player" Michael Sam [TV Guide]
Paula Deen Compares Her Struggles to 'That Black' Openly Gay NFL Prospect Michael Sam [Wrap via TPM]
Related: Paula Deen Opening $20 Million Restaurant Next to Dollywood