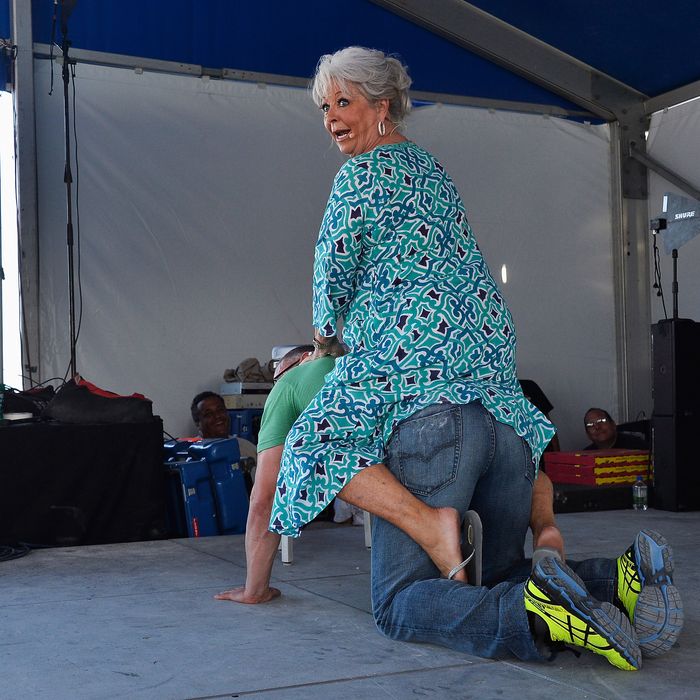 What celebrity chefs are best at doing.
Photo: Frazer Harrison / Getty Images
Fresh off the news that her newly formed company has raised $100 million to build a new empire of branded content and merchandise, Paula Deen returned jubilantly to the public sphere at the South Beach Wine and Food Festival, with a stunt that had nothing to do with cooking and everything to do with spectacle. The celebrity chef padded out her chicken-and-dumplings demo with an emotive speech that alluded to last year's racism scandal, then she got on Food Network chef Robert Irvine's back and rode him across the stage.
The move was a reprise of similar stunt, also perpetrated by the duo, in 2011. The strong visual of a jocular Paula Deen gave rise to the Paula Deen Riding Things meme. Photos like the one above all but guarantee more funny Deen images.
Deen has not yet announced specifics of her comeback. Future TV appearances are likely, but it's unclear if she'll return to the Food Network, like the once-embattled Dinner: Impossible chef who lied about his credentials. For now, the old, borderline-antic Paula Deen seems to be back in full swing, however, and the Comeback Train no longer needs to address the discrimination lawsuit, which was dismissed in August. At least not in specifics.

"You know, I have heard on more than one occasion," she told the crowd yesterday, "that I've never apologized. So if anybody did not hear me apologize, I would like to apologize to those who did not hear me."
Paula Deen Says She's 'Back in the Saddle' [AP via ABC]
Earlier: Paula Deen's New Company Just Got $100 Million in Funding