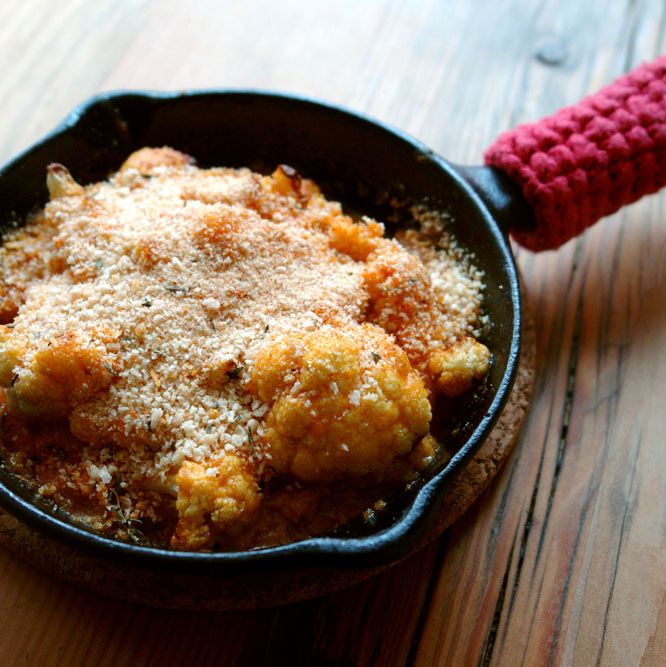 Martha's cheesy cauliflower fritters in a scalding-hot skillet, with a side of spicy aïoli.
Photo: Courtesy of Martha
Vegetables are supposed to be healthy, but when the weather turns this miserable, you need something a little heartier than green juice and raw kale. Fortunately, chefs are more than happy to oblige by offering things like beet chips, bacon-topped celery root, and a fantastically rich skillet full of cauliflower fritters. Here are 14 stick-to-your-bones vegetable dishes that most definitely are not for gluten-averse, vegan-leaning dieters.
Twice-Baked Celery Root
Where: Narcissa
Cost: $7
Chef John Fraser is a veggie pro, and his menu includes crispy carrot fries, spinach with potato chips, and a creamy celery-root side dish that tastes like macaroni-and-cheese without the mac — with a final sprinkling of bacon on top.
Creamed Masa With Beer-Braised Collard Greens
Where: Mission Cantina
Cost: $8.50
It's important to get your daily serving of greens … and beer. Danny Bowien also makes excellent, heavy vegetarian tacos, like a pumpkin one with pumpkin mole, pumpkin seeds, and queso cotija.
Broccoli & Cheese Puffs
Where: The Dutch
Cost: $4
Broccoli always tastes better when it's mixed with butter, flour, and melted cheese.
Jerusalem Artichokes With Brown Butter
Where: All'onda
Cost: $7
These virtuous sunchokes arrive on the table swimming in brown butter and soy, and rival any hearty roasted potato dish.
Amanida Temperada de Carbassó
Where: El Born
Cost: $7
At this new Greenpoint tapas restaurant, chef Diego Gonzalez pairs warm zucchini with with Ibérico ham, blueberries, and Padrón-pepper vinaigrette.
Creamed Kale
Where: The Clam
Cost: $8
Market Table chef Mike Price knows exactly the kind of vegetables you want to eat with fried clams.
Smoked Broccoli Dogs
Where: Dirt Candy
Cost: $21
Amanda Cohen is the pioneer of kooky, unhealthy vegetable dishes: Her newest creation is smoked and grilled broccoli inside a homemade bun with broccoli sauerkraut, slow-cooked broccoli puree, broccoli-rabe oil, a mustard-based barbecue sauce, baked broccoli-rabe chips, broccoli-rabe coleslaw, and mico-broccoli greens. Impressive.
Roasted Kabocha Squash Toast
Where: ABC Kitchen
Cost: $10
With thick, crusty country bread, a slab of ricotta, and apple-cider vinegar, this sugary, seasonal toast is a (small) meal in itself. Equally sweet: roasted sunchokes with hazelnuts and herbs, which actually taste like candy.
Winter Vegetable Gratin
Where: Dover
Cost: $65
The second course of Dover's excellent chicken-for-two dish includes a cheesy gratin that's so good, it almost steals the roast chicken's thunder.
Cauliflower Fritters
Where: Martha
Cost: $7
At brunchtime only, the chefs at this critically-acclaimed darling deep-fry cauliflower and serve it with spicy aïoli.
Brussels Sprouts With Chili Jam
Where: Empire Diner
Cost: $6
Amanda Freitag's new Brussels sprouts recipe is sticky-sweet, and she pulls a Jessica Seinfeld move by sneaking broccoli into creamy orzo mac 'n' cheese with black-truffle butter.
Beet Chips
Where: The Cleveland
Cost: $5
New chef Max Sussman's menu includes crunchy beet chips with a dip made of crispy onion and miticrema cheese, roasted carrots with goat butter, and Chinese-style broccoli.
Fried Watercress With Cashews and Chili Oil
Where: Telepan Local
Cost: $9
There are tons of (very) vaguely healthy vegetarian dishes on the menu here: mushrooms in parchment with butter, broccoli rabe with parmesan, egg yolks, and white anchovies, roasted beets with house-made ricotta and honey, and a cauliflower gratin.
Crispy Sprouts
Where: Emily
Cost: $9
This brand new Clinton Hill pizzeria fries Brussels sprouts and then mixes them with apples, Worcestershire sauce, chilies, and black sesame. The perfect accompaniment to an entire pizza pie.